Back to the list
Pronounced Bitcoin (BTC) Move Impending, According to Glassnode Co-Founders – Here's When
dailyhodl.com
10 July 2022 12:11, UTC
Reading time: ~2 m
---
The creators of one of the leading on-chain analytics firms say that the odds are stacked for a considerable move to the upside for Bitcoin (BTC) sooner than traders think.
In Glassnode's latest newsletter, Jan Happel and Yann Allemann say that while price action looks bleak currently, an unexpected change in policy from the Fed could be a looming bullish catalyst for BTC.
"In a volatile environment where bad news is perceived as good news, Bitcoin has been compressed between $19,00-$21,000 while Swissblock's Bitcoin Risk Signal reflected an easing risk. Despite a weak price action in June, there is an impending pronounced move.
The market is indecisive as investors digest incoming data, eagerly await the FOMC meeting, and anticipate the Fed's policy. Will the Fed proceed with an aggressive rate hike in July and September? Or has the economy (aggregate demand) shown enough weakness to persuade the Fed to change its course of action?"
The Glassnode founders also have their radars locked on the stablecoin supply ratio (SSR) metric, which is the total market capitalization of BTC divided by the total market cap of all known stablecoins in circulation.
According to Glassnode, a low SSR indicates that current stablecoin has more buying power to purcahse BTC.
Happel and Allemman say that the current state of the SSR indicator is leaning towards Bitcoin being significantly oversold.
"Bitcoin is holding the $20,000 level. Increase in stablecoin market cap share suggested an oversold BTC on a daily timeframe
Significant liquidity is sitting on the sidelines. It is a matter of when (FOMC) and not if capital is redeployed."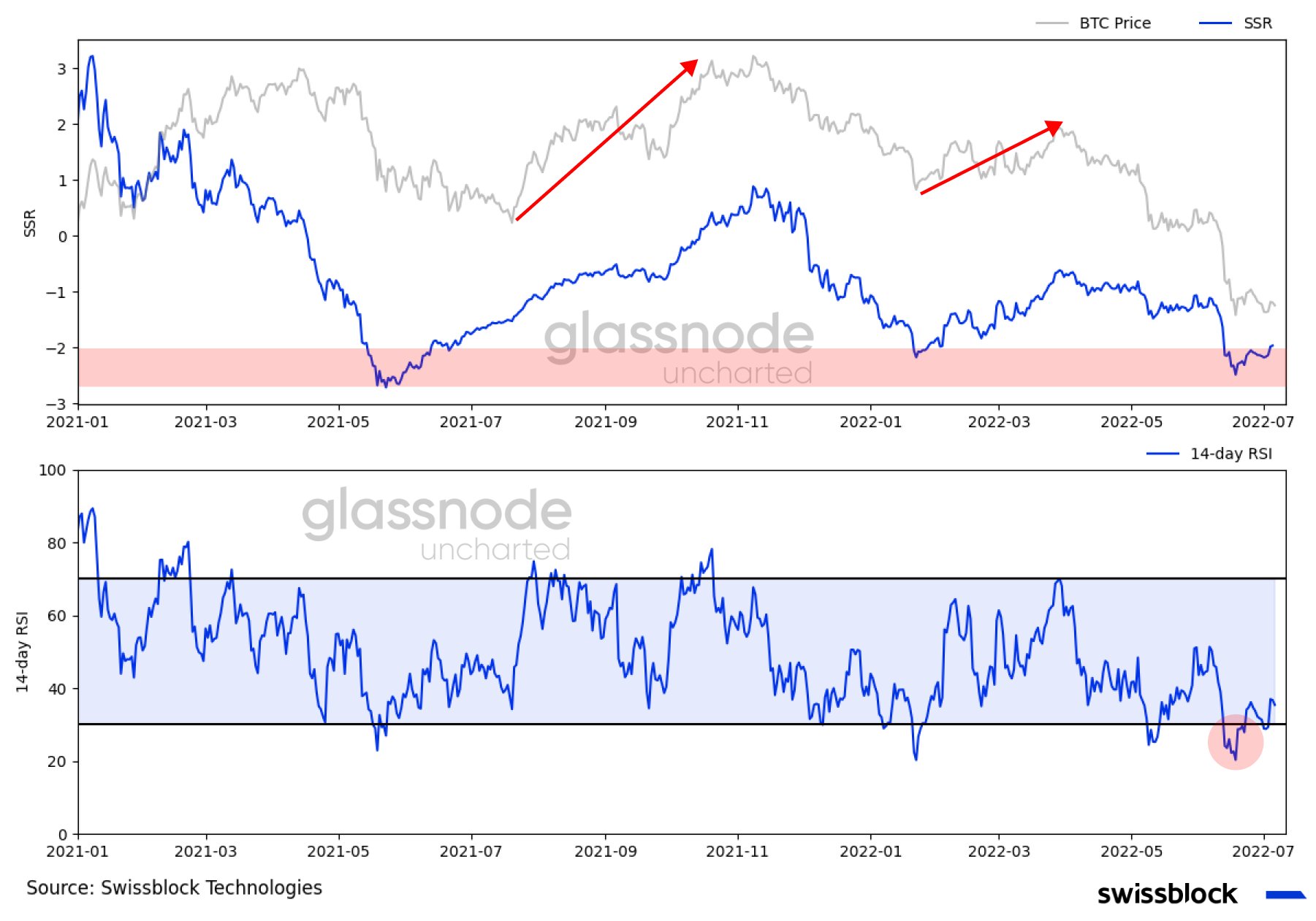 Source: Allemann/Happel/Twitter
At time of writing, Bitcoin is down over 68% from its all-time high, currently changing hands for $21,498.
---
Source
---
Back to the list