Back to the list
Bitcoin Struggles to Rebound as Miner Capitulation Continues
cryptobriefing.com
23 June 2022 16:48, UTC
Reading time: ~3 m
---
According to a recent report from Coin Metrics, miners have sold at least $500 million worth of Bitcoin so far in June. 
Bitcoin Miners Sell Reserves
The once-booming Bitcoin mining industry has become its own worst enemy. 
Multiple reports indicate that Bitcoin miners are selling off more coins to cover the cost of their operations. The increased selling is weighing on any potential Bitcoin recovery, leading to more selling as miner profitability continues to sink below the cost of production. 
A recent report from Arcane research has revealed a significant uptick in the amount of Bitcoin leaving miners' wallets. "In the first four months of 2022, public mining companies sold 30% of their bitcoin production. The plummeting profitability of mining forced these miners to increase their selling rate to more than 100% of their output in May," the report read, indicating that operational costs exceeded miners' profits, forcing them to dip into their Bitcoin savings to make up the difference. 
Elsewhere, leading Bitcoin miner Bitfarms became the latest in a long list of firms to increase its selling amid the record-breaking crypto downswing. Bitfarms reported selling 3,000 Bitcoin for $62 million over the past week in a bid to boost its liquidity. 
A recent Coin Metrics report also highlighted the current trend of miner capitulation. The crypto analytics firm estimates that miners have sold at least $500 million worth of Bitcoin so far in June, shrinking their stockpiles by almost a third.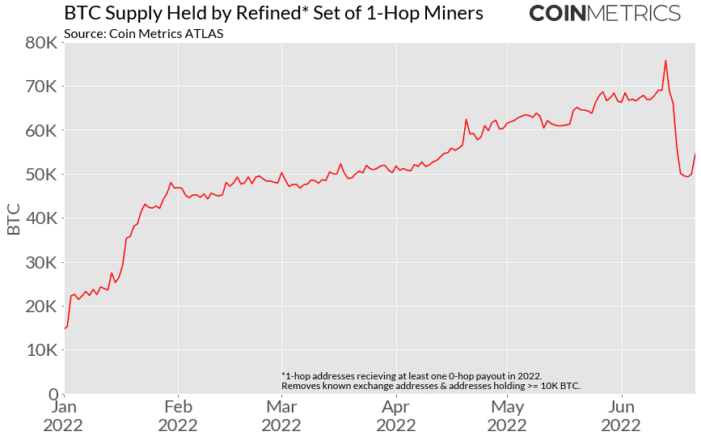 BTC supply held by miners. Source: Coin Metrics
The Bitcoin Hash Ribbons, an indicator that measures the network's 30-day and 60-day hash rate moving averages, has also recently flipped to capitulation. This signals that miners are turning off their machines as it starts to cost more to run them than they can make back from block rewards. 
When the Bitcoin hash rate decreases, the network is programmed to lower the mining difficulty. However, as difficulty adjustments can only happen approximately every two weeks, it may be some time before the network can reach equilibrium with miners again. The last adjustment took place on Jun. 22 and decreased difficulty by -2.35%.
At the same time, the forced selling from mining firms could stifle any meaningful recovery for the top crypto asset. When Bitcoin's price sits below its average production cost of around $30,000 per BTC, miners will continue to sell their reserves to stay afloat. This could force miners to sell more Bitcoin to cover their costs, suppressing its price, preventing a recovery, and trapping them in a vicious selling cycle. 
Bitcoin will likely need a significant bullish catalyst to break free from its current depressed price range. Until then, miners will have to wait and hope they can stay solvent long enough for a recovery to occur. 
Disclosure: At the time of writing this piece, the author owned ETH and several other cryptocurrencies. 
---
Source
---
Back to the list