Back to the list
Bitcoin (BTC) May Have Further To Fall Until One Catalyst Triggers Reversal, Says Crypto Analyst Benjamin Cowen
dailyhodl.com
20 June 2022 22:11, UTC
Reading time: ~2 m
---
Crypto analyst Benjamin Cowen says that one macroeconomic signal may be what triggers a trend reversal in Bitcoin (BTC).
In a new strategy session, Cowen tells his 754,000 YouTube subscribers that he's got his eye on the rate of US inflation and its correlation with equity markets and Bitcoin.
Cowen says that historically, the S&P 500 index doesn't bottom out until inflation reaches a peak and reverses. Since Bitcoin often behaves in a similar fashion to the index, Cowen says that BTC also may not bottom out until inflation cools off.
"One of the things that we know that's going on right now which is making the macro look incredibly bleak at the moment are things like inflation and again this is the S&P 500 overlayed with inflation. One of the things we will clearly note… is that when inflation peaks, that tends to correspond to the bottom of the S&P."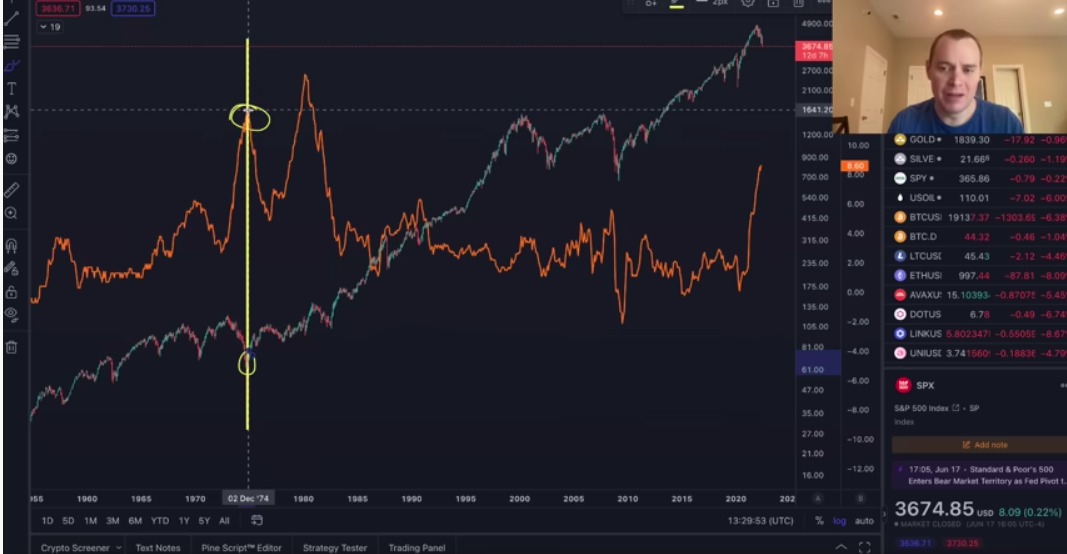 Source: Benjamin Cowen/YouTube
Based on historical data, the popular crypto analyst says that Bitcoin and the stock market likely have further to drop as long as inflation is still rising.
"If you back into the 1970s, you'll see a very similar type of move where the S&P bottomed right around the time that inflation hit that first peak and again even from this local top, it represented about a 50% drop in the S&P 500.
So when we go look at the market today we continue to see the S&P is dropping. We also know that inflation hasn't necessarily peaked yet, and it would be somewhat irresponsible to assume that it has until really proven on the charts. I think inflation is continuing to go up and will likely continue to go up for some time before we actually see a more convincing peak. Until that time occurs, we should not yet assume that the S&P 500 bottom is in. 
And since Bitcoin acts like a risk asset just like the S&P 500, we should also assume that the macro bottom is not necessarily in."
---
Source
---
Back to the list