Back to the list
Bitcoin Market in Neutral Gear; Uncertainty Keeping it Sideways While Key Macro Forces Moving in Opposite Directions
bitcoinexchangeguide.com
18 June 2021 14:23, UTC
Reading time: ~3 m
---
Bitcoin is back under $37,500 and continues its sideways trading. After starting the week above $41,000, the Federal Reserve's plans to raise interest rates twice by the end of 2023 have some investors cautious. But sentiments have shifted across the asset classes as trader and economist Alex Kruger noted of "extreme sector rotations taking place." This can be seen in the inflation expectations tanking, traders buying long bonds, long rates crashing, the long end of the curve flattening, financials plummeting, Dow Jones Average lower on financials, tech stocks higher on lower rates, USD also running higher, while commodities getting crushed. The US treasuries curve and the long bond are the keys to this market, he added. https://twitter.com/carlquintanilla/status/1405719604899549185 Still, the Fed balance sheet has now surpassed $8 trillion and is on track to go even higher by the end of the year, with the central bank yet to stop its $120 billion a month bond-buying amidst the rising inflation. Fed officials have raised their inflation expectations to 3.4%, up from the 2.4% March projection in 2021. According to Kruger, bitcoin is only an inflation hedge on paper and not in practice. We now have two forces pulling in opposite directions on the macro front: higher dollar and lower long rates.
"It's the long rates that are down. Short rates are slightly higher, and the market is now pricing in its first hike by the end of 2022."
While commodities are getting sold just like Bitcoin last month, currently in sell the pullback mode, tech is all about multiples and valuations, as such all about long rates. "Longer-term view for US growth seems to be taking on a more of a cautious complexion ... investors may be saying they are uncomfortable with how strong the US economy can grow without monetary accommodation," noted Goldman Sachs in its report. https://twitter.com/ScottMinerd/status/1405583556735389704 When it comes to the leading cryptocurrency, it currently lacks any substantial inflows to push its prices upwards. 7-day fund inflows of Bitcoin started increasing in mid-October and reached a peak in January this year. It was during this time, the price of BTC went from $10,500 to $42,000. Afterward, the flows started falling and have been negative since mid-May when prices dropped. Though inflows have started turning positive, they have a way to go to previous weekly highs.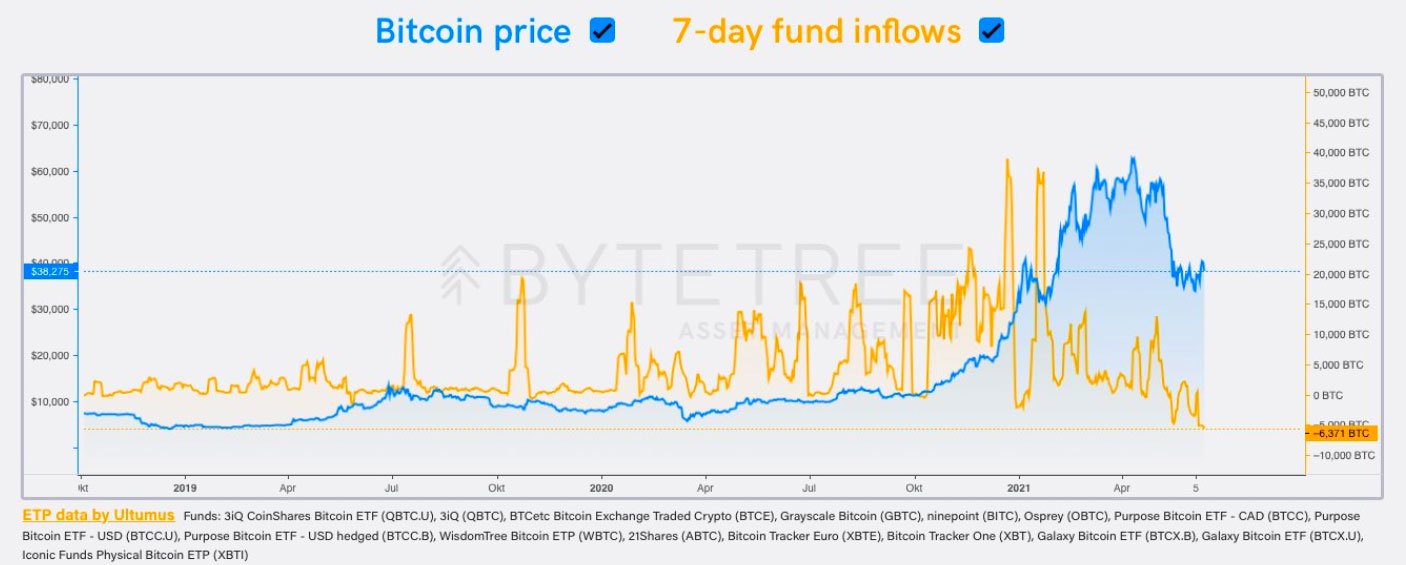 Amidst this, once again, US regulations delayed their decision on whether to approve a Bitcoin exchange-traded fund (ETF). In a Wednesday regulatory filing, the Securities and Exchange Commission said it would seek more public comment on the proposal to list the product with deadlines set into July and even August for people to respond. As part of the announcement, the SEC asked the public to weigh in on aspects of the VanEck Bitcoin ETF. Their key questions centered around susceptibility to manipulation, prevention of fraud, Bitcoin's transparency, and has regulation of the Bitcoin market changed substantially in the past five years? So, overall, the "BTC market is very uncertain right now," said Ki-Young Ju, CEO of data provider CryptoQuant. "Whale selling indicates a bear/fake-bull market, and retail selling implies a bull market. We're in neutral now." [deco-beg-single-coin-widget coin="BTC"]
---
Source
---
Back to the list