Back to the list
Bitcoin bulls give 'conservative' 10 year estimate for hyperbitcoinization to hit
cointelegraph.com
04 June 2021 17:16, UTC
Reading time: ~2 m
---
Bitcoin (BTC) may be just ten years away from seeing mass adoption in an event known as "hyperbitcoinization."
That's according to participants of the Bitcoin 2021 Conference in Miami, who on June 4 delivered surprisingly optimistic verdicts on when hyperbitcoinization will come.
Bitcoin could be unit of account by 2031
Speaking on a panel, Saifedean Ammous, author of "The Bitcoin Standard," Unchained Capital head of business development Parker Lewis and Kraken growth lead Dan Held all gave their deadlines for Bitcoin effectively taking over global finance.
"I'd say a decade," Lewis began.
"I think that based on how Bitcoin has been adopted historically and based on the trillions of dollars that the Fed is going to have to print in the coming months - years, that it would potentially be conservative to say that Bitcoin's a unit of account in ten years."
That would mean the Bitcoin network onboarding billions of new users by 2031, but as the panel noted, the rate of adoption since 2011 has already produced hundreds of millions of Bitcoiners.
"I'm going to be a little more conservative than Parker and say maybe 15 years — 16 years, you know, four more halving cycles," Ammous continued.
His perspective chimes with that of PlanB, creator of the stock-to-flow Bitcoin price models, who previously gave an estimate of several halving cycles for when it would become impossible to measure Bitcoin's price in dollars. This is because, as currency with no bottom, the potential for Bitcoin to grow in USD terms is infinite.
Hyperbitcoinization by 2026 "unlikely" but possible
"I would say at least a decade for hyperbitcoinization would be the most likely and actually conservative estimate," Held concluded.
"If we do have an event where there's rapid devaluation of fiat currency, Bitcoin starts to surge or gets close to $1 million per bitcoin — a supercycle-esque moment — then we could see it much sooner, maybe five-six years or so. But that would a very unlikely outcome. I think it could happen, but it's not likely to happen."
As Cointelegraph reported, stock-to-flow predicts an average BTC/USD price of either $100,000 or $288,000 this halving cycle, depending on which type of model is used.
Its predictions remain valid, with PlanB unfazed by the recent rout which took over 50% of Bitcoin's value off its latest all-time highs of $64,500.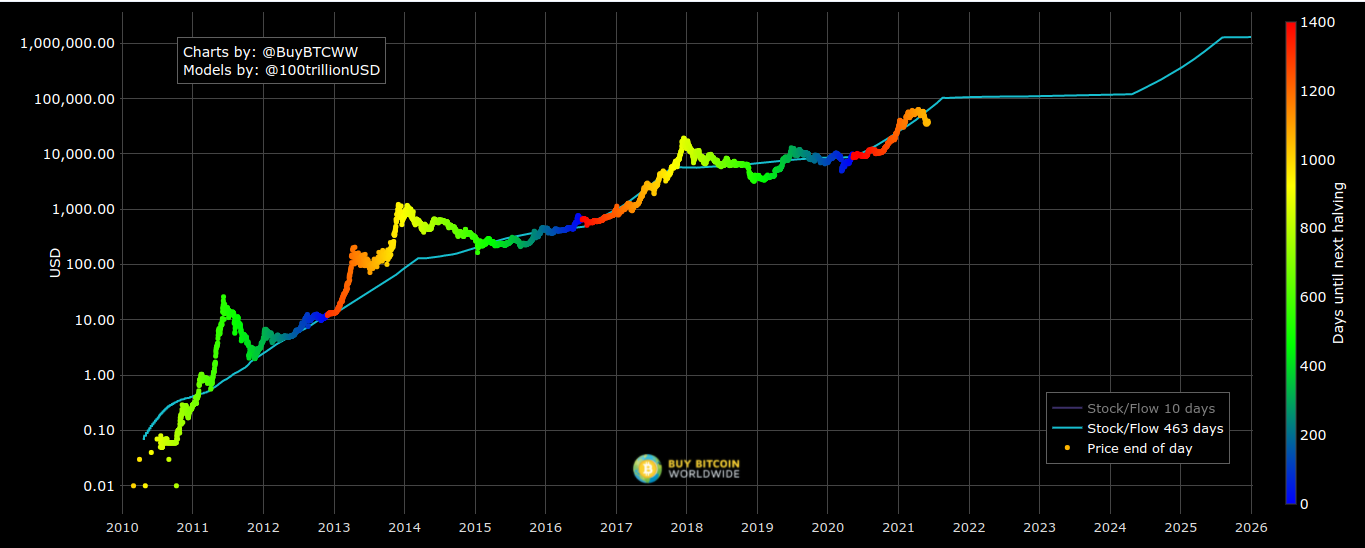 ---
Source
---
Back to the list