Back to the list
Newsflash: Bitcoin Jumps Back to $3,900 Erasing Recent Losses
www.cryptoglobe.com
28 December 2018 17:02, UTC
Reading time: ~2 m
---
Bitcoin, the flagship cryptocurrency, has recently seen its price jump from a low of little under $3,700 to nearly $4,000 in about 30 minutes. What's behind the cryptocurrency's surge is currently unclear, but it is now at a high it hadn't seen since December 25.
According to CryptoCompare data, in the last 30 minutes the cryptocurrency has seen massive green candles that helped it recover from what was so far being a negative day to a day in which it's already by 3%.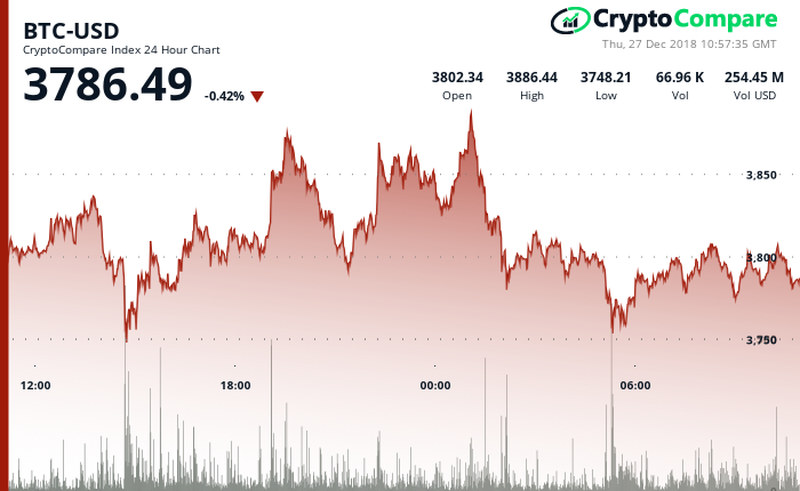 The cryptocurrency started off by dropping from the $3,800 to about $3,650 in the last 24-hour period, but has since recovered to test the $4,000 mark, before its price came back down to the $3,900 mark.
While it's unclear why the sudden jump, it's worth noting development and adoption have been growing. As CryptoGlobe covered, its layer-two scaling solution, the Lightning Network (LN), has seen its mainnet capacity hit a 500 BTC capacity less than one year after being launched.
doubled to over 4,000 this year. According to available data, an average of 6 machines were installed per day, most of them in the United States.
On social media users are still trying to wrap their heads around the surge. Some, on the other hand, appear to be focusing on the cryptocurrency's fundamentals.
People who claim #crypto is dead, say that because they see the prices plummet. Once global community understands cryptos will solve financial censorship, price surge will follow, and that is what will drive the market growth – not current market dynamics. #BTC #Bitcoin #altcoins

— Weiss Ratings (@WeissRatings) December 28, 2018
As expected, most other top cryptocurrencies have also seen their trends reverse and have started surging. Notably most are currently outperforming bitcoin, as EOS, XRP, and TRX are all up nearly 4% in the last 24-hour period.
Ethereum's ether, which has been recovering from a low of little over $80, is now trading at $134.4, after rising 7.3%. Bitcoin Cash, which earlier today was down by nearly 10%, has made a significant recovery and is currently up 5.4% to $171.8.
Litecoin, a cryptocurrency created as the silver to bitcoin's gold, rose 7.8% to $32, while privacy-centric cryptocurrencies Zcash and monero rose 4.7% and 8.6% to trade at $62.7 and $51.3 respectively.
---
Source
---
Back to the list