Back to the list
Bitcoin [BTC/USD] Technical Analysis: Cryptocurrency struggles to hit $4,000 as bear continues its rule
ambcrypto.com
09 December 2018 09:30, UTC
Reading time: ~2 m
---
The current cryptocurrency market has seen something of a roller coaster, with some coins seeing bullish gains while others are still crumbling under the bear's pressure. Popular cryptocurrencies like Bitcoin [BTC], XRP and Ethereum [ETH] have been seeing surprising gains, with the bear still looming large.
1-hour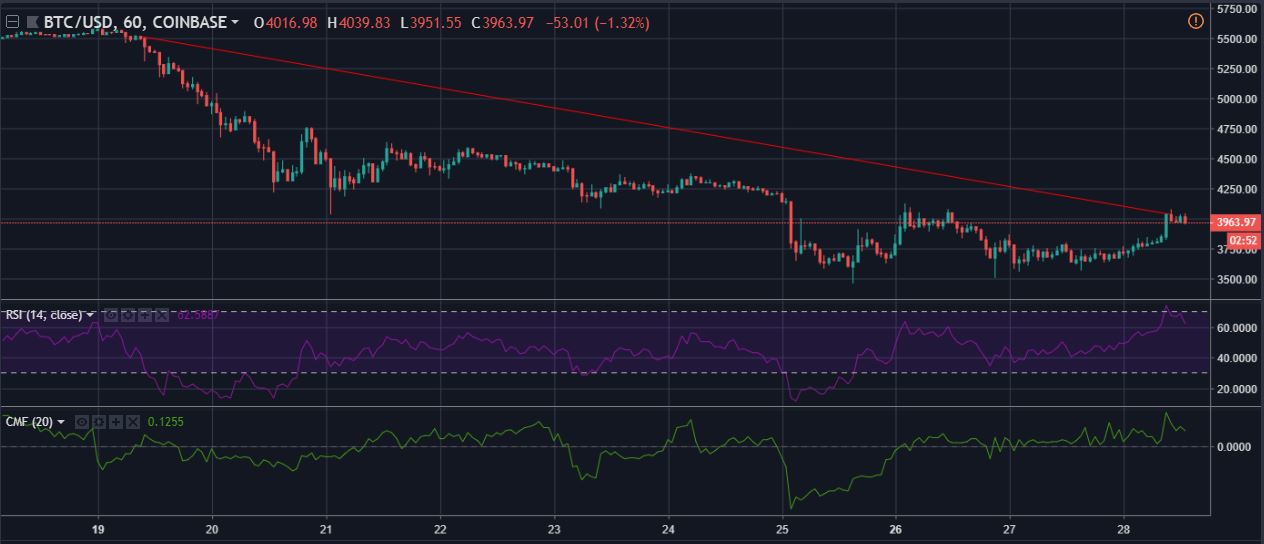 The one-hour BTC chart shows the cryptocurrency slowly climbing out of the bear pit. The initial downtrend lowered the price from $3,827.2 to $3,290.7 while the following uptrend lifted the price to $3,584.9. The support has been holding at $3,208 while the resistance is at $4,342.9.
The Parabolic SAR has been showing a bullish signature, as pointed out by the markers staying below the price candles.
The Bollinger bands have started a convergence, with the upper band and the lower band heading towards each other. The size of the Bollinger cloud has been relatively consistent, adhering to the slow price gain.
The Relative Strength Index is holding in the middle after falling from the overbought zone. This means that the buying pressure has slightly reduced leading to an equilibrium with the selling pressure.
1-day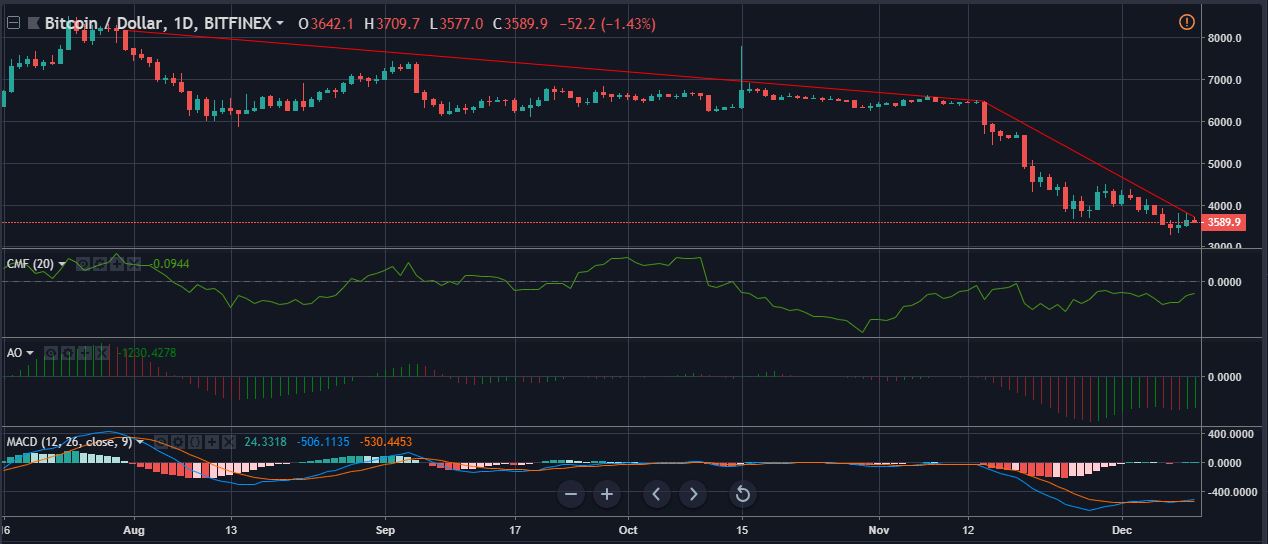 Bitcoin's one-day graph has only been showing a consistent downtrend, with a lack of uptrends. The latest downtrend witnessed the price crash from $6,502.1 to $3,578.67. The long-term support has been holding at $3,440.3.
The Chaikin Money Flow indicator has been staying below the zero line, a sign of the money going out of the market. The recent spike towards the zero line points to a slight increase in the inflow.
The Awesome Oscillator indicates an increase in momentum, that has been the highest since August.
The MACD indicator is holding below the histogram, with the signal line and the MACD line both moving as a conjoined pair. The MACD histogram has shown a bearish spike after being in a lull for a long time.
Conclusion
The above-mentioned indicators all point to the bear taking control of the market again as the bull's power has started waning. With the crypto-winter continuing, Bitcoin's chances of shooting up to the heights of 2017 seem highly unlikely.
---
Source
---
Back to the list