Back to the list
Is Elon Musk manipulating the Bitcoin market?
ccnews24.net
13 May 2021 08:29, UTC
Reading time: ~2 m
---
The third richest man in the world and the founder of SpaceX, Tesla today again caused considerable turmoil in the Bitcoin market.
Elon Musk started engaging and commenting on cryptocurrencies at the end of January this year when he changed his bio on Twitter to #bitcoin. Even then, many questions arose as to what was behind it and why suddenly such an influential person supported BTC.
However, it didn't take long and it was clear to everyone, because there was information that Tesla had invested $ 1.50 billion in Bitcoin in January of this year, just before he changed his bio to #bitcoin.
Although this pleased many crypto enthusiasts, this behavior of Elon Musk bordered on manipulation, according to the American economist Nouriel Roubini.
Nouriel Roubini had already said at the time that the U.S. Securities and Exchange Commission should monitor such influential people as Elon Musk, as such behavior borders on market manipulation.
However, it didn't take much time, and today the topic is relevant again, because just a few hours ago, Elon Musk decided to publish a statement stating that Tesla was suspending the purchase of vehicles for BTC, as BTC mining uses more and more fossil fuels.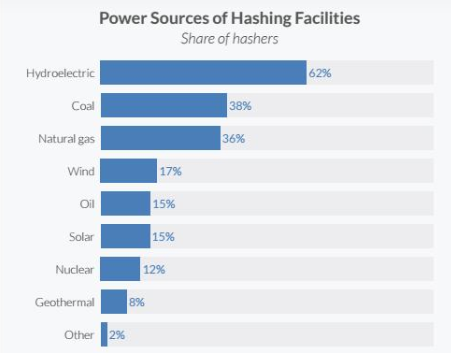 As for the specific distribution of energy sources, hydroelectric is a clear favorite coming in at 62%. Other positions were occupied by coal with 38% or such natural gas with 36%, only 17% of the respondents use wind turbines.
---
Source
---
Back to the list