CryptoQuant CEO Ki Young Ju is naming one catalyst that he says could send Bitcoin's (BTC) value into the stratosphere.
In a new tweet, the CEO of the on-chain analysis firm tells his 165,00 followers that he believes the approval of a Bitcoin exchange traded fund (ETF) could act as a big catalyst to push Bitcoin's price to greater heights.
"NYSE (New York Stock Exchange) listed the first gold ETF in Nov 2004, and the price never came back. Many economic factors have affected the gold price, but listing ETF would have played a major role in the inflow of global institutional funds. We may never see this BTC price again once ETF's approved."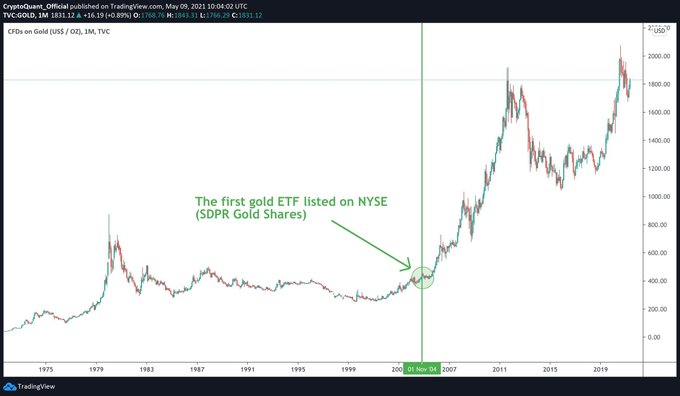 The CryptoQuant CEO implies that Bitcoin's consolidation below $60,000 is largely driven by retail capital being allocated in memecoins and low-cap crypto assets such as Dogecoin (DOGE), Shiba Inu (SHIB), and SafeMoon.
"I think this is why the BTC price is going down in spite of strong fundamentals. The market will become smart money soon, and the funds will go to major coins that have intrinsic value."
Although Bitcoin continues to struggle to breach resistance at $60,000, Ki believes that the leading crypto asset remains bullish.
"This BTC correction is more like a technical correction, and the fundamentals are still strong. US institutional demand has driven this bull market. There's no change in this trend…
We may see a series of announcements of BTC purchases from institutions like Facebook soon. Institutions have been accumulated BTC in the $48,000 – $60,000 range since February. Approximately, 154,000 Bitcoin have flowed out from Coinbase into multiple cold wallets."