Back to the list
Wall of Capital Descending on Altcoins As Bitcoin Consolidates: Glassnode
dailyhodl.com
12 May 2021 15:45, UTC
Reading time: ~2 m
---
A wall of capital is being relocated into altcoins while Bitcoin (BTC) trades sideways, says blockchain analytics firm Glassnode.
In their latest newsletter, Glassnode says that altcoins, led by Ethereum (ETH), are benefiting from Bitcoin's lack of action and sucking in huge amounts of money.
The widely-followed analytics firm says that Bitcoin's on-chain data is showing a rotation of capital into altcoins, with Ethereum being the primary beneficiary.
"As if it was not obvious already, ETH (…and DOGE) has been a primary recipient of a good portion of this capital rotation, with extraordinary price performance over the last three weeks."
Supporting their thesis is the massive influx of capital onto Binance and the simultaneous outflow from Coinbase.
"Given Binance is a preferred venue for retail speculation and has some of the most liquid altcoin markets, it is very likely that recent spending of BTC is indicative of capital rotation, as traders take advantage of altcoin volatility while Bitcoin prices consolidate."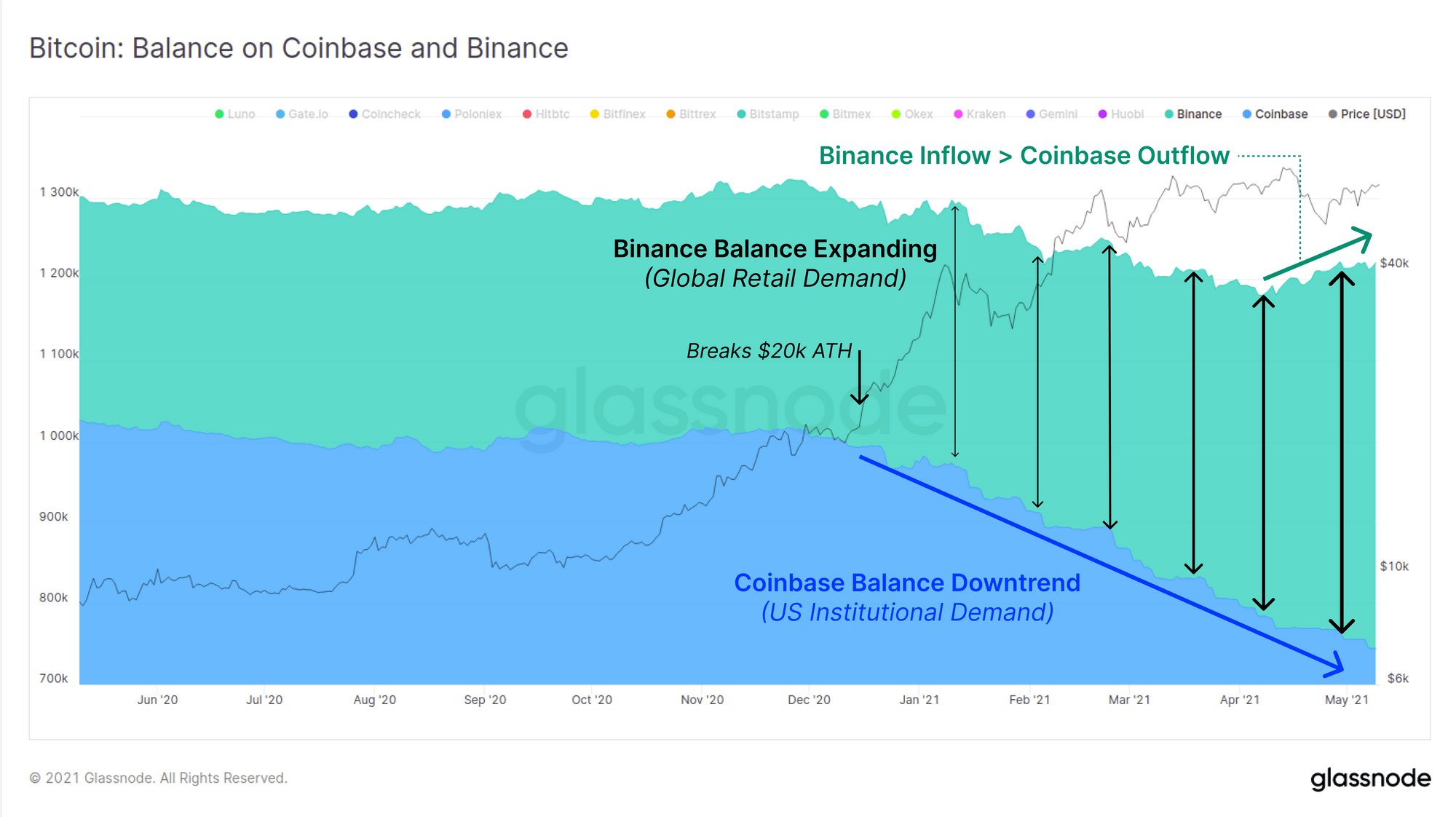 Glassnode also takes notes of the visible increase in activity on the Ethereum network, including smart contract calls, Uniswap transactions, total transaction rate, and US dollars settled in ETH transfers.
"The Ethereum chain has hit another on-chain all-time high (ATH) for daily transaction counts, as the increased gas limit provides a boost in maximum transaction throughput. A daily ATH of 1.63 million transactions was achieved this week, representing a 22.50% increase over the previous peak, set just before the 2017 macro top."
While capital rotation is aiding Ethereum and a number of different altcoins in explosive rallies, Glassnode doesn't necessarily see any bearish signs for Bitcoin, noting that BTC miners are accumulating at increasing rates.
"Miners have returned to coin accumulation in a significant way throughout April and May, with the net change in miner balances going green. This metric is calculated by looking at the net change to miner balances over a trailing 30-day window.
This metric currently shows that miners are not only net accumulating, they are doing so at an increasing rate, suggesting strong conviction and bullish sentiment."
---
Source
---
Back to the list