Bitcoin traders appear cautious about the sustainability of the cryptocurrency's swift recovery from Tuesday's low of $53,000.
The top cryptocurrency jumped 8% on Wednesday, erasing Tuesday's slide from $57,000 to $53,000, as the U.S. Treasury Secretary Janet Yellen backtracked on comments suggesting interest rate hikes may be needed to stop the economy from overheating.
Bitcoin (BTC) is currently trading near $58,000, representing a 21% gain on lows near $48,000 seen at the end of April, according to CoinDesk 20.
The recovery, however, has failed to subdue fears of a deeper bull market correction. The one-week put-call skew remains entrenched in the positive territory for the third straight week in a sign of persistent demand for short-term put options or bearish bets.
Traders look to be buying "protective puts" – purchasing puts against long bitcoin positions in the spot or futures market.
The put-call skew is a gauge of the value of puts relative to calls; a positive skew implies that demand for puts (bearish options bets) is outstripping calls (bullish bets).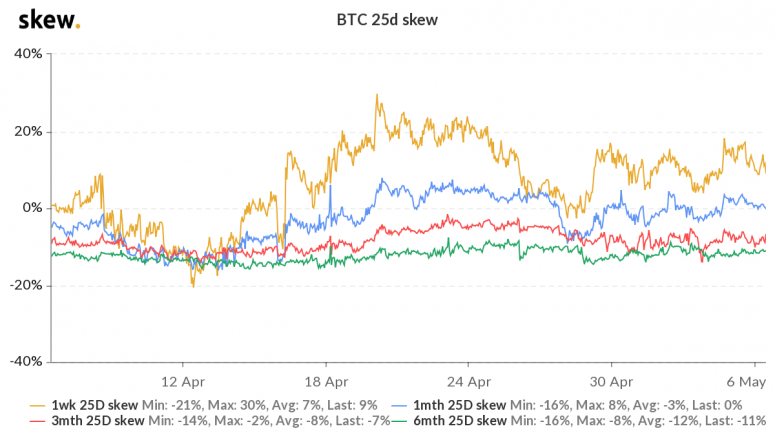 The one-week put-call skew is currently hovering near 9%, having turned positive with bitcoin's drop from $60,000 to sub-$50,000 in the second half of April.
However, the options market continues to show long-term bullish with three- and six-month skews returning negative values. The one-month gauge is now hovering near zero.
Also read: Ether Traders Load Up on $8K Call Options in Bet Price Will Double by July