CryptoQuant chief Ki Young Ju is unveiling how Bitcoin whales are playing the market as BTC consolidates between $50,000 and $60,000.
In a new tweet, the head of the on-chain analytics platform says that he's witnessing large Bitcoin transfers that are likely happening over the counter (OTC).
"Whales have been accumulating BTC. Massive Bitcoins have transferred, but these transactions are not from exchanges. Possibly OTC deals. NVT golden cross remains very low, meaning transaction volume is big compared to the market cap."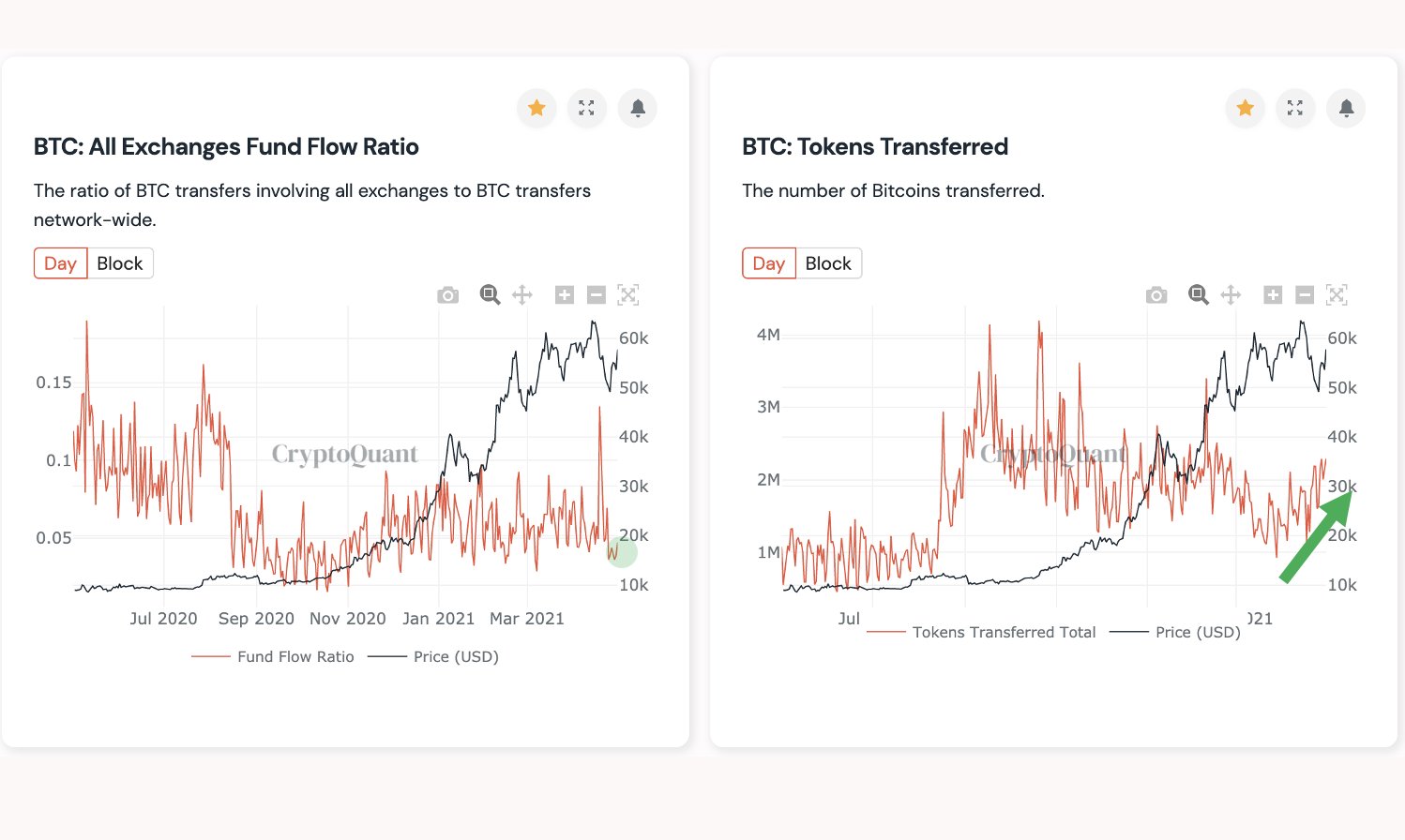 According to CryptoQuant, the NVT (Network to Value Transactions) golden cross is a signal that indicates the formation of a local top or bottom. A value below -1.6 suggests that Bitcoin may be poised for a strong leg up. At the end of April, the NVT golden cross metric had a value of -2.95.
"NVT Golden Cross indicator hit a year low. BTC has upside potential from the perspective of the NVT valuation model."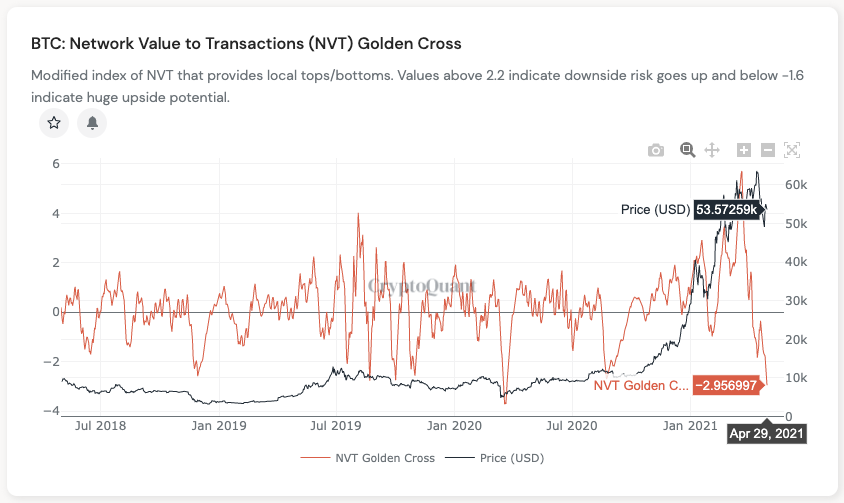 In addition, Ki highlights that whales are transferring BTC to derivative exchanges, indicating that they might bet on Bitcoin's ascent in the short term.
"A significant amount of BTC moved to derivative exchanges from other exchanges, meaning whales might open a long position by using their BTC as collateral. This happened in the dip."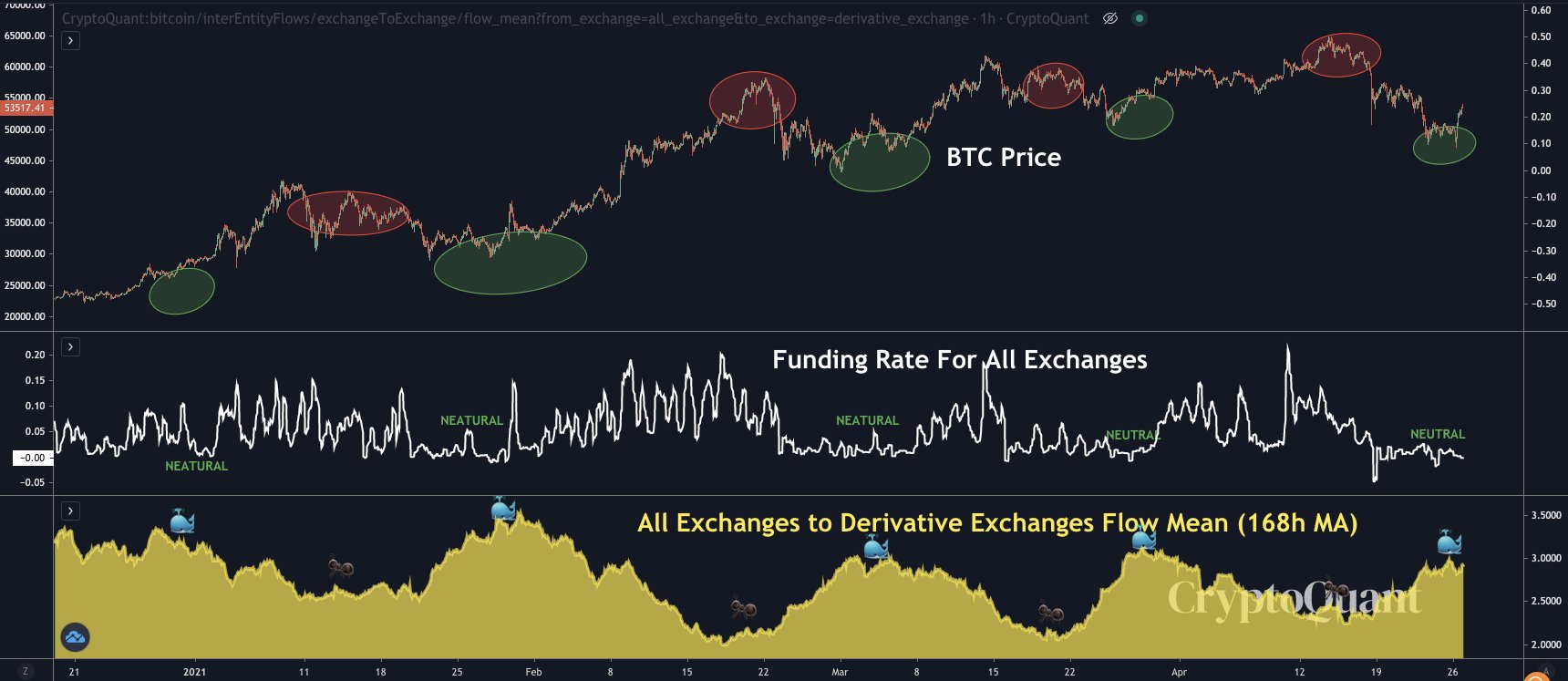 Another signal that indicates massive whale accumulation according to Ki is the surging Coinbase premium, which he says is a sign that institutional investors are buying Bitcoin.
"Institutions like Tesla use Coinbase Prime brokerage to buy or sell BTC. It would be bulk orders that can affect BTC price. Coinbase premium has been negative/neutral for the past 7 weeks, but it turned positive lately, hitting an all-time high a week ago. Long-term bullish."
The bullish on-chain signals come as Bitcoin recovers from a nearly fifty-day low of $47,159.49. At time of writing, Bitcoin is trading at $57,499, up over 14% in the past week, according to CoinMarketCap.