Back to the list
Bitcoin Transfers From Miners to Exchanges Hit 6.5-Month Low
www.coindesk.com
29 April 2021 10:25, UTC
Reading time: ~2 m
---
Bitcoin miners continue to reduce their supplies to exchanges in a sign of bullish price expectations.
The seven-day moving average of the daily volume of coins transferred from miners to exchanges fell to 152.77 BTC on Wednesday, the lowest since Oct. 8, according to data provided by Glassnode.
The metric has declined by 80% since topping out at 805 BTC on Feb. 23.
Reduced miner supply to exchanges is taken to represent bullish sentiment among those responsible for generating coins. By choosing to hold onto more of their BTC now, it implies miners anticipate selling them later at a higher price.
Miners mainly operate on cash and are constant sellers in the market, liquidating at least some part of their holdings every day to fund operational costs.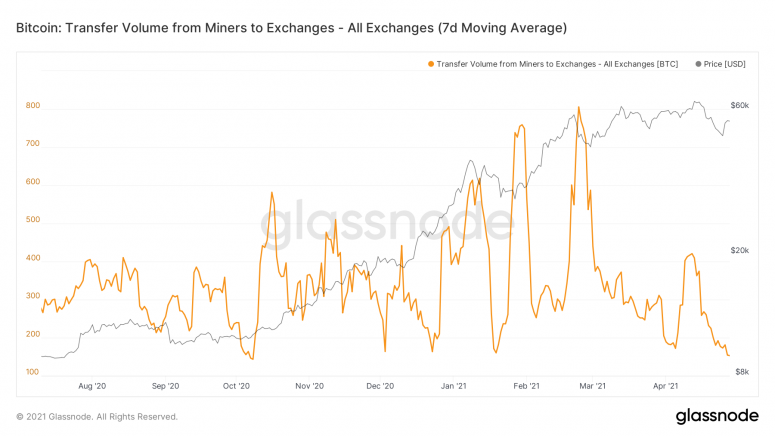 Miners boosted their supply to exchanges in January and February, meaning peak distribution or profit-taking happened back then.
Glassnode's miner position change metric, which gauges the 30-day change in the supply held in the miners' addresses, also shows miners have returned to accumulation mode this month.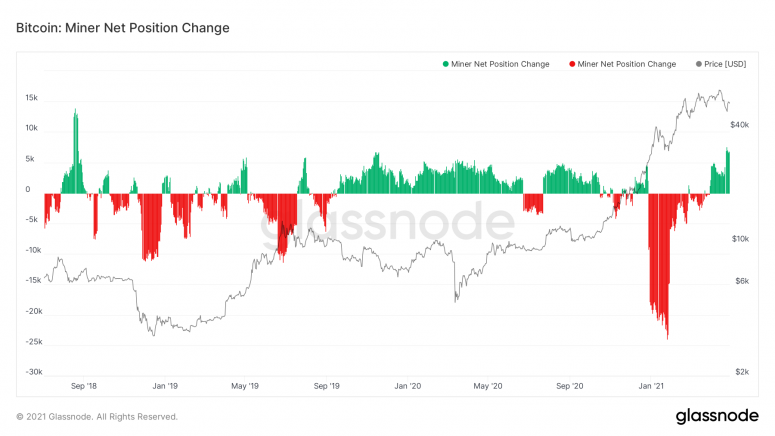 The indicator crossed above zero at the end of March, signaling renewed holding by miners, and has now risen to the highest level since September 2018.
The balance held in miner addresses has also increased by over 8,000 BTC to 1,809,992 BTC over the past two months, as per Glassnode data.
However, reduced miner supply to exchanges does not imply a price rally, as it constitutes a small part of the total network volume, as tweeted by Glassnode's CEO Rafael Schultze-Kraft.
As of Wednesday, miner transfers to exchanges accounted for less than 1% of the total exchange inflow of 32,912 BTC.
Also read: Federal Reserve Keeps Rates Near Zero, Maintains Asset Purchases, Sees Inflation as 'Transitory' 
---
Source
---
Back to the list