Back to the list
Bitcoin Rallies Above $55k as HODLers Reach a New High
bitcoinexchangeguide.com
27 April 2021 11:54, UTC
Reading time: ~3 m
---
[beg-green-box-list]
After falling to just under $47,000 over the weekend, the price of Bitcoin is on the rise this week.
Having recovered fast from the bottom that pushed the prices to its 100-day moving average, Bitcoin is now already above $55,000.
[/beg-green-box-list] "Crypto bulls breathed a sigh of relief as last week's deep rout across the space failed to extend," Steen Jakobsen, CIO at Saxo Bank,
wrote
in a note. However, "it has quite a wall to climb to fully neutralize the recent selloff." According to
Dan Tapiero
, founder and CEO of 10T Holdings, there is "a very rare td buy signal in bitcoin." The last time we saw one was right at the March 2020 low.

Tapiero still expects to see 100k this year despite the overwhelming calls of panic over the last few days when the
BTC price
dipped to about 27.7% from the ATH, despite the price of Bitcoin keeping around $50k. "Hodl is the only way to be long without emotion," he added. Amidst this, JPMorgan Chase & Co. is preparing to introduce an actively managed Bitcoin fund to its wealthy clients, Coindesk reported citing people familiar with the matter. On Monday, Tesla's quarterly results also revealed a gain of $272 million on "digital assets" after its
$1.5 billion investment in Bitcoin
in the first quarter. The electric car maker generated $101 million in income from selling a small part of its BTC position, which helped the company beat analysts' estimates for profit. Tesla CEO Elon Musk assuaged any concerns
saying
he hasn't sold any of his BTC; rather, Tesla sold 10% "essentially to prove liquidity of Bitcoin as an alternative to holding cash on balance sheet." CFO Zachary Kirkhorn also said on the conference call that they "believe long-term in the value of Bitcoin," CFO Zachary Kirkhorn said on the conference call. On-chain data actually shows that more addresses are holding BTC for the long term. Those addresses which are holding bitcoin for more than a year have now reached a new high of 21.77 million addresses, 56% of all the addresses, holding a total of 10.2 million BTC, as per
IntoTheBlock
. [caption id="attachment_288648" align="alignnone" width="1095"]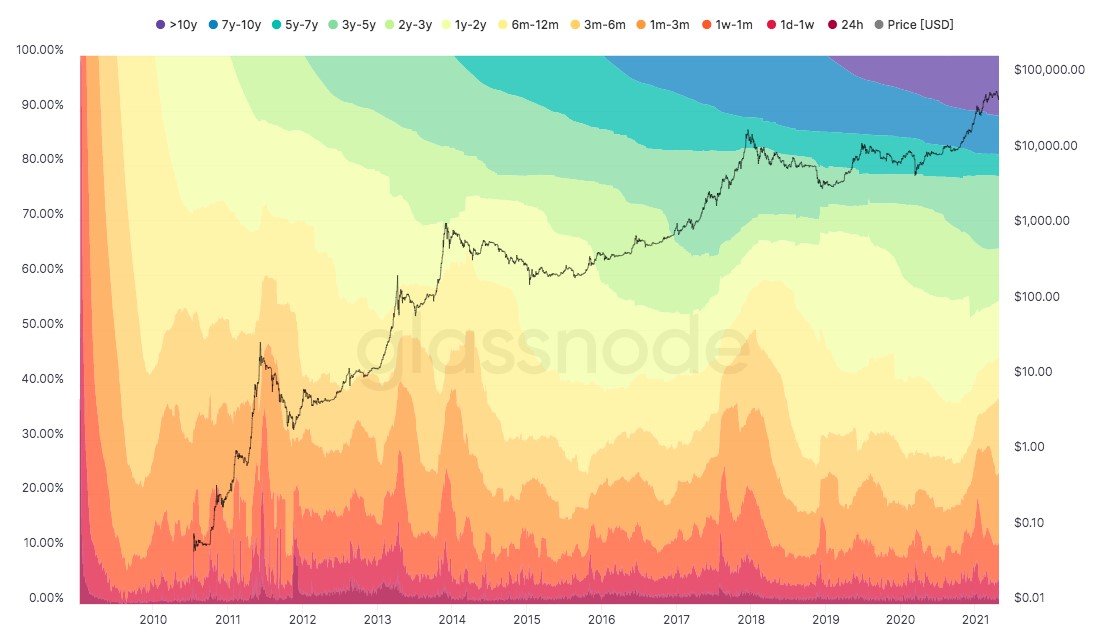 Source: Glassnode[/caption] Recently, value investor Bill Miller had also shared in a conference call that he allocated 1% of his liquid net worth to purchase Bitcoin, at around $300 per BTC.
Miller is a bitcoin bull
who sees it as a better store of value than gold, calling it digital gold. He, however, has no interest in altcoins as he expects Bitcoin to be the dominant asset in the industry. Miller expects many of the altcoins to be worthless, saying, "Of networks, there will be few." Joe Lonsdale, the co-founder of Palantir Technologies Inc, also came in support of the leading cryptocurrency, which he called a risky investment. He advised retail investors not to put all their money into it. He believes BTC has a really good chance of becoming something big, calling Bitcoin a bet against the fact that "we have a centralized financial system run by crazy people at the moment." [deco-beg-single-coin-widget coin="BTC"]
---
Source
---
Back to the list