Back to the list
Bitcoin Google Searches in Turkey Hit New ATH as the Country Plans More Crypto Regulations
cryptopotato.com
27 April 2021 10:16, UTC
Reading time: ~2 m
---
Bitcoin has become increasingly popular in Turkey. The number of Google queries for the primary cryptocurrency has gone through the roof following the latest developments coming from the country, including a ban on using cryptocurrencies as payment instruments.
Turks Love Bitcoin
Cryptocurrency-related activities have been on the rise within Turkey in the past several weeks or so. CryptoPotato reported previously that the nation would ban the usage of digital assets as payment tools at the end of April. Additionally, the founder of the country's third-largest crypto exchange escaped with $2 billion of users' funds.
Interestingly, though, these developments have only enhanced Turks' interest in the industry, and bitcoin, in particular. Google trends data shows that the number of bitcoin searches has been gradually increasing in recent months.
The previous record came in late February when the Turkish Lira collapsed by 15% in a day after President Erdogan removed the central bank's governor. Now, the queries have surged to a fresh record, which came in the week following the aforementioned ban.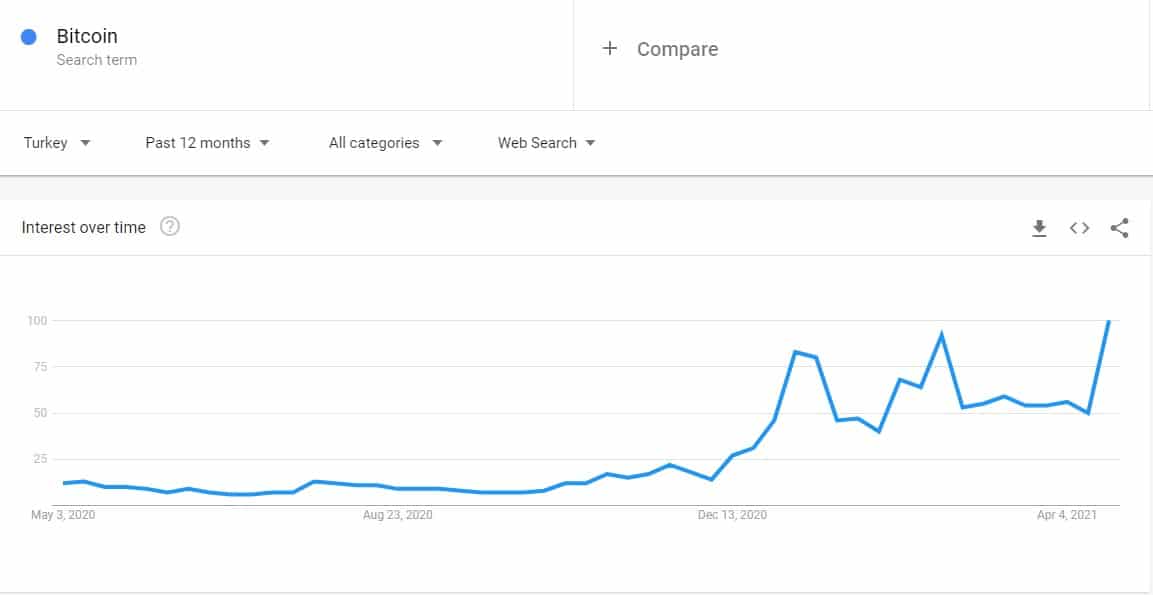 Separately, retail interest for purchasing the primary cryptocurrency was riding high recently as well. The "buy bitcoin" Google searches registered a new record just a couple of weeks ago.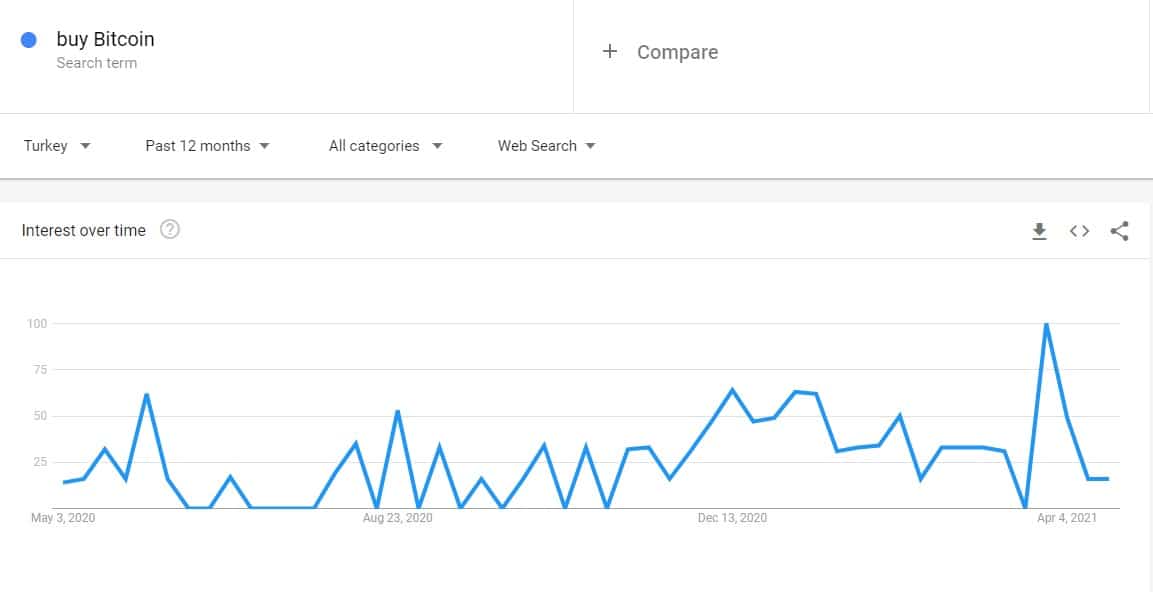 Regulations Following Recent Fiasco
Shortly after the nation's third-largest crypto trading venue closed doors (Thodex), so did the fourth-largest (Vebitcoin). Nevertheless, the second closure seems different – instead of billions of dollars worth of a rug pull, Vebitcoin cited financial difficulties as the main reason, and no one affiliated with the company has run away yet.
Consequently, Turkey's authorities have decided to act to prevent similar occurrences. Citing a "senior official" familiar with the matter, Bloomberg reported that the country now plans to establish a more precise and strict legislative framework on cryptocurrency usage.
The unnamed sourced said that the Treasury and Finance Ministry, Capital Markets Board, and financial crimes regulator Masak would participate in the bill. The first draft could see the light of day in a few weeks.
The recently-appointed governor of Turkey's central bank, Sahap Kavcioglou, confirmed that new regulations are indeed in the pipeline.
"This market looks like a bottomless pit, and regulation is absolutely needed. Risks may trigger new risks. People may close positions elsewhere to counter their crypto losses." – commented Orkun Godek – head of research at Deniz Investment.
---
---
Source
---
Back to the list