Back to the list
Bitcoin 'Double Spend' That Never Happened Panics Firm Into Selling All Its BTC
www.cryptoglobe.com
24 January 2021 22:00, UTC
Reading time: ~5 m
---
Canadian firm NexTech AR Solutions Inc. has announced that it has sold all of its Bitcoin due to concern that about a potential "double spend" on January 20.
NextTech, which is "a leading provider of virtual and augmented reality (AR) experience technologies and services", announced on 29 December 2020 that it aimed to "make an initial investment of $2million in Bitcoin" (and to possibly add more in 2021), thereby following the footsteps of U.S. companies such as MicroStrategy and Square that had invested in Bitcoin for use as a treasury reserve asset.
NexTech CEO Evan Gappelberg had this to say at the time:
"Our investment in Bitcoin is part of our new capital diversification and allocation strategy with the intent to maximize long-term value for our shareholders.
"This initial investment reflects our belief that Bitcoin is a long-term store of value and an attractive investment asset with more long-term appreciation potential than holding cash, which is currently yielding 0.06%. Bitcoin is a digital version of gold which has a total market capitalization of $10trillion versus Bitcoin's total market capitalization of only $500billion. We think that as part of the digital transformation a paradigm shift to digital gold is underway and as Bitcoin is seen more and more as a store of value, just like gold, it will catch up to gold."
Then, at 11:33 UTC on January 20, BitMEX Research, the research arm of crypto derivatives exchange BitMEX, tweeted that it may have detected "a small double spend of around 0.00062063 BTC ($21)."
Just before this tweet, according to data from Trading View, Bitcoin was trading around $34,425.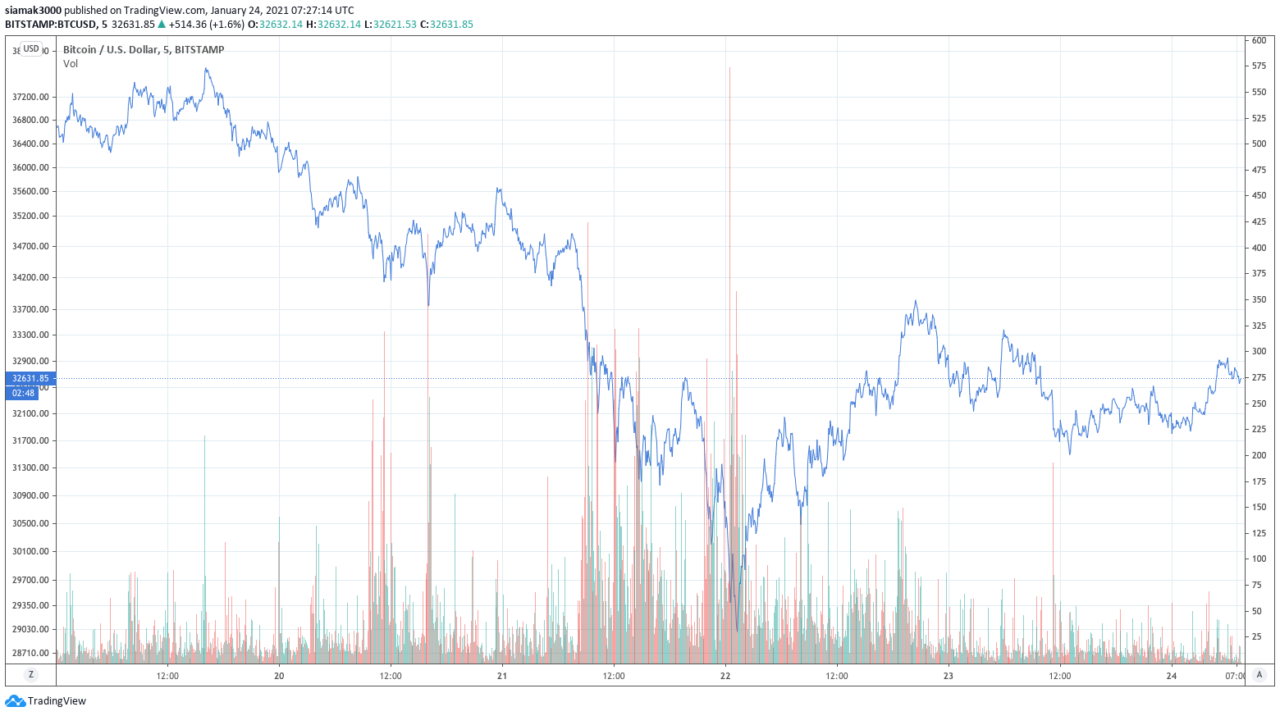 Around one hour later, BitMEX reported that "on closer inspection this is likely to be an instance of RBF, where the lower fee transaction won."
The next day, Cointelegraph published an article about this incident that included the following tweet from Bitcoin SV (BSV) advocate Eli Afram:
Later that day, BitMEX provided further information about what had happened:
Bitcoin advocate and educator Andreas M. Antonopoulos took to twitter on January 21 to clear up the confusion and panic caused by many articles that sensationalised what was essentially a "nothing burger."
Then, roughly 30 minutes later, Antonopoulos published a tweetstorm to provide a much more detailed explanation, and this was the conclusion:
He also created a YouTube video to provide further clarification on the topics of double spending, blockchain reorganisations, and Proof-of-Work (PoW) consensus.
It is worth pointing out that through all of this, Antonopoulos kept defending BitMEX (which many people in the crypto community were accusing of deliberating causing the Bitcoin price to crash by spreading misinformation). Although BitMEX had done nothing wrong, they still apologized:
On January 21, FUD over a double spend that never took place some poorly-informed Bitcoin investors and traders had resulted in the Bitcoin price dropping to as low as $30,200 (at 22:25 UTC) on Bitstamp.
Well, one of those spooked investors was Canadian firm NexTech, which announced on January 22, that it had sold all the Bitcoin (130.187 BTC) in its treasury.
NexTech CEO offered this statement by way of an explanation:
"Our investment in Bitcoin in the past was part of our capital diversification strategy with the intent to maximize long-term value for our shareholders. This sale reflects our awareness that something potentially has changed with Bitcoin which is seen as the digital version of gold.
"The news that has emerged is that a critical flaw called a 'double spend' may have occurred, which if true allows someone to spend the same Bitcoin twice, undermining faith in the system. If the system is built on scarcity and faith in the system, then a 'double spend' would eliminate both -essentially destroying the store of value it was meant to be. In light of this potential outcome, I have decided to move to cash as this story is still unfolding."
One of the many people making fun of this seemingly poor decision by NexTech was crypto analyst Alex Krüger who criticized NexTech's management for having "such weak hands.
The views and opinions expressed by the author are for informational purposes only and do not constitute financial, investment, or other advice.
Featured Image by "petre_barlea" via Pixabay.com
---
Source
---
Back to the list
Similar news