Back to the list
Bitcoin Jumps Over $27,000 Hurdle, Does Guggenheim's $400K Target Make Sense?
www.cryptoglobe.com
27 December 2020 08:00, UTC
Reading time: ~4 m
---
Another day, another hurdle cleared. Around 06:00 UTC on Sunday (December 27), on Coinbase, the Bitcoin price broke through the $27,000, and kept on going, reaching a new all-time high (ATH) of $27,432 14 minutes later.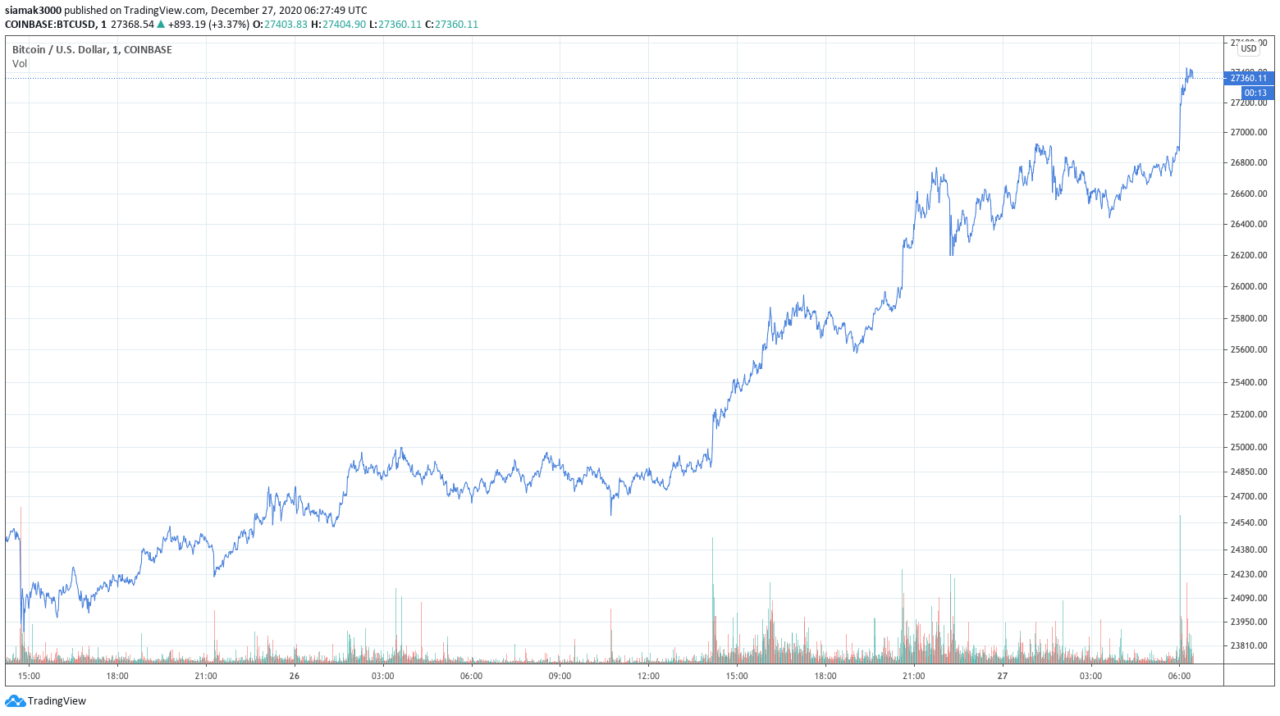 Currently (as of 06:38 UTC on December 27), Bitcoin is trading on Coinbase around $27,450, up 10.78% in the past 24-hour period, and up 282.15% in the year-to-date period. Bitcoin's market cap is now approximately $510 billion.
Crypto influencer said a few minutes ago that Bitcoin could break $30K soon and the insane pace at which Bitcoin is setting new all-time highs makes it appear that we might even get to see Bitcoin's price hit $30,000 before the end of this year.
And as the tweet below illustrates, traditional mainstream media, which has mostly been either ignoring Bitcoin or mocking it, is starting to get excited by Bitcoin's highly impressive bull run.
New York Times best-selling author Neil Strauss made fun of how many people keep procrastinating when it comes to getting into Bitcoin, and thereby eventually having to buy at much higher prices.
Last Sunday (December 20), crypto analyst/trader Luke Martin (@VentureCoinist), who is also the host of the "Venture Coinist" podcast and the "Venture Coinist" YouTube channel, took a closer look at Guggenheim Partners' $400,000 price target for Bitcoin to see if it makes sense.
As you may remember, on December 16, Scott Minerd, Global Chief Investment Officer of Guggenheim Partners, "a global investment and advisory firm with more than $295 billion in assets under management, talked about Bitcoin during an interview on Bloomberg TV.
The interview started by the Guggenheim CIO being asked by Scartlet Fu, Bloomberg TV's Senior Editor of the Markets Desk, about the Guggenheim Macro Opportunities Fund and the decision by its managers to invest "up to 10% of its net asset value in Grayscale Bitcoin Trust." In particular, he was asked if Guggenheim had started buying Bitcoin yet and how much this decision was "tied to the Fed's extraordinary policy."
Minerd replied:
"To answer the second question, Scarlett, clearly Bitcoin and our interest in Bitcoin is tied to Fed policy and the rampant money printing that's going on. In terms of our mutual fund, you know, we are not yet effective with the SEC. So, you know, we're still waiting.
"Of course, we made the decision to start allocating toward Bitcoin when Bitcoin was at $10,000. It's a little more challenging with the current price closer to $20,000. Amazing, you know, over a very short period of time, how big run-up we've had, but having said that, our fundamental work shows that Bitcoin should be worth about $400,000.
According to a report by The Daily HODL, on December 20, this is what Martin said about Guggenheim's $400K valuation:
"If you use gold's market cap as a target and use that as a relative valuation model, if Bitcoin does eat into gold's market cap over the next 100 years, then I actually do think the $400,000 price target that Scott Minerd gave – and I imagine a lot of other soon-to-be Bitcoiners will be giving – actually does make sense, especially when you account that store-of-value assets are much bigger than just gold.
"Remember, people store value in collectibles, they store value in fine art, they store value in expensive cars. Billionaires, millionaires, they have Ferraris, they have Porsches, and sometimes they buy them to drive them around, but a lot of times they buy them as a store of value. You buy scarce items because they retain their value well in a world where we have infinite supply of fiat money. We continue printing money. Scarce assets continue to go up as the money supply goes up."
---
Source
---
Back to the list
Similar news