Back to the list
Palling up to Crypto: how PayPal can be a gamechanger for the fortunes of Bitcoin
en.cryptonomist.ch
17 October 2020 12:00, UTC
Reading time: ~5 m
---
PayPal is ramping up its efforts to accommodate Bitcoin in a move that could have a profound impact on the crypto landscape. 
Speaking to CNBC, Sandi Bragar, managing director of investment management firm Aspiriant, said that PayPal is actively working to encourage sellers to adopt cryptocurrencies. This comes off the back of news that the payment behemoth has begun setting up preparations to offer its own cryptocurrency trading services. 
The move has been heralded as a positive one for both PayPal and crypto-assets like Bitcoin alike – with Bragar seeing PayPal's willingness to explore the world of crypto as one of the key reasons Aspiriant sees it as a viable investment opportunity. Furthermore, the fact that the COVID-19 pandemic has forced more people than ever to stay home and make payments remotely, the payments service has become a leading way of keeping users connected. 
Speaking on PayPal's relationship with cryptocurrencies, Bragar said: 
"We are pleased that PayPal is working with sellers to drive cryptocurrency acceptance, and we think this will be really important as cryptocurrencies become more common in the coming years."
But what will the burgeoning relationship between PayPal and cryptocurrencies mean for the future of the likes of Bitcoin, Ethereum and the trading of crypto-assets? 
PayPal: paving the Path to adoption of Bitcoin
PayPal has been flirting with the idea of accommodating crypto in some form since 2013. At the time, David Marcus, then president of the payment giants said:
"it's just a question of whether Bitcoin will make its way to PayPal's funding instrument or not."
Months after this statement was made, eBay CEO John Donahoe said that payment platforms will one day need to integrate Bitcoin in order to keep up with the pace in which the financial market is moving. Since this statement was made, Bitcoin has indeed become better integrated with PayPal and many online exchanges offer Bitcoin to PayPal conversions for customers. 
Despite much speculation, it wasn't until April 2019 that PayPal officially backed a blockchain startup for the first time – investing an undisclosed sum into Cambridge Blockchain, a fintech firm looking to leverage the technology to bring users more control over their digital identities. 
Finally, in the summer of 2020, PayPal found itself at the heart of rumours that the payments company was considering listing crypto assets on its platform, which is estimated to have as much as 325 million accounts across the world. 
Adding fuel to the flames, it's emerged that PayPal is also currently hiring crypto and blockchain specialists – showing that its potential arrival may be the result of more than simple speculation. But what could the arrival of 325 million new users into cryptocurrency markets mean for the world of digital finance? 
Opening The Door to Mass Demand
The reason that PayPal's prospective accommodation of Bitcoin and other cryptocurrencies is such significant news is that it has the potential to catapult cryptocurrencies into mainstream usage.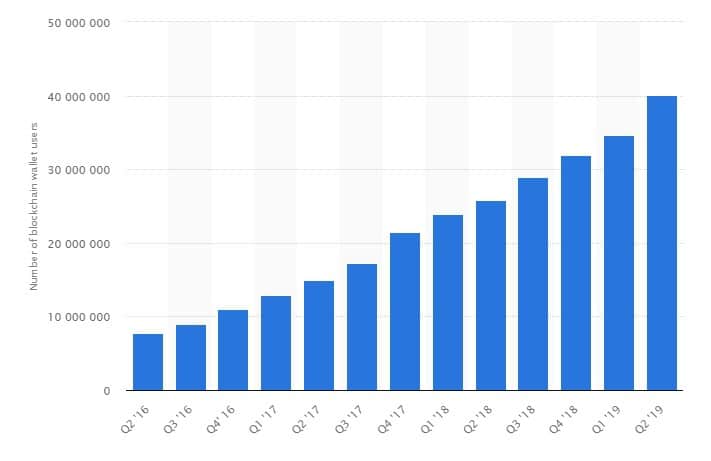 As we can see from the chart above, moving into 2020 the number of blockchain wallet users worldwide stood at just under 50 million. Now, imagine what could happen to the cryptocurrency marketplace when suddenly an extra 325 million wallets become capable of buying and selling in Bitcoin, Ethereum, or a range of other digital assets. 
The support of PayPal is likely to make cryptocurrencies much more of a viable asset in the minds of mainstream investors. Alex Mashinsky, founder and CEO of cryptocurrency lending platform Celsius Network, explained to Cointelegraph that the arrival of the payments giants into the crypto market will likely have an instant impact on the value of both Bitcoin and Ethereum, pushing their respective prices up instantly
"as the scarcity of the coins will play a big part when adoption comes."
The arrival of PayPal could act as the cornerstone of mainstream adoption – prompting the industry to become more consolidated as a whole. This may spell the end of altcoins as a class broadly speaking, but could also lead to mass tokenization of assets and more robust crypto business as a whole. 
Furthermore, PayPal could bring fresh benefits by acting as a bridge between crypto audiences and more traditional avenues of finance. This can help to onboard new users who have never experienced cryptocurrencies before. 
Despite the integration of PayPal remaining a tantalising story, it's clear that the payments network is already in demand among cryptocurrency users. In July, Singapore blockchain organisation, Pundi X, integrated PayPal support for its point-of-sale device, Xpos. 
The move was put into action following a Twitter poll that asked which mobile payment app users would like Xpos to integrate with first. PayPal received a huge 70% of the vote – fending off competitors like WeChat Pay, GoPay and Alipay among other rivals. 
The world of cryptocurrencies has entered an exceptionally volatile time, with the market experiencing jitters brought on by the disruptive force of DeFi and an apparent air of uncertainty seeping in from the unfolding US presidential election. 
With Bitcoin experiencing a bearish September, the ramping up of PayPal's interest in accommodating cryptocurrencies could provide the market with the boost it seems to be waiting for. With up to 325 million potential investors waiting in the wings, the crypto market's slumber could be short-lived. 
However, PayPal's flirtation with Bitcoin has been over seven years in the making, and there's bound to be a few more twists and turns in the path towards mass adoption. 
Author's bio
Dmytro Spilka is a tech and crypto writer based in London. Founder of Solvid and Pridicto. His work has been published in IBM, TechRadar, Bitcoin.com, FXStreet, CoinCodex and CryptoSlate.
---
Source
---
Back to the list