Back to the list
Blow to Bitcoin as US Dollar Shows Signs of Further Strength This Week
bitcoinist.com
06 October 2020 04:00, UTC
Reading time: ~3 m
---
Investors predicting sharp upsides in the Bitcoin market could meet a string of aversions from a bullish US dollar outlook.
On Friday, the greenback inched higher–and the Bitcoin price slipped lower–after the news that Donald Trump and his wife Melania had tested positive for coronavirus. The report appeared when investors were already preparing for extended uncertainty around the November 3 presidential election.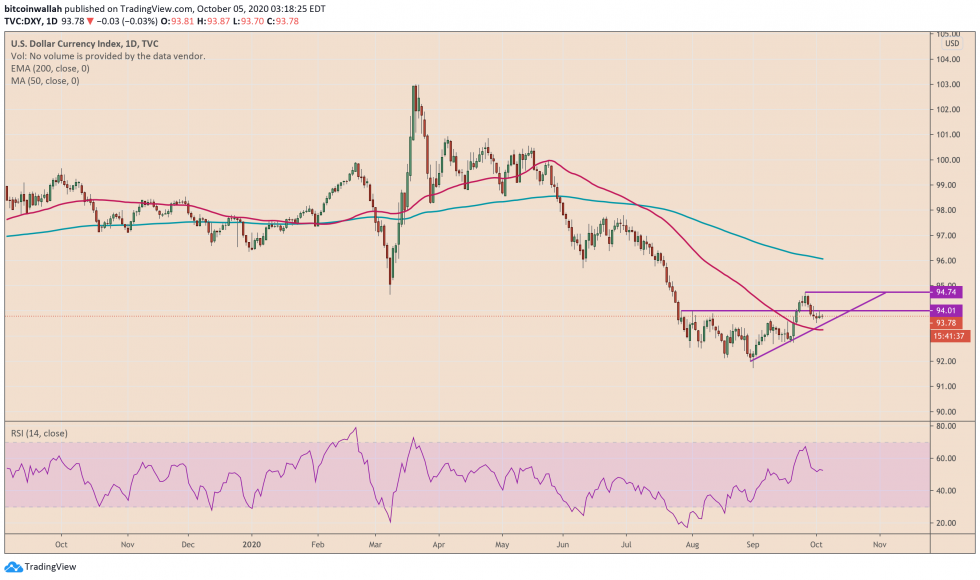 US dollar index (DXY) steady following last week's rebound move. Source: TradingView.com
Mr. Trump had repeatedly indicated that he might challenge the outcome of the poll over his fears of "voter fraud." That elevated expectations of too high market volatility during the election season. As a result, investors moved back into the safety of what they presumed is the safest haven asset: the US dollar.
After easing for a while following its pullback from 94.74 (as shown in the chart above), the US dollar index found its bullish cues in Trump's coronavirus report. And now, the index is looking at similar bullish catalysts to continue its climb higher.
Weaker Euro
A part of the dollar's near-term bullish bias appeared out of a weakening Euro.
Rising coronavirus infections in the Eurozone raised the possibility of tighter lockdowns. It added to investors' hesitation to sell the US dollar for the euro.
Derek Halpenny, the head of the currency strategy at MUFG, said that the trend might continue until the US election. Investors will not likely sell their dollar holdings to partake risks in volatile markets.
Moreover, the greenback should extend its rebound as US Congress fails to finalize the second coronavirus relief package for American households, businesses, and the unemployed. That would limit the dollar's liquidity and, in turn, would increase its appeal among investors due to scarcity.
Donald Trump has issued a call for negotiators to 'work together' on a fiscal stimulus deal a month before the November election https://t.co/BuVmwuc9AV

— Financial Times (@FinancialTimes) October 5, 2020
Miles Ruttan, the Co-Founder & Chief Economic Strategist Bytown Capital, said that a too uncertain period ahead of the election would pose a risk to longed risk-on investors. Therefore, any dollar gains would mean that people are rushing into cash to cover their margin calls.
They would then be creating a self-reinforcing deflationary dilemma. It is "a situation where institutions and traders are selling because they have to, not because they want to."
Bitcoin against the US dollar
The stronger outlook for the US dollar could leave Bitcoin with an opposite market bias. It is because of the growing inverse correlation between the two primarily after the March 2020 global market rout. The US dollar index added 8.81 percent during the period while Bitcoin plunged by almost 60 percent.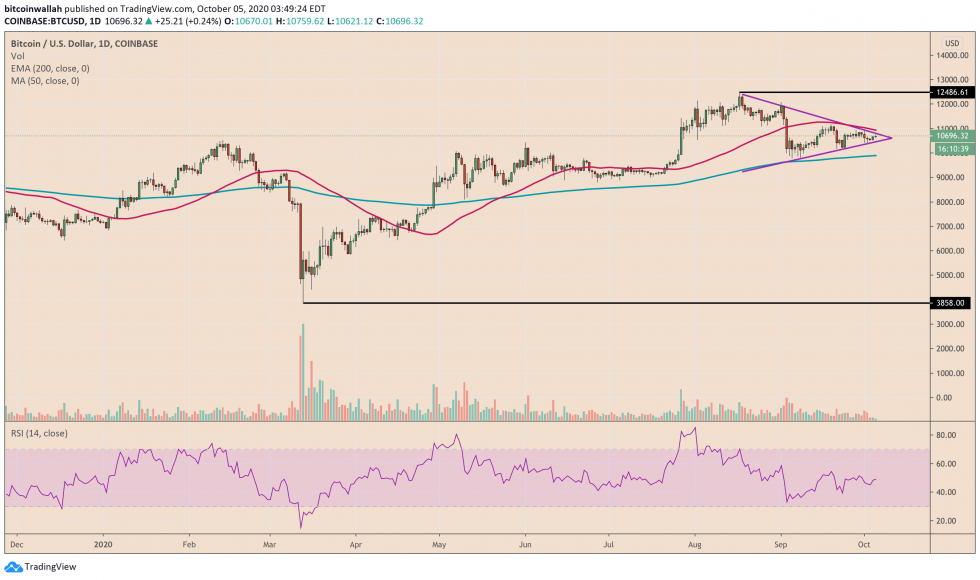 Bitcoin is consolidating above $10,400-10,500 support. Source: TradingView.com
At the same time, Bitcoin's positive correlation with the US stock and gold market grew higher. Jason Brady, president & chief executive of Thornburg Investment Management, stressed that he is advising his clients to hold cash to guard themselves against another March-like sell-off.
"What I've said, and it's very informed by March, you can turn cash into anything, but you can't turn anything into cash," he told WSJ.
So it appears, Bitcoin is at risk of plunging lower before the election season.
---
Source
---
Back to the list