Back to the list
Bitcoin Exploding Above $10K: Now For The Real Crucial Test (BTC Price Analysis)
cryptopotato.com
27 July 2020 22:30, UTC
Reading time: ~3 m
---
What a weekend it was for Bitcoin. The primary cryptocurrency had breached to the 5-digit territory and concluded over $1000 addition to its value just in the past seven days.
In our most recent Bitcoin analysis from two days ago, we stated that:
"In case of a breakout – we are likely to witness Bitcoin retesting $9800 and possibly $10,000 in the next few days (if not later this weekend)."
Bitcoin didn't wait and done all of that, and even more, during the weekend itself.
As of writing these lines, Bitcoin is trading safely around $10,300 in anticipation to face it's real major test very soon.
The 2020 BTC High – Soon To Break?
During mid-February, when the COVID19 pandemic was only limited to China and some parts of Asia, and the global markets broke records, Bitcoin recorded its highest price year to date.
Now, Bitcoin is getting very close to this Golden number of $10,500. This will be the nearest significant test for Bitcoin.
Looking at the following daily chart, the last time Bitcoin aimed to break above that level was at the beginning of June – a tryout that ended by a massive dump to $8600 (on BitMEX) just on the day after.
Today, it seems to be a different story. In my opinion, even though a correction is needed following this greenish week, the chances that Bitcoin had said goodbye to 4-digits prices are very high. This comes after consolidating around $9200 for over a month.
Once again, it was proved that when crypto twitter is bearish, the chances are with the bulls. This is the reason why the vast majority is almost always wrong.
Bitcoin's Support and Resistance To Keep an Eye On
As of now, the RSI is overextended, and Bitcoin hadn't seen a significant price correction over the past week following over 10% gains to its value.
In my opinion, it will be healthier to see Bitcoin retesting the $10K from above, confirming it as strong support before the spike continues. But this is crypto, and things happen fast (and maybe parabolic).
The nearest support now lies at the current price of around $10,200, followed by $10,000. Further below lies $9800, and the breakout zone around $9680.
From above, it gets more interesting. As mentioned, the major area of resistance is the 2020 high around $10,500. A breakout – and we will probably witness a huge missile launch.
The next resistance from above lies at $10,700 – $10,800 followed by $11,000 and $11,200.
Because Bitcoin didn't visit those areas for over a year now, we can expect things to happen a lot quicker now (but hey, there is still the 2020 high, remember?)
On the downside, despite the trading volume is slowly increasing, the massive volume levels that took place during May (surrounding the halving) are not here yet.
Total Market Cap: $307 billion
Bitcoin Market Cap: $188 billion
BTC Dominance Index: 61.4%
*Data by CoinGecko
BTC/USD BitStamp 4-Hour Chart

BTC/USD BitStamp 1-Day Chart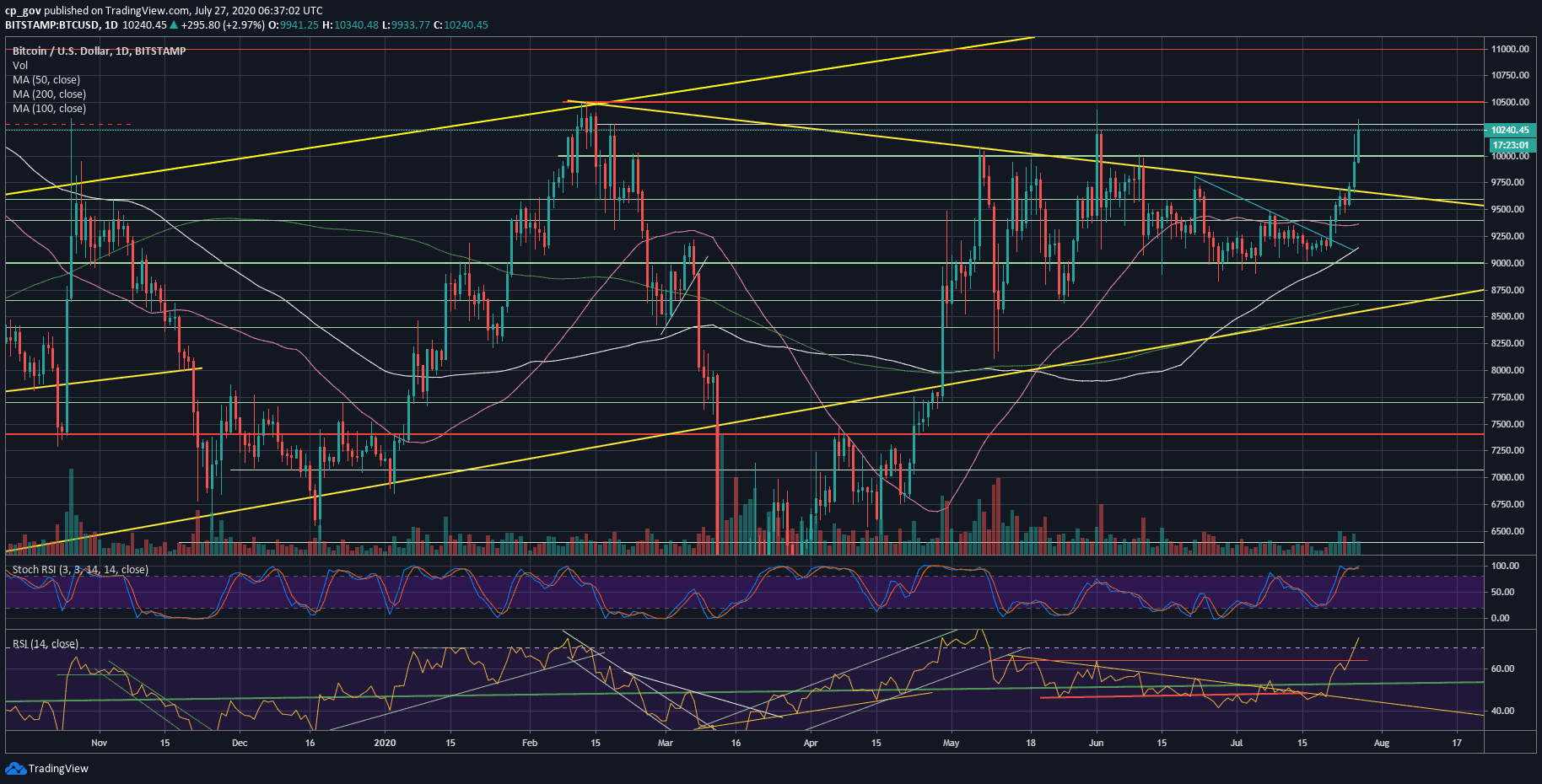 ---
---
Source
---
Back to the list