Back to the list
Data Shows Bitcoin's Hashrate Is Recovering after Post-Halving Drop
btcmanager.com
18 May 2020 10:07, UTC
Reading time: ~2 m
---
After Bitcoin's hashrate hit a high of 103 exahashes per second on May 11, one day prior to the halving event, the latter saw hash rates fall significantly to just 87 exahashes per second, a level not seen in recent times. But the situation has been improving since, along with a surge in prices. 
Bitcoin the King of Bounce Backs
Predictions for Bitcoin's post-halving period threw up mixed opinions. Some called for a dip in prices, while some analysts said bitcoin will touch all-time-highs. Nevertheless, all sides seemed to expect one outcome with surety – that of a drop in Bitcoin's hash rates. 
And the pioneer did not disappoint. Data on on-chain analytics firm Glassnode shows Bitcoin hash rate fell to under 87 exahashes on May 13 and 14, with many miners reportedly pausing business for a while.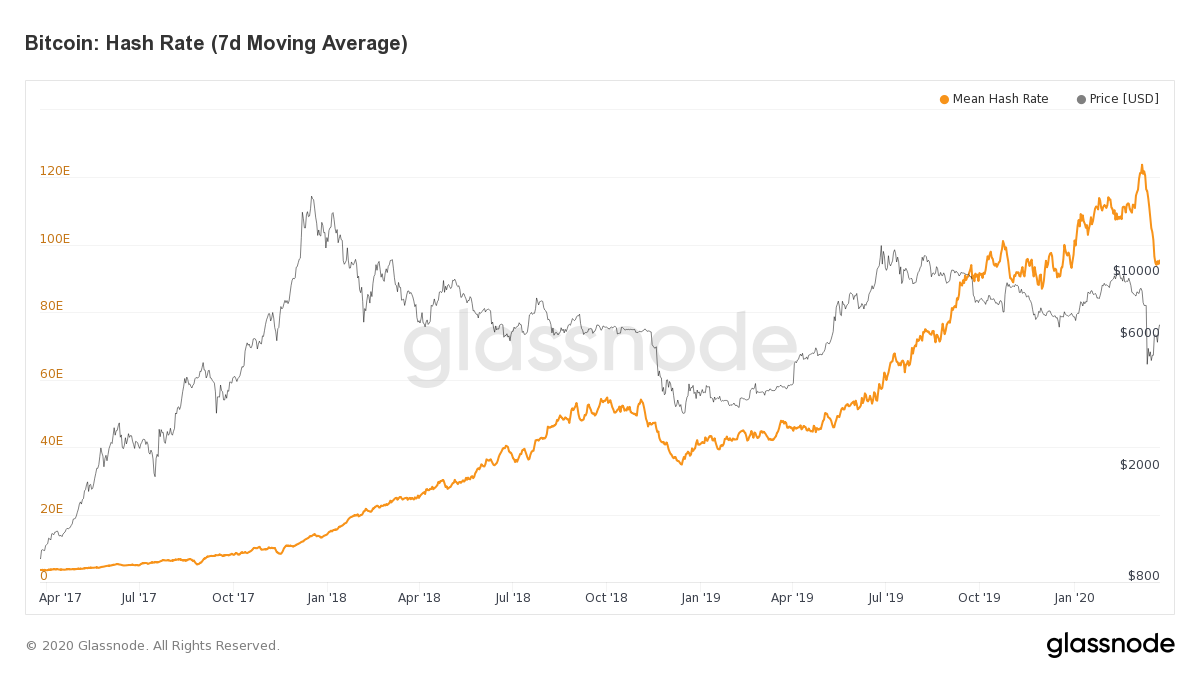 (Source: Glassnode)
Low-cap miners, such as individuals and smaller firms, were presumably hit by a drop in block rewards, leading to capitulation in business and a cease of operations. As of May 12, mining profitability turned into a venture with low profitability, awarding just $0.08 per hash to miners. 
As the data shows, the Bitcoin hash rate hit an all-time high of 138 exahashes on the week preceding halving, indicating many miners were cranking their systems with the highest settings to juice out as many bitcoins they could before rewards dropped to 6.5 per block on May 12. 
Thankfully, in terms of the long-term health and sanctity of the network, available data shows hash rates are steadily rising and returning to pre-halving levels, proving the resilience and strength of the broader Bitcoin mining sector. 
Price Allowing Miners to Stay Afloat 
Quoting experts, Decrypt states the network's hash rate plunge was expected but temporary. However, one Denis Rusinovich, who runs a mining business in Kazakhstan, told the publication that Bitcoin's high prices were unexpected, and have allowed older miners to stay in business. 
Rusinovich added:
"[It] was generally expected by miners that overall drop will be around 30%, but clearly one major driver that no one could expect is BTC price level. That gave additional support for less efficient miners to stay afloat the last two weeks." 
Meanwhile, transaction fees on Bitcoin transfers have soared, even hitting an 11-month high over the weekend. Data from BitInfoCharts shows users paid over $5.16 on May 14, a rate not seen since early-2019.
---
Source
---
Back to the list