Back to the list
Bitcoin (BTC) and Crypto Markets Are 'Incredibly Resilient,' Says Analyst Nicholas Merten – Here's Why
dailyhodl.com
27 February 2022 18:53, UTC
Reading time: ~2 m
---
Popular crypto strategist Nicholas Merten says Bitcoin (BTC) and the crypto markets are still flashing signs of bullishness despite ongoing geopolitical tensions.
In a new strategy session, Merten tells his 511,000 YouTube subscribers that he's looking at the price action of the TOTAL chart, which tracks the valuation of the entire crypto markets.
Despite the deep retracements over the past year, Merten highlights that the valuation of all crypto assets continues to print bullish higher low setups.
"When we take a look at total market cap, we can see here that since back in January (2021) we've been seeing a consistent general range where buyers have come in here on prices, taking them to consider important lows before the rebound back here in July into September, back here in January of 2021 before we spring up here to $65,000. 
Now, we've been seeing buyers come here yet again like they did here in the latter part of January (2022), buying up prices around this $1.5 trillion valuation range for the entire crypto market."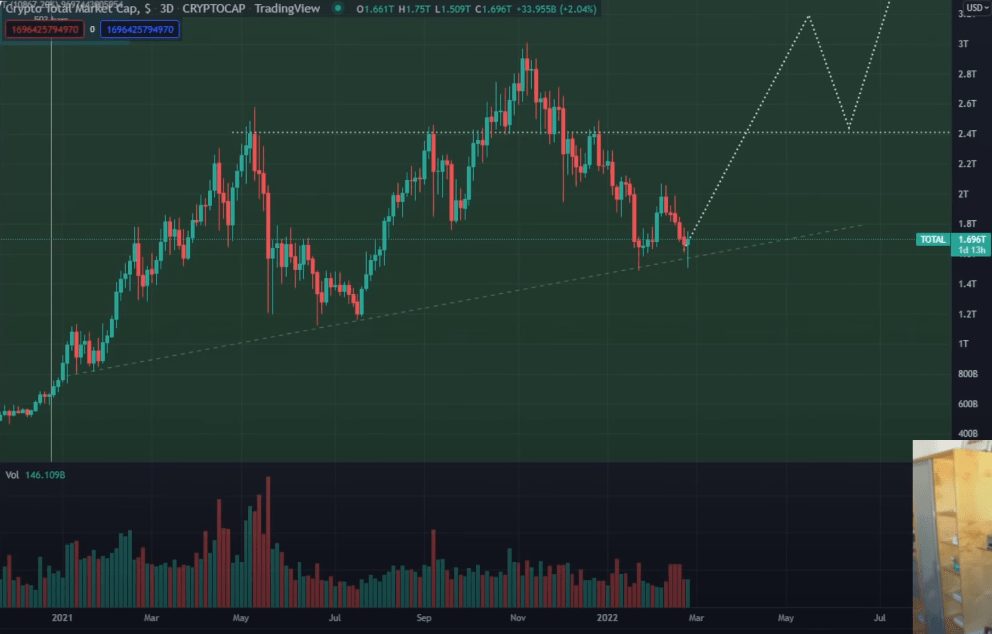 Source: Nicholas Merten/YouTube
As the crypto markets respect Merten's diagonal support, the analyst highlights that the bounce happened following the breakout of military conflict between Russia and Ukraine.
"The first major geopolitical conflict that's really, potentially, scaring a lot of the West wasn't able to drag Bitcoin's price down nor it was able to do that for Ethereum. One of the biggest macro events that could only be compared to the kind of tension we had in the Cold War [or] World War II wasn't able to drag down Bitcoin. That is an incredibly resilient sign for crypto markets."
Merten is also taking a closer look at leading smart contract platform Ethereum, saying that ETH printed its largest trading volume in over six months on February 24th.
"Seeing the resiliency, the volume here, bear in mind for the trading on Ethereum, this was the biggest trading day for Ethereum since back here in July of 2021… If you look at the short-term chart, a lot of the volume coming on the buy-side, driving up prices higher, building a nice foundation at $2,600."
---
Source
---
Back to the list