Back to the list
Smart Money Will Buy the Fear Once Bitcoin Drops to This Level: Crypto Analyst Nicholas Merten
dailyhodl.com
11 January 2022 21:11, UTC
Reading time: ~2 m
---
Widely-followed crypto analyst Nicholas Merten says Bitcoin (BTC) will drop further, but smart money will end up catching it at lower prices and sending it on a huge rally.
In a new YouTube update, the DataDash channel host tells his 491,000 subscribers that the Bitcoin market is going through a "unique cycle."
"We're just going through our own unique cycle here, a market that's driven by credit and leverage."
Still, the crypto analyst offers some comfort during uncertain market conditions.
"And if you guys want a bit of comfort here as we've been seeing again Bitcoin coming down in price, I think what's very realistic is that we're going to come back down here towards around $600-$650 billion [BTC market cap size]."
Currently, the Bitcoin market cap is at $806 billion. A drop to $600 billion would represent a 25% dive, but Merten says the correction will ultimately be good for the market.
"And that's going to allow us to establish a higher low either along this line of ascending support on top of the previous resistance point of the 2017 cycle, and/or possibly we might see it bounce sooner rather than later around the $650-$700 billion range."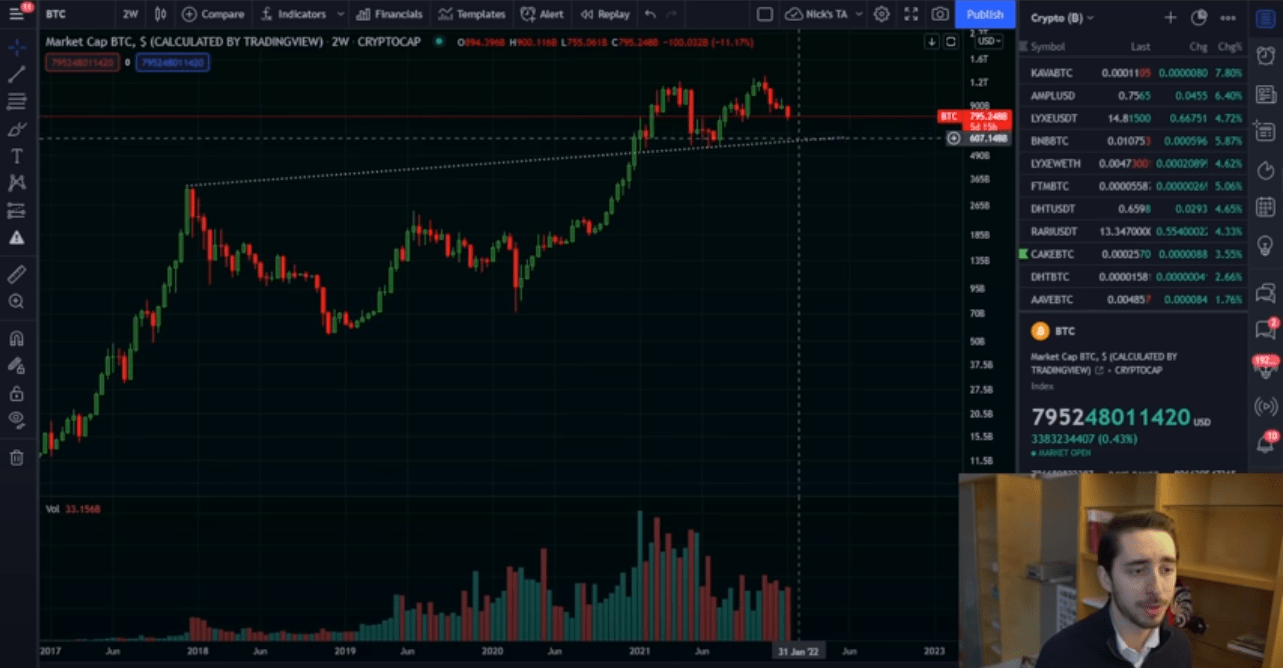 Source: DataDash/YouTube
According to Merten, smart money buyers will be looking for an imminent Bitcoin bounce as a tremendous buy signal.
"Why would we see that? Because that is going to be the indication that the market is not entering into a bear market. In fact, smart money is going to come in and buy into the fear and drive prices higher into 2022.
That could very well happen."
---
Source
---
Back to the list