Back to the list
Trader Who Called Bitcoin's 2018 Collapse Warns BTC Has Once Again Violated Its Parabolic Advance
dailyhodl.com
08 January 2022 11:00, UTC
Reading time: ~2 m
---
Longtime analyst and trader Peter Brandt says Bitcoin (BTC) has broken out of its parabolic advance.
After taking steep price dives on Wednesday and Thursday, BTC is trading at $41,698.72 at time of writing, down more than 17% from where it was priced one month ago.
Tweets Brandt,
"I saw the violation of the parabolic advance and commented on it in real-time to members of BitcoinLive in real-time, but in hindsight, I might not have taken the event seriously enough.
We'll see."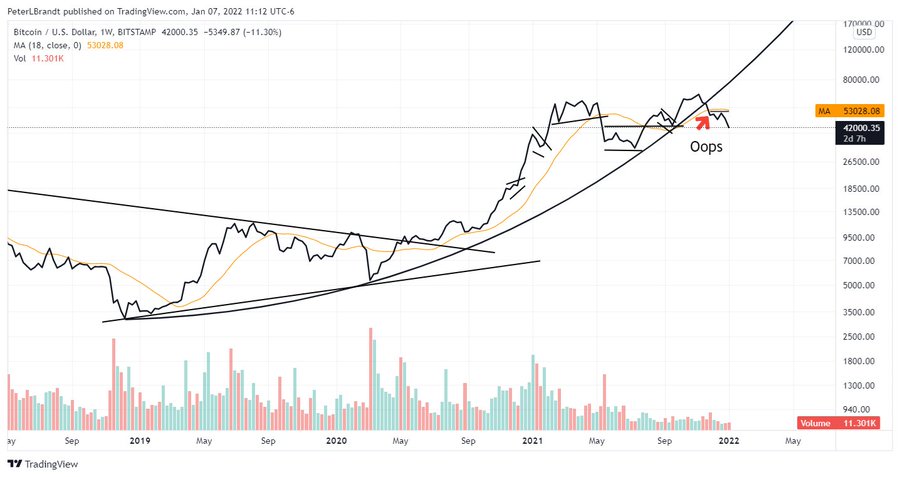 Source: PeterLBrandt/Twitter
The analyst is known for calling the start of the previous bear market, which began in early 2018, and has previously noted on Twitter that parabolic advance violations generally lead to more than 80% declines in value.
Such a decrease would take Bitcoin all the way down to the $8,340 range based on current prices.
The veteran trader also pushed back against a comment from Jeff Ross, the CEO of investment firm Vailshire Capital. Ross says on Twitter that long-term BTC holders might have additional opportunities to buy cheap Bitcoin in the coming months.
Brandt, however, warns BTC traders that he follows a "sacred trading rule" of never adding to a losing trade.
"I remember in 1980 people saying the same thing about Silver after it topped at $50. It then sank to a low of $3.65 and did not start back up for 24 years
Not saying BTC is the same, but a sacred trading rule I have used is [to] never add to a losing trade."
---
Source
---
Back to the list