On-chain data reveals that US-based crypto exchange Kraken has experienced the highest influx of Bitcoin (BTC) in recent years. The increase in BTC flow to Kraken came amidst a 5% price surge compared to a week ago.
Significant Bitcoin Inflow to Kraken
According to data provided by on-chain data platform CryptoQuant, Kraken recorded a substantial influx of BTC, fueling speculation about potential preparations for a bull run in the largest cryptocurrency. The data indicates that the crypto exchange received the highest amount of inflow, totaling 14,924 BTC, since 2018.
While high-volume exchange inflows are usually associated with short-term price decreases for Bitcoin, they can also act as triggers for increases. Market observers believe that the recent influx could surpass the milestone level of $30,000 and that this level could serve as a fundamental support for the next major rally.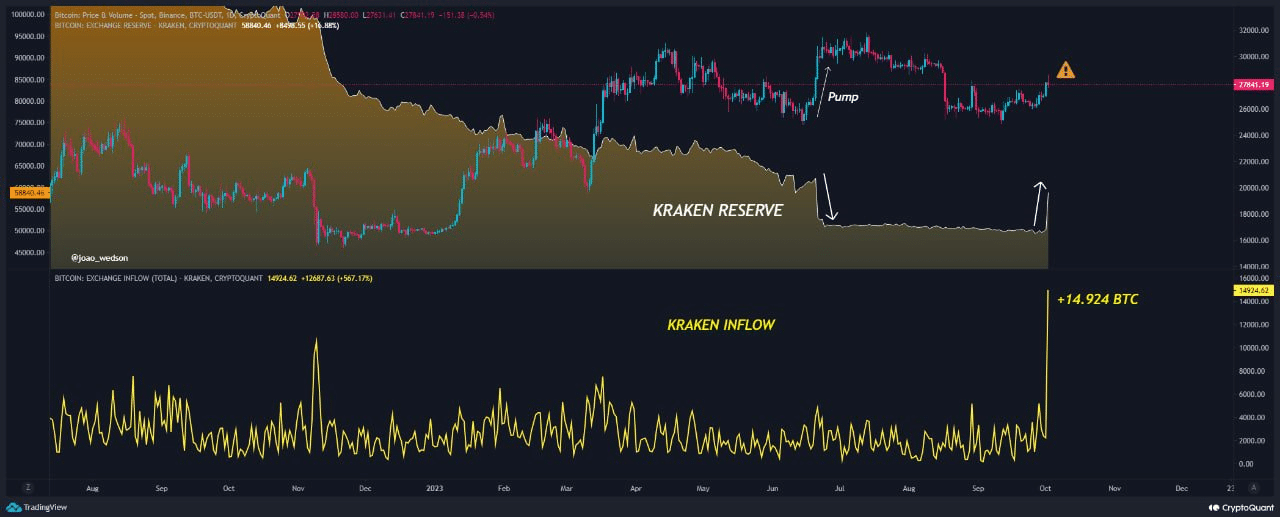 Optimism has also arisen in the crypto market due to the legal losses suffered by Grayscale and Ripple in the lawsuits filed by the US Securities and Exchange Commission (SEC), as well as the potential approval of spot Bitcoin ETFs. It should be noted that the SEC-Ripple case is unlikely to be resolved until at least 2025, and unless there is a surprise, leading asset management companies like BlackRock are unlikely to have their spot Bitcoin ETF applications approved until 2024.
On the macroeconomic front, the US government's last-minute prevention of a shutdown has triggered the expected rally in Bitcoin. The largest cryptocurrency is currently demonstrating strength both due to macro developments and the upcoming block reward halving, which is scheduled to take place in the second quarter of 2024.
Block reward halving is a significant event that occurs approximately every four years in a cryptocurrency network and reduces the newly minted coin supply by half. This event also halves the reward given to miners per block. Block reward halving generally aims to manage the supply and demand of a cryptocurrency, thereby increasing its scarcity and value. Only Bitcoin, Litecoin (LTC), Bitcoin Cash (BCH), Zcash (ZEC), and Bitcoin SV (BSV) have a block reward halving mechanism.
How Can Block Reward Halving Affect BTC Price?
Looking at the past, it is evident that the three previous Bitcoin block reward halvings have triggered price increases. Furthermore, investors consider block reward halving as one of the best indicators for a price surge in Bitcoin.
In this context, investors tend to believe that investing in Bitcoin as the block reward halving approaches can yield higher returns.