Bitcoin price remains resilient despite the US dollar's strength
A bullish divergence with the RSI supports Bitcoin's price action
The horizontal consolidation might be part of a bullish flag pattern
This is the last trading week of Q3 2023, and investors already have plans for the last quarter of the year. Bets are made both ways of the dollar, especially since September brought such a strong rally.
For instance, EUR/USD traded today below 1.05, as the bearish trend from 1.12 continued. Most of the decline was in September.
Investors bought the dollar and dumped stocks. After all, the Fed is still restrictive and talks hawkish.
But in all this strong dollar environment, there is one market that, surprisingly, was (relatively) stable.
Bitcoin.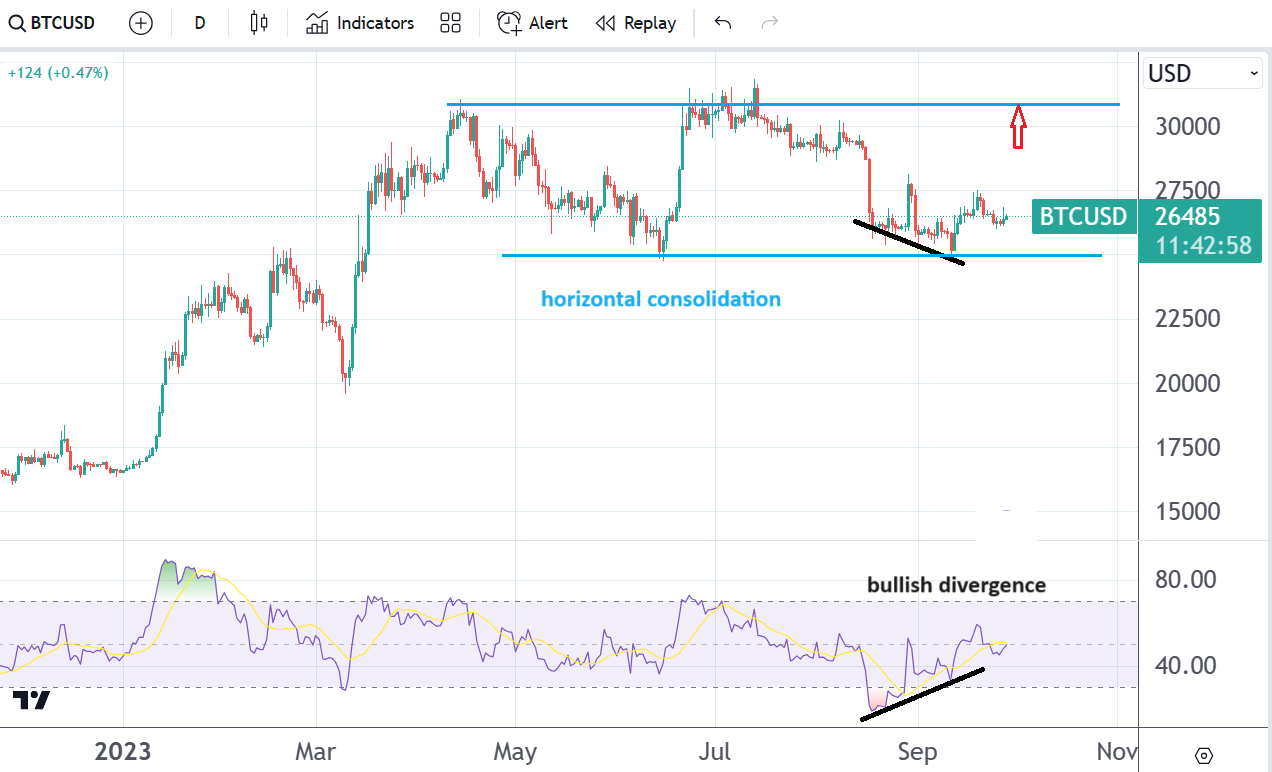 Bitcoin chart by TradingView
Bullish divergence with the RSI supports Bitcoin's bullish case
Bitcoin rallied at the start of 2023, jumping from below $17k to above $30k in April. But after that, a horizontal consolidation started, and Bitcoin couldn't rally anymore.
However, by staying relatively flat and holding on to most of its gains, Bitcoin shows strength not seen in other markets. When the US dollar rallied, Bitcoin held the ground all this time, albeit it did correct a bit from the yearly highs.
A quick look at the Relative Strength Index (RSI) reveals a bullish divergence that formed recently. It supports the bullish case for Bitcoin, and now all eyes are on the upper edge of the horizontal channel.
Speaking of the channel, it may be part of a bullish flag formation. If that is the case, a bullish breakout should be followed by a measured move equal to the rally seen at the start of the year.