In the second half of 2020, Bitcoin's (BTC) supply held by US entities surged with the start of the bull market that led to all-time highs in 2021, following a constant uptrend since 2014. However, this historic trend has shifted with the BTC supply fleeing the United States.
Data shared on September 26 by an on-chain analyst's pseudonymous 'SimonaD' on CryptoQuant illustrates the historic trend and the current trend reversal — with a bearish divergence among BTC price's historic correlation with this metric.
After the peak of the amount of Bitcoin's supply held by US entities in 2021, which was correlated with the first top in April, the trend reversal started. Showing a lower level of a similar divergence as the one seen at the time of publication: Supply distribution to US entities slightly starts falling, and the price goes to its all-time high in November 2021.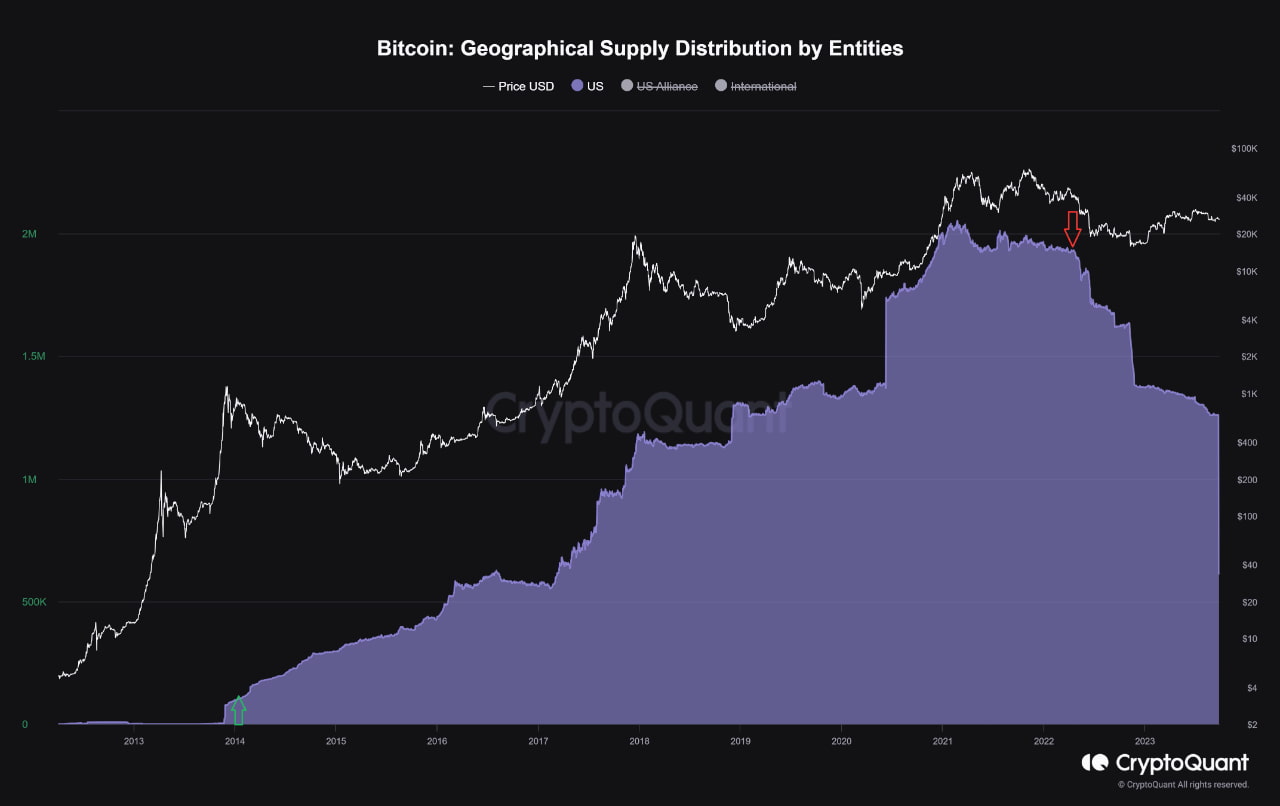 Notably, the real shift in supply distribution takes place in mid-2022, according to SimonaD's analysis.
"As the US still has an uncertain environment regarding crypto regulations, investors may have decided to switch to other Bitcoin-friendly environment, causing a significant shift in its geographical distribution. On the other hand, rising interest rates and other economic factors could possibly slow down investments in assets such as Bitcoin in the US."

— SimonaD on CryptoQuant
Bitcoin supply flees from the US
Interestingly, the biggest divergence occurred after the massive plummet of the supply distribution to US entities at the end of 2022, followed by a price retrace upwards, that is not followed by the still visible downtrend of the amount of Bitcoin held in the United States.
This year's political and regulatory developments regarding the crypto industry in the country are making it harder to do crypto-related businesses — which includes Bitcoin.
A few renowned companies and enthusiasts have already demonstrated uncertainty about their willingness to remain in the country if this scenario doesn't change in the near future. Therefore, the 'Bitcoin supply exodus' observed could already be part of the inevitable outcome of a supranational currency moving to more welcoming territories.
Another plausible explanation is that the supply is simply leaving US entities treasuries, while these institutions opt to hold other kinds of assets in the country, such as US Treasury Bonds, due to the constant hikes in interest rates driven by the Federal Reserve.
However, there are a few United States companies swimming against the tide, as in the case of MicroStrategy which continues to accumulate a higher amount of the Bitcoin's supply, despite accruing over $500 million in unrealized losses.