Bitcoin (BTC) exchanges have seen trading volume collapse as traders deal with constant macroeconomic uncertainty.
According to new research from on-chain analytics platform CryptoQuant published on Sept. 25, daily BTC volumes are at lows rarely seen since 2018.
Fed keeps Bitcoin investors wary of "possible recession"
Bitcoin price action has stayed in a familiar range for several months, and as time goes by, interest in transacting appears to be fading.
CryptoQuant data, which tracks activity on both spot and derivatives exchanges, highlights the extent to which volumes have decreased since BTC/USD entered its current range in March.
The past week saw between 8,000 and 15,000 daily spot exchange transactions — a fraction of the standard March daily tally, which exceeded 600,000.
For contributing analyst Caue Oliveira, a principal force behind the phenomenon is the macroeconomic climate.
"One of the main reasons cited is the growing fear regarding the macroeconomic scenario," he wrote in part of the commentary accompanying the data.
"The actions of the United States Central Bank perpetuate a constant feeling of uncertainty, leaving investors waiting for a possible recession."
Oliveira referenced current economic policy in the U.S., where the Federal Reserve has flitted between interest rate hikes and pauses in 2023 while keeping overall conditions tight.
Continuing, he noted that Bitcoin hodlers have chosen to keep hold of BTC capital as a result.
"Instead of seeking quick profits through short-term trading, more and more people are viewing bitcoin and other cryptocurrencies as a long-term investment," he concluded.
"They are more interested in holding their coins, believing in their future value, than selling at the first sign of profit."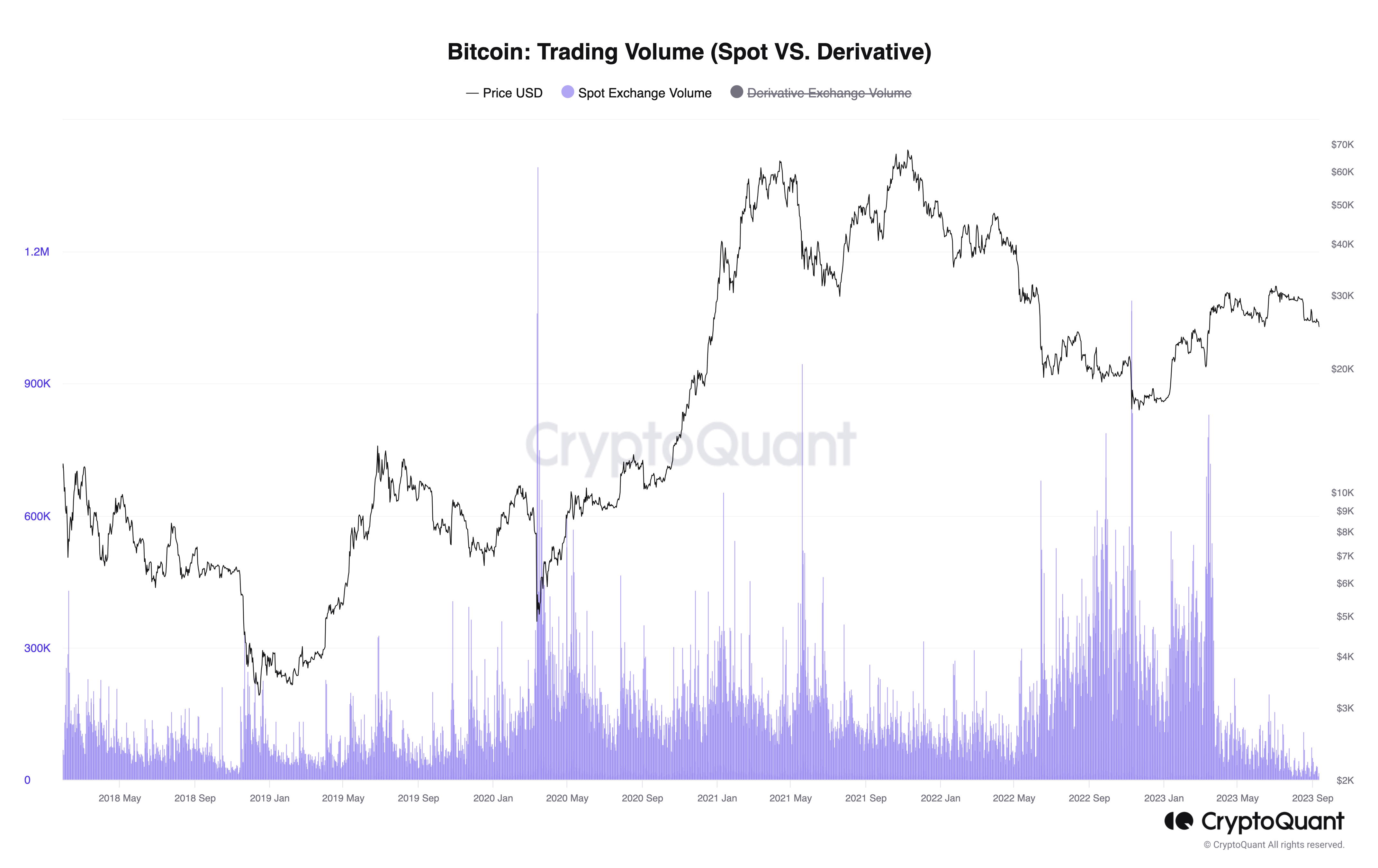 Bitcoin: Trading Volume (Spot vs. Derivative) chart. Source: CryptoQuant
Little food for BTC price bulls
As Cointelegraph reported, times have become tough for Bitcoin speculators in recent weeks.
Related: Bitcoin price fights for $26K as US dollar strength hits 10-month high
Short-term holders — entities holding BTC for 155 days at most — now hold almost their funds at an unrealized loss, with their cost basis higher than the current spot price.
In further research this week, fellow CryptoQuant contributor Yonsei_dent concluded that the cost basis of various Bitcoin newcomers would act as "strong resistance."
"Excluding investors who have been holding for the long term since 1.5 years (12m) + HODLers, investors who entered the market over the past year are believed to have a stronger tendency to buy and sell in the short term," he warned.
An accompanying chart showed unspent translation output (UTXO) numbers split by age band, forming resistance and support levels.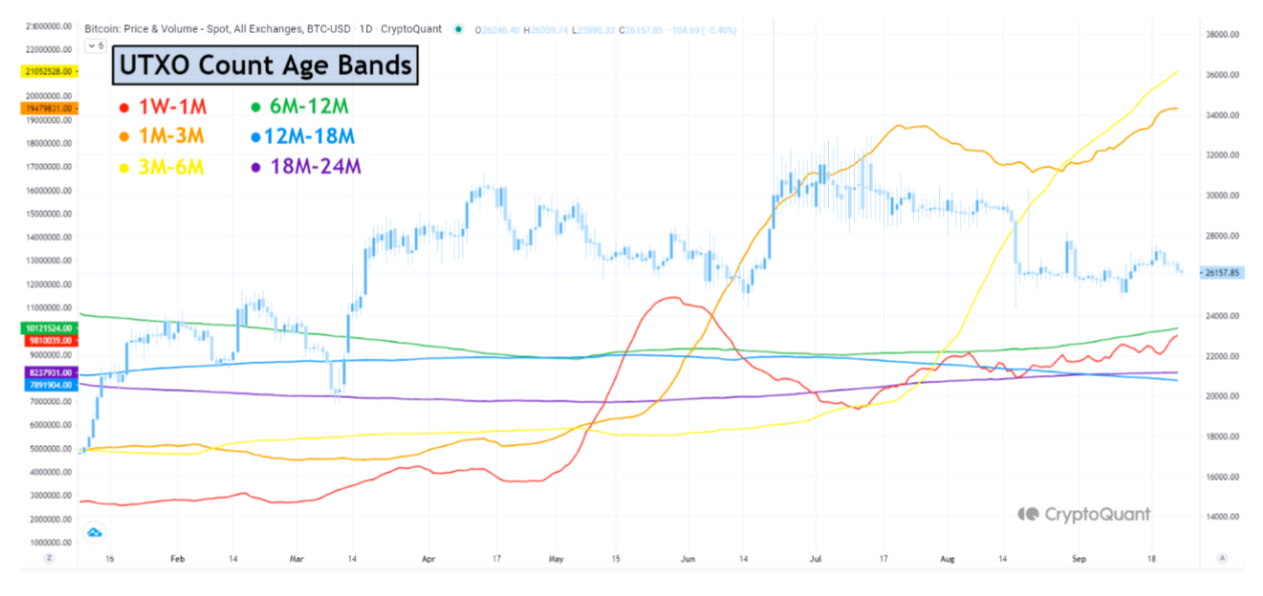 Bitcoin UTXO age bands annotated chart (screenshot). Source: CryptoQuant
External interest in BTC exposure, meanwhile, also remains distinctly absent. Google Trends data shows the lowest interest in "Bitcoin" as a search term since October 2020.
This article does not contain investment advice or recommendations. Every investment and trading move involves risk, and readers should conduct their own research when making a decision.