Crypto Quant recently shared crypto analyst Cauê Oliveira's report about BTC's spot trading volume in the market. In the report, the crypto analyst notified that Bitcoin's spot trading volume dropped to a six-year low. Based on the report, transaction volume fluctuated between 8 and 15 thousand daily transactions during this week.
#Bitcoin spot trading volume drops to 6-year low🚨

"People are more interested in holding their coins, believing in their future value, than selling at the first sign of profit."
by @caueconomy

Link👇https://t.co/2MgO5PJawu

— CryptoQuant.com (@cryptoquant_com) September 26, 2023
Citing various reasons behind this tumble, the crypto analyst points out, "One of the main reasons cited is the growing fear regarding the macroeconomic scenario. The actions of the United States Central Bank perpetuate a constant feeling of uncertainty, leaving investors waiting for a possible recession."
Secondly, data reveals traders are willing to hold their cryptocurrencies for the long term rather than selling them for small profits. This could be an indication that traders believe the crypto market to skyrocket in the future, generating huge profits in the long period.
Despite the downfall in the spot trading volume, BTC was able to maintain a 0.61% surge in one day. Meanwhile, over the week, the king of cryptocurrencies made a significant fall of 2.07% over the seven-day period. According to CoinMarketCap, at the time of writing, BTC was trading hands at $26,273.87, slightly higher than its $26.140.06 starting price for the week.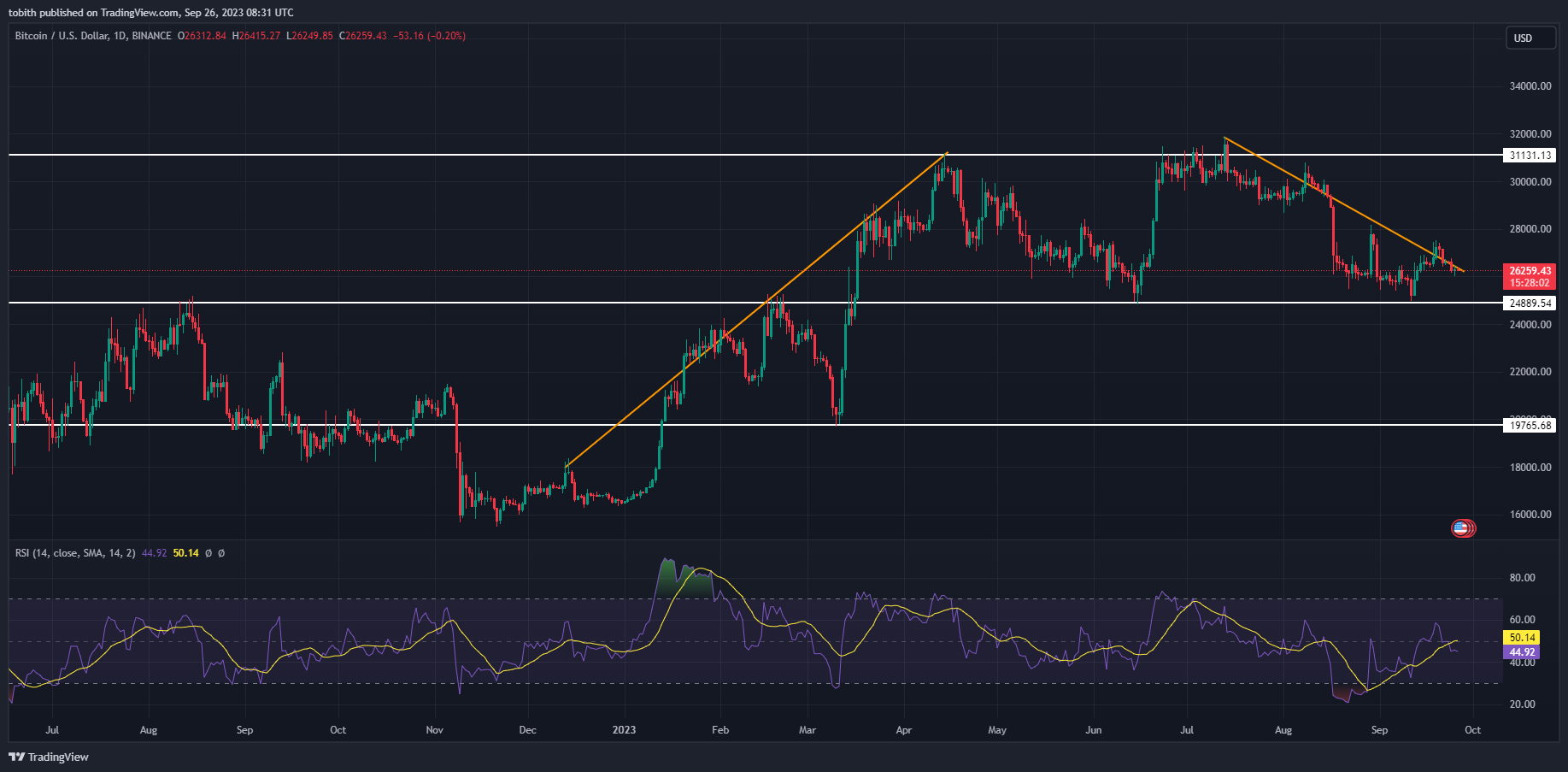 BTC/USD 1-Day Chart (Source: TradingView)
The candlesticks is currently trading near the $28K and the $26K and continues to struggle to break above the $28K level. The RSI made a bearish crossover, which could be a sign of a potential bearish sentiment.
There is still a chance that the trend may reverse and a bullish crossover may happen soon. The next target point for BTC still remains $28K and BTC has a huge potential to cross that resistance level, if buyers rally to the leaders of cryptocurrency aid.
Disclaimer: The views and opinions, as well as all the information shared in this price analysis, are published in good faith. Readers must do their own research and due diligence. Any action taken by the reader is strictly at their own risk, Coin Edition and its affiliates will not be held liable for any direct or indirect damage or loss.