Bitcoin (BTC), the world's largest cryptocurrency, continued its upward trend and came very close to reaching the $27,000 mark on Tuesday. Initially, BTC surged past the $27,000 level, which is the highest it has been since August 31st.
The reason behind the surge could be attributed to the market's anticipation of the upcoming meeting of the US Federal Reserve, where the Federal Open Market Committee (FOMC) is expected to temporarily pause interest rate hikes.
The rising number of Bitcoin exchange-traded fund (ETF) applications has caught the attention of investors worldwide, and is believed to be a crucial factor in the overall expansion of the cryptocurrency market.
The increased interest in Bitcoin ETFs has helped drive up the price of BTC, contributing to its recent surge past the $27,000 mark.
Bitcoin has experienced a 2.50% increase in value this month, which adds up to a remarkable 61% gain for the year. If this positive trend continues, Bitcoin's value could exceed $28,000.
It's worth noting that the entire cryptocurrency market appears to be bullish, with many digital currencies posting significant gains.
Bitcoin's Recent Surge: Increased Interest and Bullish Signs
Bitcoin's price is being influenced by various factors, including a surge in trading activity which has resulted in Bitcoin's open interest exceeding $1 billion.
This suggests a heightened interest in the cryptocurrency and is contributing to BTC gains. Moreover, there has been a rise in call options, indicating a bullish sentiment, especially after Bitcoin surpassed the $26.5K mark.
This bullish trend gained momentum due to a significant short liquidation of over $30 million in put positions, which created new long positions and drove buying demand.
Besides this, the number of new Bitcoin addresses created hit a five-year high of 26,808.
Additionally, the transaction count reached a four-month peak of $23,724, which may indicate rising demand and positive long-term prospects for Bitcoin's price.
Bitcoin Price Prediction
On the 4-hour timeframe, Bitcoin has shown resilience, finding notable support around the 26,750 mark. Evidently, BTC has stabilized with a tweezer bottom pattern forming just above this level.
This 26,750 threshold carries significant technical weight; earlier on the 4-hour chart, it served as a double top resistance, but once breached, it transitioned into a vital support for BTC.
Furthermore, there was a descending trend line previously on the chart, originating from recent highs. Its breach ignited a bullish momentum, but following some corrections, this trend line now bolsters BTC from below, acting as support.
The 50-day exponential moving average (EMA) also converges at this point, reinforcing its importance. The tweezer bottoms close above this EMA augments the likelihood of a continued bullish trend for BTC.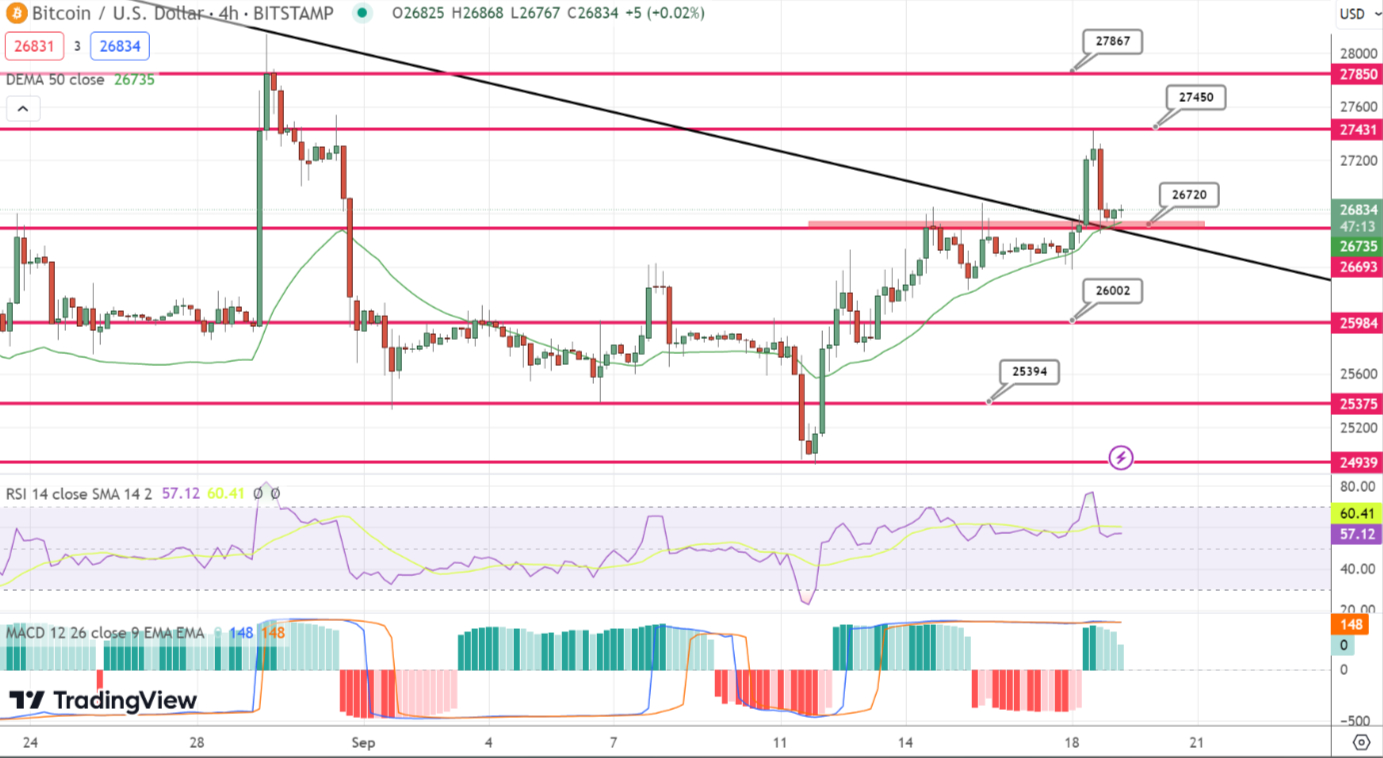 Bitcoin Price Chart - Source: Tradingview
Given this backdrop, there's potential for Bitcoin to target the next resistance at 27,450. Beyond that, 27,850 stands as a prominent hurdle.
Conversely, if the 26,750 support is compromised, we might see a bearish drive pushing BTC towards 26,400 and possibly down to 25,900.
In summary, the 26,750 level is pivotal. A sustained position above this could hint at an extended bullish phase for BTC.
Top 15 Cryptocurrencies to Watch in 2023
Get ahead of the game in the world of digital assets by checking out our carefully curated selection of the top 15 alternative cryptocurrencies and ICO projects to watch for in 2023.
Our list is compiled by industry experts from Industry Talk and Cryptonews, so you can expect professional recommendations and valuable insights for your cryptocurrency investments.
Stay updated and discover the potential of these digital assets.
See the 15 Cryptocurrencies
Find The Best Price to Buy/Sell Cryptocurrency

Crypto Price Tracker - Source: Cryptonews
Disclaimer: Cryptocurrency projects endorsed in this article are not the financial advice of the publishing author or publication - cryptocurrencies are highly volatile investments with considerable risk, always do your own research.