Back to the list
Bitcoin Dominance Rate (BTCD) Pulls Back, Allowing Altcoins to Flourish
beincrypto.com
21 October 2021 17:24, UTC
Reading time: ~3 m
---
The Bitcoin Dominance Rate (BTCD) has possibly reversed trend after its Sept 10 low and began a new upward movement.
BTCD has been increasing at an accelerated pace since Sept 17, when it broke out from a descending resistance line (green icon). The line had previously been in place since July 30.
The breakout indicated that the previous downward movement had come to an end. So far, the upward movement has led to a high of 47.72%, which was reached on Oct 20.
The upward movement does not look corrective. This means that it does not resemble a bounce in response to the prior decrease, rather it looks like the beginning of a new bullish trend. The main reason for this is the fact that BTCD has moved above both the 0.618 and 0.786 Fib retracement resistance levels.
If the movement were corrective, BTCD would be expected to get rejected at one of these levels and resume its descent. However, there are signs of a short-term pullback.
The MACD, which is created by a short- and a long-term moving average (MA), has created a lower momentum bar (red icon). This is a sign that the short-term trend is gradually losing speed relative to the long-term one. However, since the MACD is still positive, it means that the short-term trend is still faster than the long-term one.
The RSI has fallen below 70 (red icon). The RSI is a momentum indicator, and this decrease suggests that the trend is losing strength, even though it is still bullish.
Therefore, daily time-frame indicators alongside the wave count suggest that the trend is bullish.
A look at a lower time-frame is required in order to determine if the trend is bearish.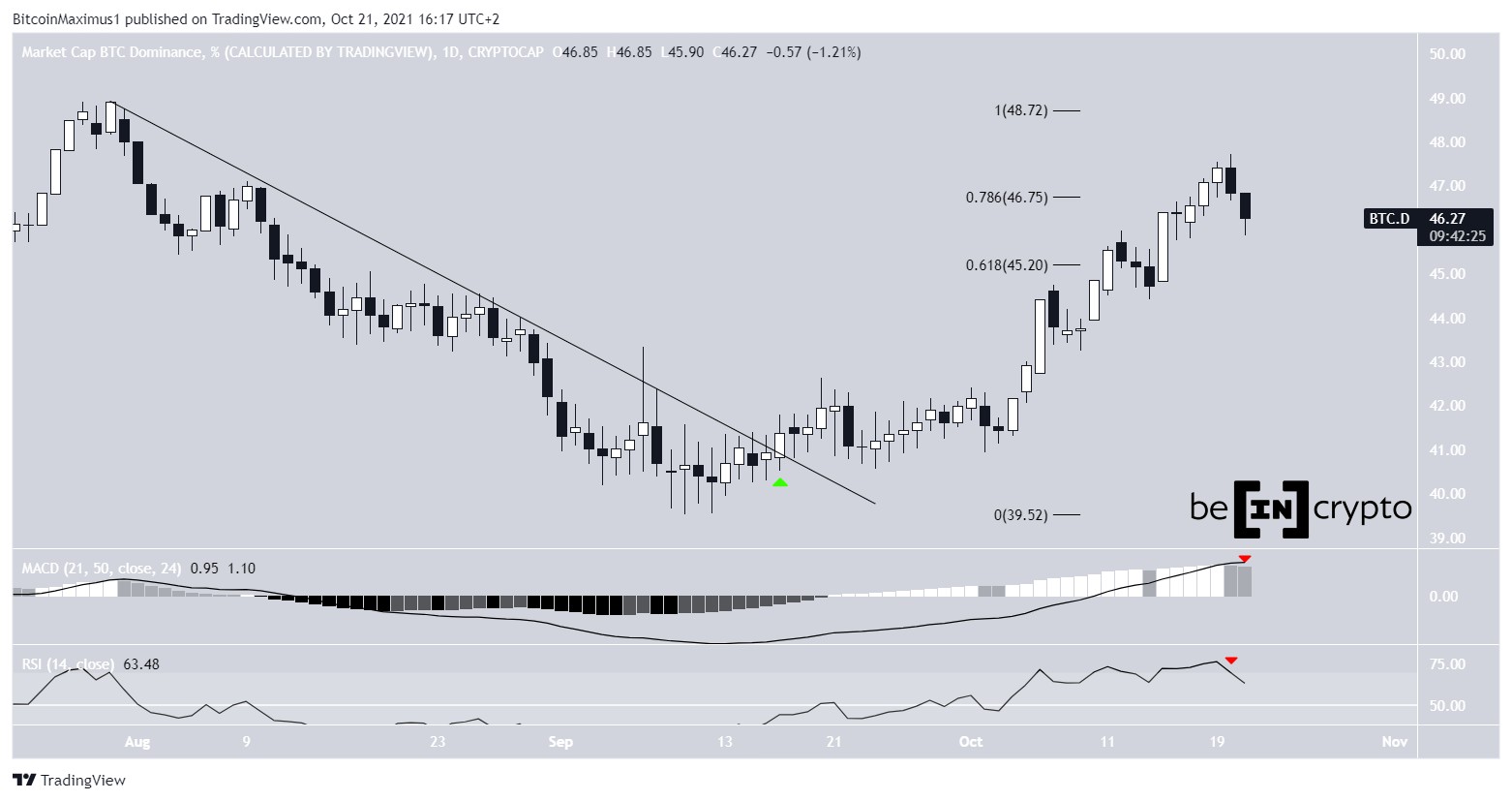 Future BTCD movement
Cryptocurrency trader @CryptoCapo_ outlined a BTCD chart, stating that the upward movement could continue until 50% before another fall.

Since the tweet, BTCD reached a high of 48% before falling.
The drop was preceded by bearish divergence in both the RSI and MACD (blue line). This is an occurrence when a price increase is not accompanied by an increase in momentum.
The main support areas are at 44.1 and 43.2%. These are the 0.5 and 0.618 Fib retracement support levels, which commonly act as support after pullbacks.
The former coincides with the middle of a parallel channel that contained the upward movement in the end of Sept, while the latter coincides with the support line of the same channel.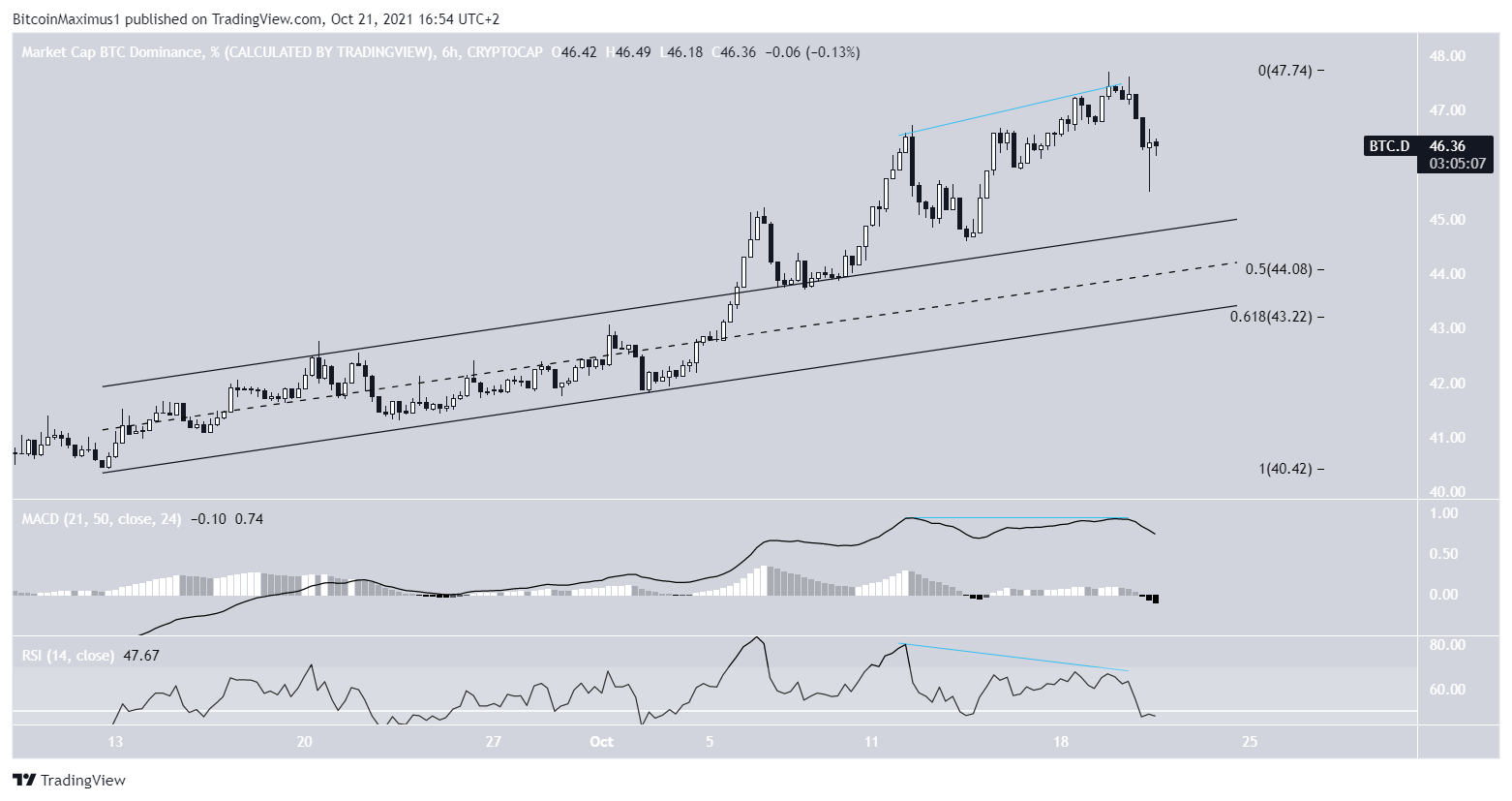 Relationship to BTC
In the past month, BTCD (green) has had a positive relationship with the BTC (blue) price.
This means that an increase in one has caused an increase in the other.
If the relationship holds, a BTC price decrease would be required for BTCD to fall to the outlined support levels.
---
Source
---
Back to the list