Back to the list
New Analysis: Every Bitcoin Holder Makes a Profit After 1,335 Days
cointelegraph.com
10 September 2019 00:00, UTC
Reading time: ~2 m
---
According to new analysis, presented Sept. 8, the amount of time it is necessary to have held Bitcoin to make a profit is 1,335 days or roughly 3 years and 8 months. This roughly correlates to the four-year cycle length based on reward halving periods.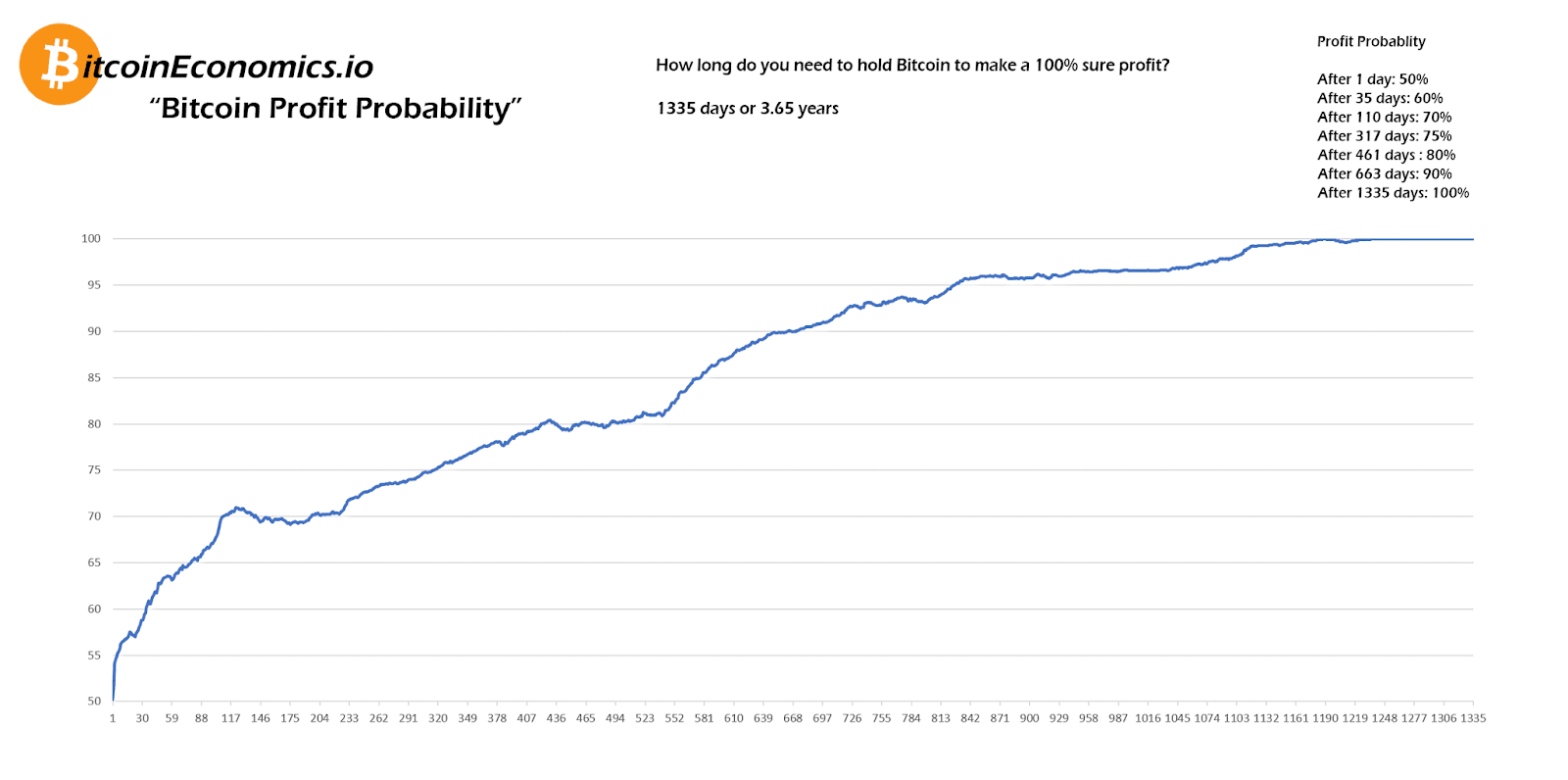 Bitcoin Profit Probability chart. Source: BitcoinEconomics.io
Profiting from bitcoin is largely a waiting game
While a 100% sure profit would have taken a maximum of 1,335 days, this relates to the bull-run in late 2013, when Bitcoin price surged to $1150. If you had bought in right at the top, then it took 1,335 days before Bitcoin finally broke that level in early 2017.
Assuming you missed buying the peak of that rally, your wait for profit would have been considerably less. Holding Bitcoin for 317 days would have given you a 75% chance of profit. There was a 60% chance of profit of you held Bitcoin for 35 days, and the likelihood that you were up over any single day was 50%.
If that seems like a long time, check the S&P 500
For comparison, to achieve a sure profit on the S&P 500, you would have to have held it for 23 years.
Also, bear in mind that this analysis purely looks at the chance of profit and not the scale of that profit. When Bitcoin is on a bull-run, profits dwarf those achievable on stock market indices.
For example, the Grayscale Bitcoin Investment Trust outperformed everything so far in 2019  with an almost 300% appreciation YTD, as reported by Cointelegraph in July.
---
Source
---
Back to the list
Similar news