In a tweet posted yesterday, the on-chain analysis firm Glassnode noted that the 1d-3m Bitcoin (BTC) Realized Cap HODL Waves experienced a significant increase, rising from a cycle low of 11.5% to a current value of 21.4%. This meant that BTC's Realized Cap HODL Waves experienced a more than 80% surge.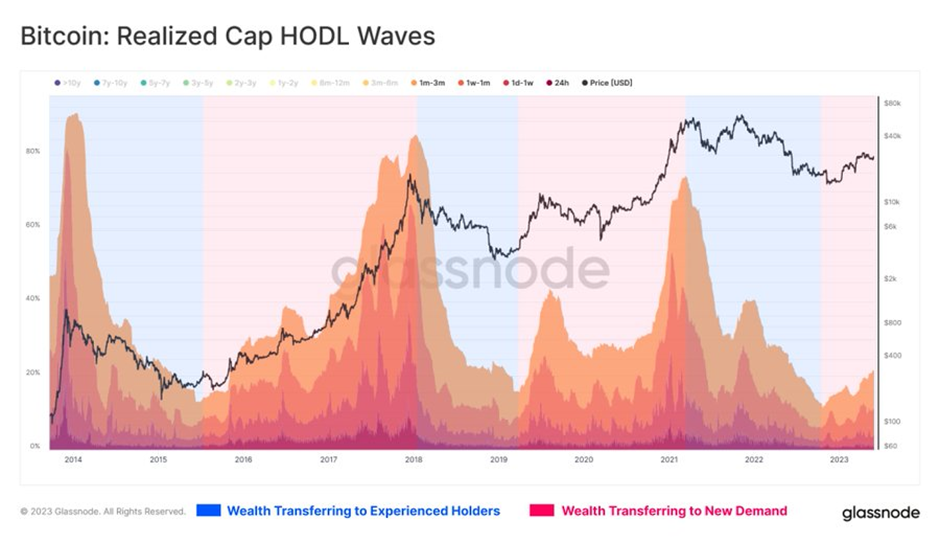 BTC: Realized Capo HODL Waves (Source: Twitter)
This observation indicated a noteworthy transfer of wealth from long-standing Bitcoin holders to newer participants in the market. Such a phenomenon is frequently observed during critical turning points in the market cycle.
In simpler terms, it suggests that experienced Bitcoin investors are selling their holdings, and a new wave of demand is emerging from newer investors who are acquiring BTC. This shift in ownership is a perfect example of the dynamic nature of the Bitcoin market and the continuous interplay between different groups of investors.
BTC price (Source: CoinMarketCap)
At press time, CoinMarketCap indicated that BTC was once again trading above the important $27K level at $27,114.40. This came after the market leader experienced a 0.98% price increase over the past 24 hours.
As a result, BTC was trading much closer to its 24-hour high of $27,203.32 than its daily low of $26,574.64. The crypto's price increase also succeeded in pushing its weekly performance even further into the green at +2.46%.
On the other hand, BTC's performance throughout the past day was not enough for it to strengthen against its biggest competitor, Ethereum (ETH). At press time, BTC was down against the altcoin leader by about 0.63%.
Meanwhile, BTC's 24-hour trading volume experienced a more than 3% decrease and stood at $14,598,151,548. In terms of market cap, the market leader's capitalization stood at $525,685,461,408.
Disclaimer: The views and opinions, as well as all the information shared in this price analysis, are published in good faith. Readers must do their own research and due diligence. Any action taken by the reader is strictly at their own risk. Coin Edition and its affiliates will not be held liable for any direct or indirect damage or loss.