Bloomberg Intelligence's senior macro strategist Mike McGlone is warning that Bitcoin (BTC) has a chance of plummeting to prices not seen since 2020.
McGlone tells his 57,800 Twitter followers that Bitcoin is still up nearly 4x from when the Federal Reserve started rapidly expanding the money supply during the COVID market collapse.
The analyst says that with liquidity drying up and rates going higher, a mean version back to where its rally started at about $7,000 is not out of the realm of possibility.
That would be a near 75% decline from BTC's current price of $26,889 at time of writing.
Says McGlone,
"[Bitcoin's] enduring patterns of booms on the back of liquidity and busts when it's removed that tilts our directional bias for Bitcoin toward respecting the down-sloping 52-week mean. That the Fed has tightened twice despite a bank run may show the central bank's tenacity. Slumping copper and cryptos appear to be heeding the warning and contrast notably to the resilient stock market."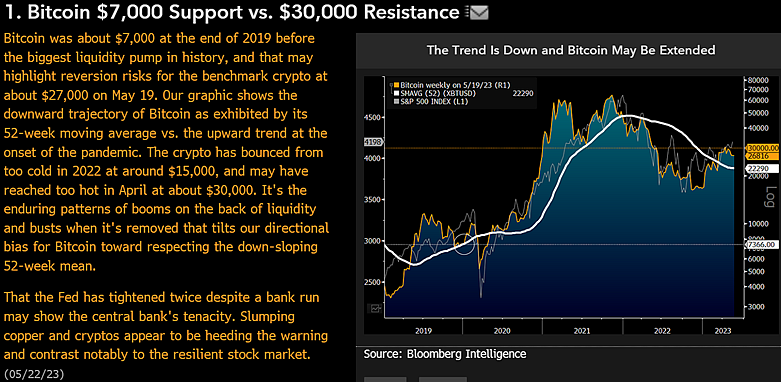 Source: Bloomberg Intelligence/Twitter
In a new interview with Scott Melker, McGlone throws cold water on the idea that Bitcoin can be a risk-off asset like gold under the current financial conditions. He says not until Bitcoin shows a larger divergence from equities will he believe BTC is a risk-off asset.
"Gold, definitely a risk-off asset. I'm very bullish gold and at some point Bitcoin. The problem I have is all risk assets went down last year and all risk assets went up this year. We've only seen little inklings of Bitcoin showing that divergence strength, little inkling. You got to see the big one. You got to see that S&P 500 really drop 20%, maybe go down to 3,000 like copper and Bitcoin not to make a new low…
So let's look at the facts of Bitcoin. Right before the massive liquidity pump in 2020, Bitcoin in 2019, the average price was 7,000 bucks. Okay, so it bumps to $60,000. And now we're $27,000. It's still 4x the price. We still have a little bit of mean reversion risk and so the way I look at it, this is the kind of market we're not supposed to be long in any risk assets."
Featured Image: Shutterstock/BINK0NTAN/Chuenmanuse