Bitcoin's correlation with gold has hit a two-year high as investors look for safer assets.
Gold's correlation with Bitcoin's now stands at 57%, a two-year high, according to figures from data provider Kaiko. The correlation has surged since March when a crisis at multiple banks threatened the industry with financial contagion. Earlier in the month, the crypto surpassed its correlation with S&P.
Investors Take Note
In a tweet on Wednesday, Kaiko stated, "Bitcoin 30-day rolling correlation with gold has surged since March and now stands at 57% – its highest level in almost 2 years."
The Bitcoin-gold correlation is a measure of how the assets' prices move over time. The correlation often comes into play as investors look to alternative stores of value and safe-haven assets. As a result, the prices are more susceptible to economic headwinds than those of other assets and commodities.
The world's most popular cryptocurrency has been the best-performing asset in Q1 2023, gaining 70%. Making it the best quarter since Q1 2021. Bitcoin has also left gold in the dust, which only saw gains of 9.5%. Silver remained essentially stagnant, clocking at 0.3% growth, according to data reported by Finbold on March 31.
Central Bankers Flock to Gold
A recent poll of 84 central banks found that more than two-thirds of respondents believed their peers would increase their gold holdings in 2023. The reserve managers highlighted geopolitical risk and high inflation as reasons for holding the precious metal. The World Gold Council's annual survey also found that banks were using gold to diversify their portfolio in troubling times.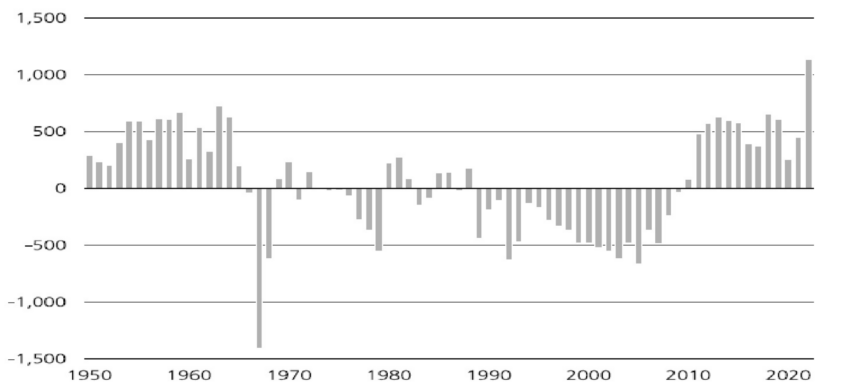 Central bank gold purchases and sales. Values are in metric tons. Source: Metals Focus, Refinitiv GFMS, World Gold Council, UBS
Both gold and Bitcoin have generally had positive years so far, currently sitting near their yearly highs. Bitcoin hovers around $29,000, roughly $1K from its yearly high, according to Coinmarketcap. Meanwhile, gold's price is approximately $2,000—a mere $50.00 away from where it peaked nearly two weeks ago.
Investors are quietly optimistic about Bitcoin's prospects in the near future. Continuing financial turmoil and rising inflation produce strong headwinds for the currency. The upcoming Bitcoin halving is expected to give it another boost in 2024.