While Bitcoin accounted for the largest liquidation, at $63.03 million, Ethereum was not far behind with $54.20 million in liquidations. Other cryptocurrencies like Dogecoin, Arbitrum, Chainlink, XRP, Litecoin, and Solana were affected less severely, with less than $5.5 million in liquidations.
Liquidations were mainly observed in trading activity on Binance, OKX, Huobi, and Bybit. As a result, the market saw a total of 57,269 traders liquidated, according to site data.
It is worth noting that the drop in value of Bitcoin is not an isolated event. The cryptocurrency market is known for its volatility, and it is not uncommon to see sudden drops or spikes in value. Despite this, investors continue to show interest in the cryptocurrency market, as its potential for high returns remains enticing.
Bitcoin's value closes in on $27.3k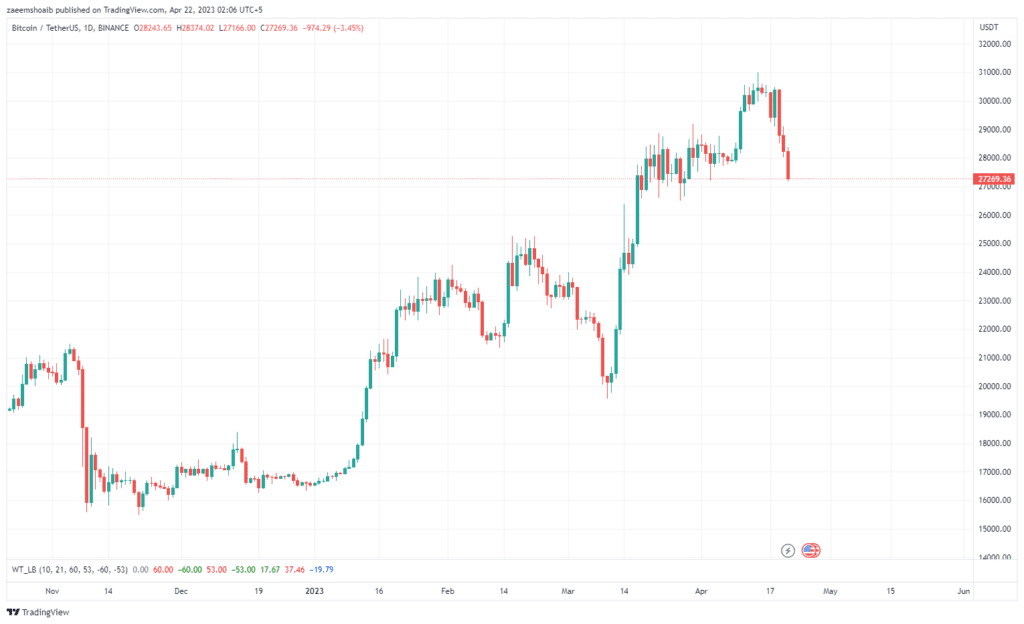 Source: TradingView
BTC was priced at $27,269 as of 9 p.m. UTC but was valued above $28,200 earlier in the day. In all, the price of Bitcoin is down 3.4% over 24 hours.
Other leading assets have also lost value. Ethereum (ETH) is down 4.9% and XRP is down 5.6%, while Dogecoin (DOGE) is down 6.8%.
DISCLAIMER: The Information on this website is provided as general market commentary and does not constitute investment advice. We encourage you to do your own research before investing.