Bitcoin has hovered between $27,000 and $28,000 for the last 21 trading days. A historical on-chain analysis of investor sentiment and price action suggests that BTC is on the verge of a possible move toward $45,000.
Bitcoin bulls have fiercely held the $27,500 price support over the last three trading weeks. During that period, BTC on-chain data revealed multiple signals of bullish momentum.
In addition to holders with more than 1BTC reaching an all-time high of 993,856, another remarkable indicator of an impending bullish move is the Adjusted Spent Output Profit Ratio (aSOPR) for Bitcoin.
Bitcoin Spent Output Profit Ratio (SOPR) Turns Positive
For the first time in more than a year, on March 30, Bitcoin aSOPR surged above 1.0 and has continued to trend upward as of April 10. This signals significant bullish momentum, as periods of aSOPR breaks above 1 have often been followed by an exponential rise in the price of bitcoin.
The aSOPR is a time-adjusted metric that measures the profit or loss on coins recently spent or moved on the blockchain. Essentially, it gauges investor sentiment and psychological profit-taking behavior to identify potential price trend reversals in the Bitcoin market.
Bar outlier incidents like the COVID-19 pandemic, BTC has historically headed on a tear on three notable occasions when the aSOPR rose above 1.
On November 22, 2015, the aSOPR trended above 1 and peaked at 1.10 in January 2018. Within that period, BTC spiked 6,100%, from $323 to a new all-time high at $19,500.
In another instance, in April 2019, BTC price grew 150% from around $5,000 to a local peak of $12,500 after aSOPR rose above 1.0. After a brief distortion by the Covid-19 pandemic, the positive aSOPR pattern repeated again in June 2020. Before retracing, the price skyrocketed 579% from around $9,700 to a new high of $57,000.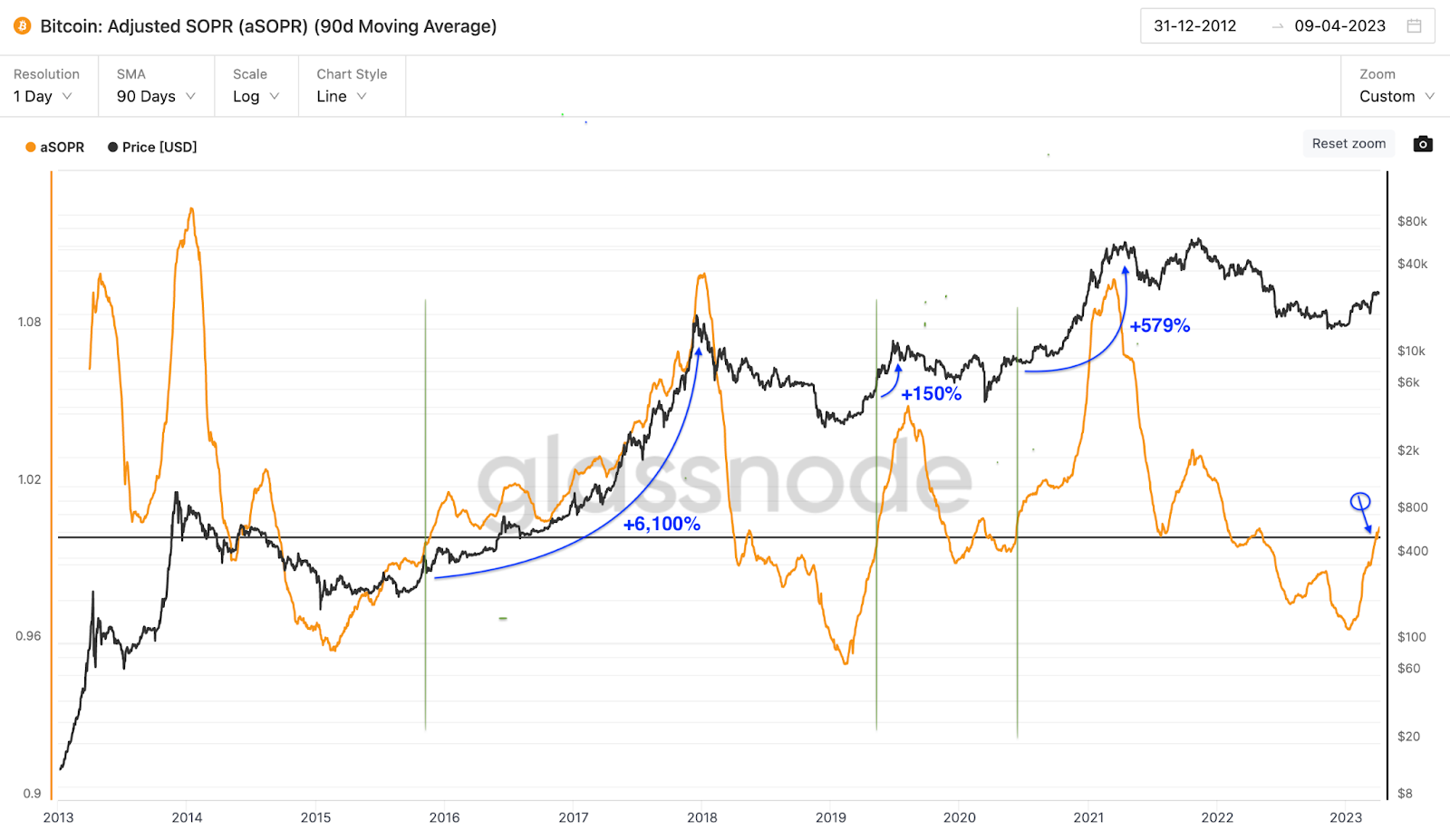 Bitcoin (BTC) Price vs. Adjusted SOPR (90D). April 2023, Source: Glassnode
On average, when aSOPR is above 1, investors are selling their Bitcoin at a profit, and vice versa. Investors are typically reluctant to sell at a loss in a bull market. This shrinks supply significantly and puts upward pressure on the price.
The aSOPR has again started trending above 1.0 since March 30, 2023. If this rare pattern repeats its historical correlation to BTC price surges, crypto investors can expect an exponential rise above $40,000 in the coming months.
BTC Price Prediction: $45,000 is a Viable Target
IntoTheBlock's Global In/Out of Money chart also confirms BTC's $45,000 bullish outlook. As shown below, BTC faces three critical resistance zones at $28,900, $30,070, and $33,000. This references the minimum, average and maximum prices that 1.1 million addresses had paid for 438,000 coins.
Typically, traders are likely to sell when prices approach their break-even point. However, as the momentum of the current, Bitcoin rally grows, holders may become increasingly unwilling to sell at a loss.
Hence, Bitcoin will likely reach the maximum $33,000 price mark of the next resistance before experiencing considerable pushback.
A break above that zone would give the BTC bull rally a clear path toward the next significant resistance at $45,000. However, the 4.81 million break-even addresses holding 2 million BTC may look to sell, inadvertently slowing the rally.

Bitcoin (BTC) Global In/Out of Money Price Distribution. April 2023. Source: IntoTheBlock
Still, if BTC drops below its current $27,300 support, the bears may take control. But this is hard done, as the 2.84 million addresses that bought 1.34 million coins will offer considerable support.
However, failure to stay above $27,000 could see the BTC price drop further to around $24,300. Around that zone, 2.9 million wallet addresses holding 1.5 million coins can shore up the price.