Bloomberg's senior macro strategist Mike McGlone says that Bitcoin (BTC) vastly outperforming gold may be indicative of a new supercycle for the king cryptocurrency.
McGlone tells his 55,000 Twitter followers that one of Bitcoin's key advantages over gold is its low and rising adoption plus diminishing supply.
"Looking for a super cycle? Bitcoin Outperforms Commodities With Declining Risk – Bitcoin beating gold, the top-performing old-guard commodity in 2023 to March 20, by almost 10x may be indicative of a super cycle happening in the crypto."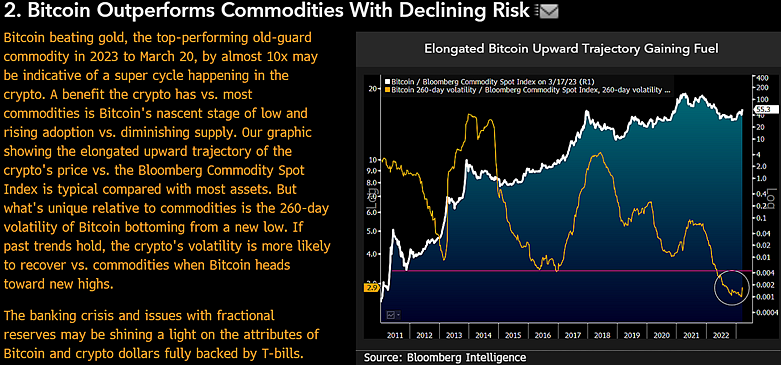 Source: Mike McGlone/Twitter
The strategist is also forecasting that Bitcoin may be in a transitionary period between being a risk-on asset and a more defensive investment against economic instability and banking crises. He pits BTC against the KBW banking index, which tracks the leading banks and thrifts that are publicly traded in the US, and points out big divergent strength in favor of Bitcoin.
"Relative strength vs most assets may portend Bitcoin's inflection toward global digital collateral and potential to trade more like gold, US Treasury bonds. Central banks still tightening despite plunging commodities and a Banking Crisis adds to severe economic-reset risks."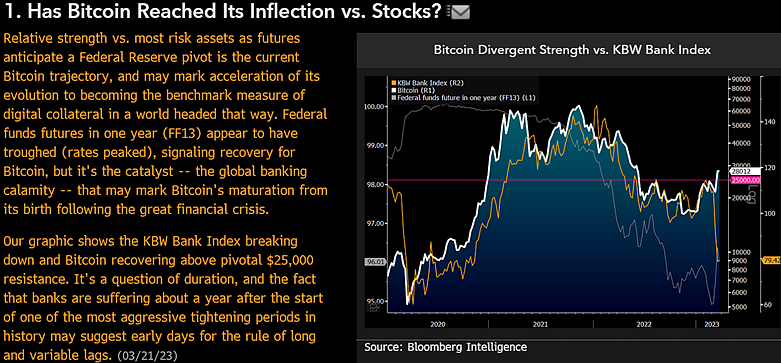 Source: Mike McGlone/Twitter
McGlone said earlier this week that he doubts the global economy will go through the same periods of heavy dollar liquidity that it went through in the past, which could force investors to take a more keen stance on Bitcoin, gold and bonds.
"We're not going to have that re-liquefication like we had in the past because of the lessons of inflation which will be resonating for our lifetimes when they 're-liquify' too fast, too much. So to me, that's where the world is going now. And that's why this is a different environment for things that depended on that, US equities. That's over.
And it's the recession. So we have to get through this recession. If we don't get it. That's a shock. As of just two weeks ago, the probability was the most ever from the yield curve. You can't say that's declined. So we got to get through this recession to think about anything like risk assets like equity. But look what gold and bonds and Bitcoin are doing. Those to me are going to be some of the things that people are going to be looking to buy in dips as we tilt in a recession."
Generated Image: DALLE-2