The recent spate of bank failures in the United States has brought to light the fundamental limitations of the fractional reserve banking system. As a result, many investors are turning to Bitcoin (BTC) as a safe haven asset.
According to a recent analysis by Matrixport, an innovative crypto services provider, American buyers are leading the charge in the bid for this digital currency. Bitcoin has surged by over 40% in just ten days, reaching a nine-month high above $28,000.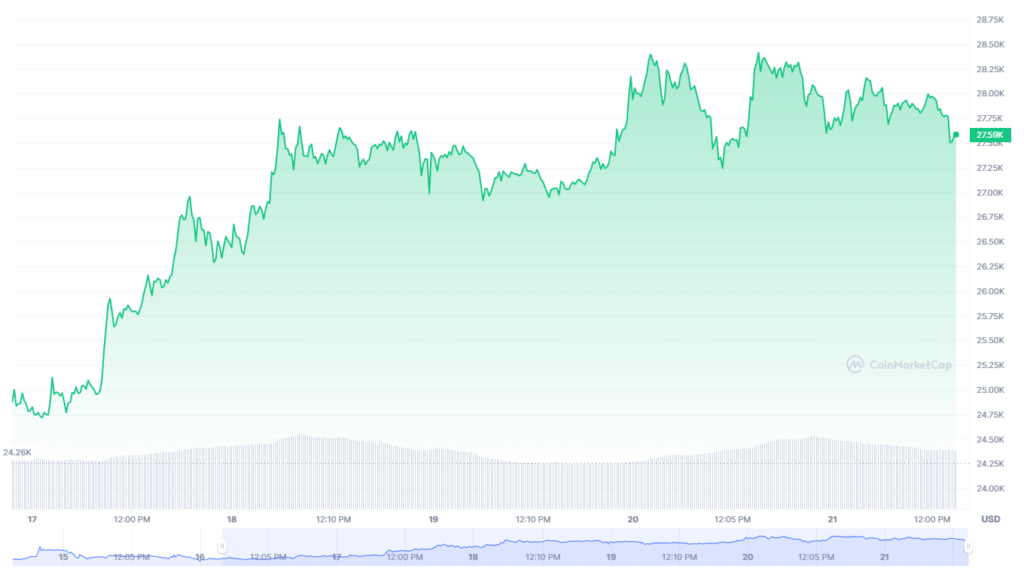 Source: Coinmarketcap
Since the dip on March 10th, BTC has rallied by an impressive +44%, with +31% of that gain occurring during U.S. trading hours. Markus Thielen, Head of Research and Strategy at Matrixport, notes that this indicates that Americans are buying BTC with both hands, and he adds that the stress in the banking sector is not over.
While BTC is available for trading 24/7 worldwide, price action varies throughout each 24-hour cycle, depending on news flow and macroeconomic data releases. Recently, the news has been dominated by issues in the banking sector in the U.S. This has resulted in a repricing of interest rate expectations, causing BTC to perform well during U.S. trading hours.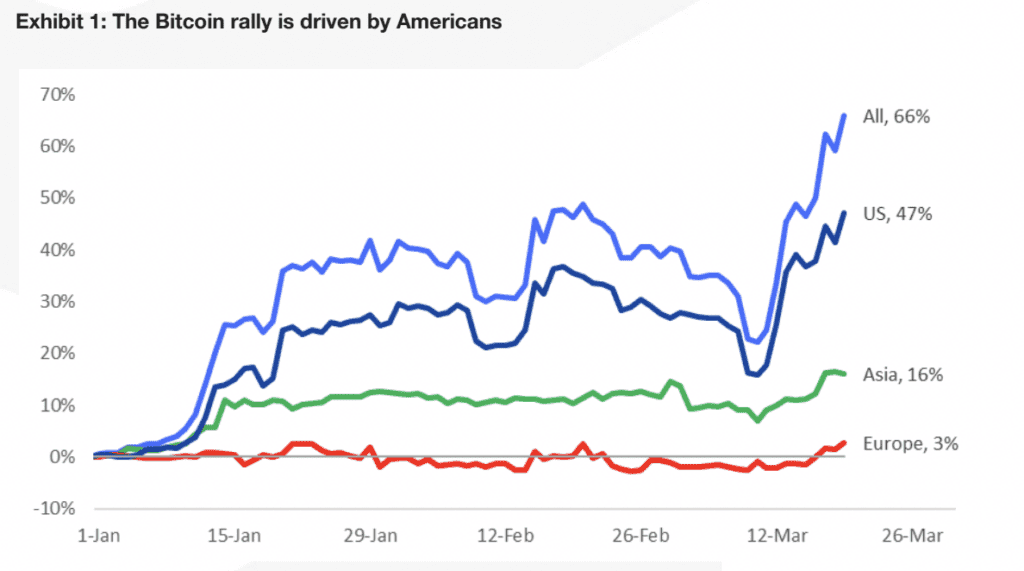 Matrixport's data also shows that American trading hours have been a significant source of bullish pressure for Bitcoin since the start of the year. Thielen points out that Bitcoin is up +66% year-to-date, and during U.S. trading hours, the cryptocurrency has rallied by an impressive 47%. By comparison, during trading hours in Asia, the rally was only +16%, and during European trading hours, Bitcoin has barely increased by +3%.
These trends suggest that U.S. trading hours may influence Bitcoin's future performance significantly. Investors interested in BTC should keep an eye on the news and macroeconomic data releases, especially those related to the banking sector in the United States, to better understand how the price of Bitcoin may behave.
DISCLAIMER: The Information on this website is provided as general market commentary and does not constitute investment advice. We encourage you to do your own research before investing.