In less than one month, the Bitcoin network has added nearly one million wallets that hold a non-zero balance. According to data presented by Glassnode, in late February, the number of non-zero wallets on the network dipped from around 44.2 million to around 43.8 million by February the 23rd. However, this metric has since enjoyed a ferocious recovery to a new record high of 44.778 million as of Wednesday the 15th of March.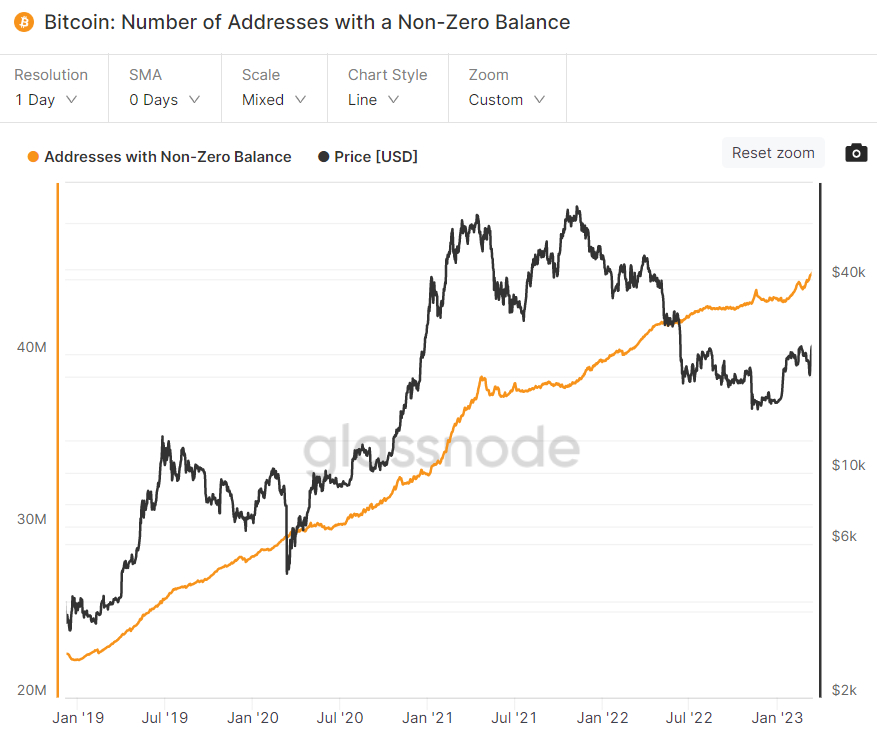 Analysts view the number of wallets on the Bitcoin address with a non-zero balance as a crude proxy for the network's adoption. More wallets with a non-zero balance is assumed to correspond to more individual users of the network and investors in Bitcoin. A rising number of addresses with a non-zero balance theoretically signifies rising demand for Bitcoin, which should (in the long run) boost its value.
The sharp rise in the number of wallets with a non-zero address isn't the only on-chain proxy for Bitcoin demand that is trending in a positive direction. According to Glassnode, the seven-day Exponential Moving Average (EMA) of New Addresses interacting with the Bitcoin network has been trending higher since last summer and hit its highest level earlier this month since mid-2021.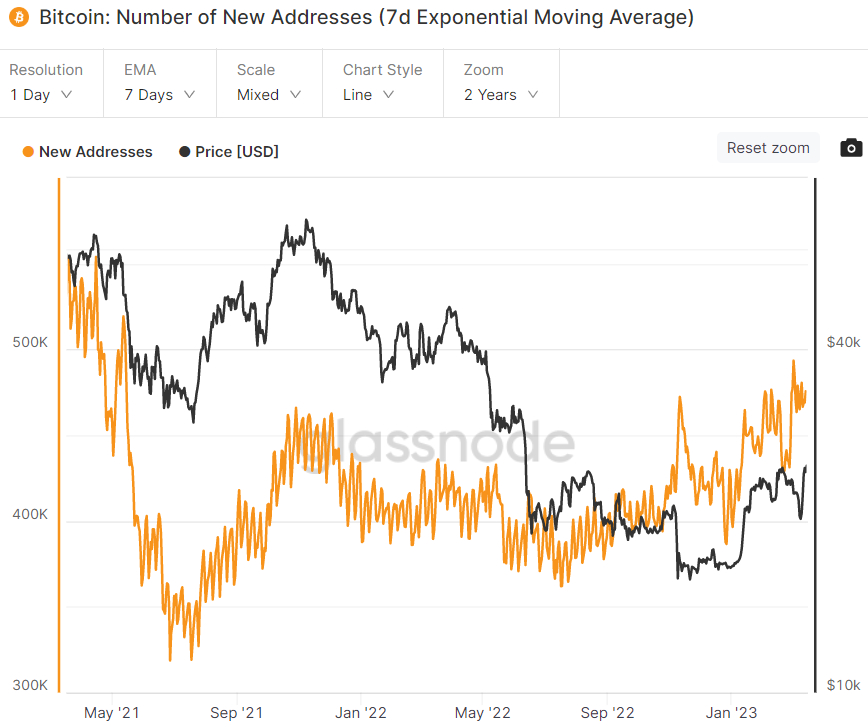 The seven-day EMA of the number of daily transactions taking place on the Bitcoin network has also been picking up since the end of last year, recently hitting its highest level in over two years.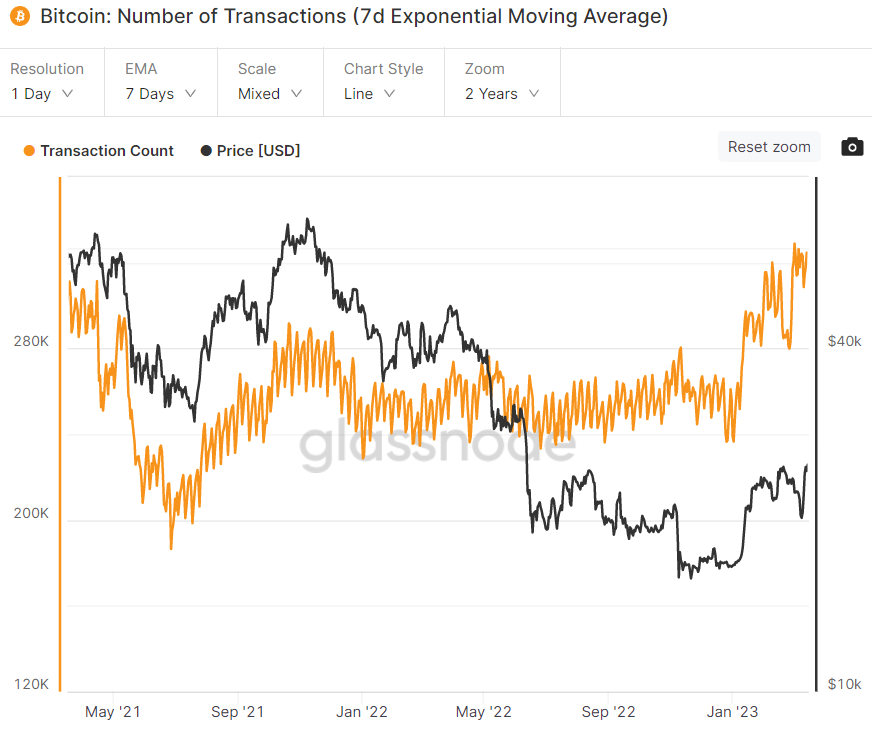 The pick-up in the seven-day EMA of the number of active addresses has been a little less impressive, but it nonetheless also recently hit multi-month highs of more than 1 million, which appears to have been a ceiling since around the middle of 2021.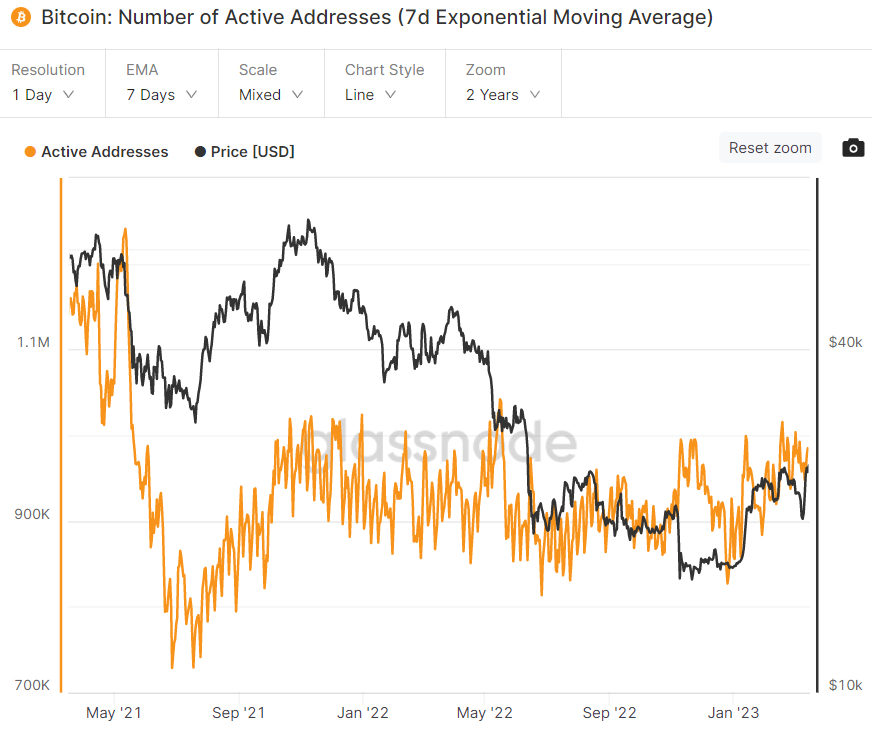 Finally, even the seven-day EMA of the USD-denominated Total Transfer Volume taking place on the network is showing some very tentative signs of picking up from very suppressed (by recent historical comparison) levels.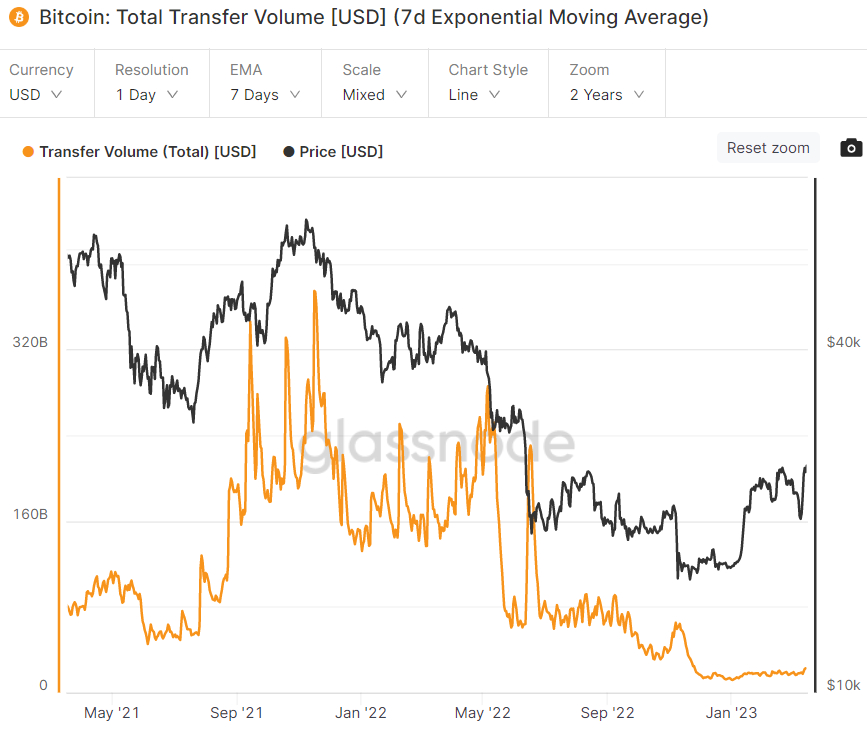 Other On-Chain Metrics Suggest Bitcoin is Transitioning to a New Bull Market
As discussed in a recent article, most of the on-chain and technical indicators monitored by Glassnode in their widely followed "Recovering from a Bitcoin Bear" dashboard are flashing green and soon, all eight probably will be. Glassnode created this popular dashboard to help identify whether Bitcoin is transitioning from a bear market into a period of recovery/new bull market.
The Recovering from a Bitcoin Bear dashboard tracks eight indicators to ascertain whether Bitcoin is trading above key pricing models, whether or not network utilization momentum is increasing, whether market profitability is returning and whether the balance of USD-denominated Bitcoin wealth favors the long-term HODLers.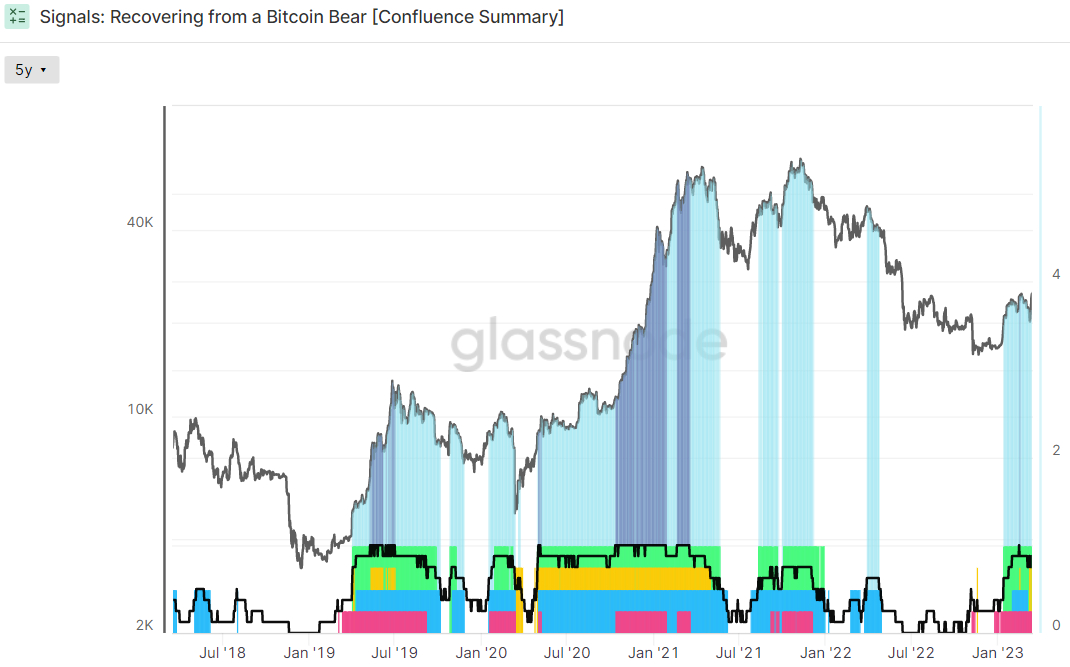 When all eight are flashing green, this has historically been a strong bullish sign for the Bitcoin market. At the moment, seven of eight indicators are flashing green. The above chart is shaded light blue when five out of eight indicators are flashing green and dark blue when all eight are flashing green.
Where Next for the BTC Price?
After an intense few days of volatility at the end of last week/beginning of this week, Bitcoin is consolidating close to the $25,000 level as market participants mull what's next for the world's largest cryptocurrency by market cap. Bitcoin's recent decoupling to US equities has got some thinking that if concerns regarding financial stability in the US and elsewhere continue to rise, this could continue to boost the Bitcoin price.
Bitcoin, a decentralized, independent peer-to-peer payments network is viewed by many as a safe alternative to the fiat-based, central bank-centered fractional reserve system. Another potential tailwind for Bitcoin could be if next week's Fed meeting is decisively dovish (assuming that Fed officials fear a hawkish message could further roil the banking system).
Meanwhile, BTC's recent strong bounce from its 200DMA and Realized Price under the $20,000 level is another tailwind. The fact that Bitcoin managed to crack above key long-term resistance in the $25,200-400 area earlier this week means the door is open to a run higher towards the next resistance area around $28,000 and perhaps even a test of $30,000.