Bitcoin (BTC) price increased significantly over the weekend, saving a potential breakdown in the process. However, the future trend's direction has yet to be determined.
Last week, the Bitcoin price created a massive, long lower wick (green icon). Even though the close is slightly bearish, the movement can be considered bullish due to the length of the wick.
Moreover, the wick affected two other bullish structures.
Firstly, it saved a potential breakdown from the $21,000 horizontal area. Now, the area is expected to provide support once more. Secondly, it caused the RSI to remain above 50. This is considered a sign of a bullish trend.
Therefore, while the trend is still neutral due to the range, several bullish signs make a breakout more likely.
A breakout from the top of the range could lead to an increase toward $28,000. On the other hand, a breakdown could lead to a fall toward $17,000.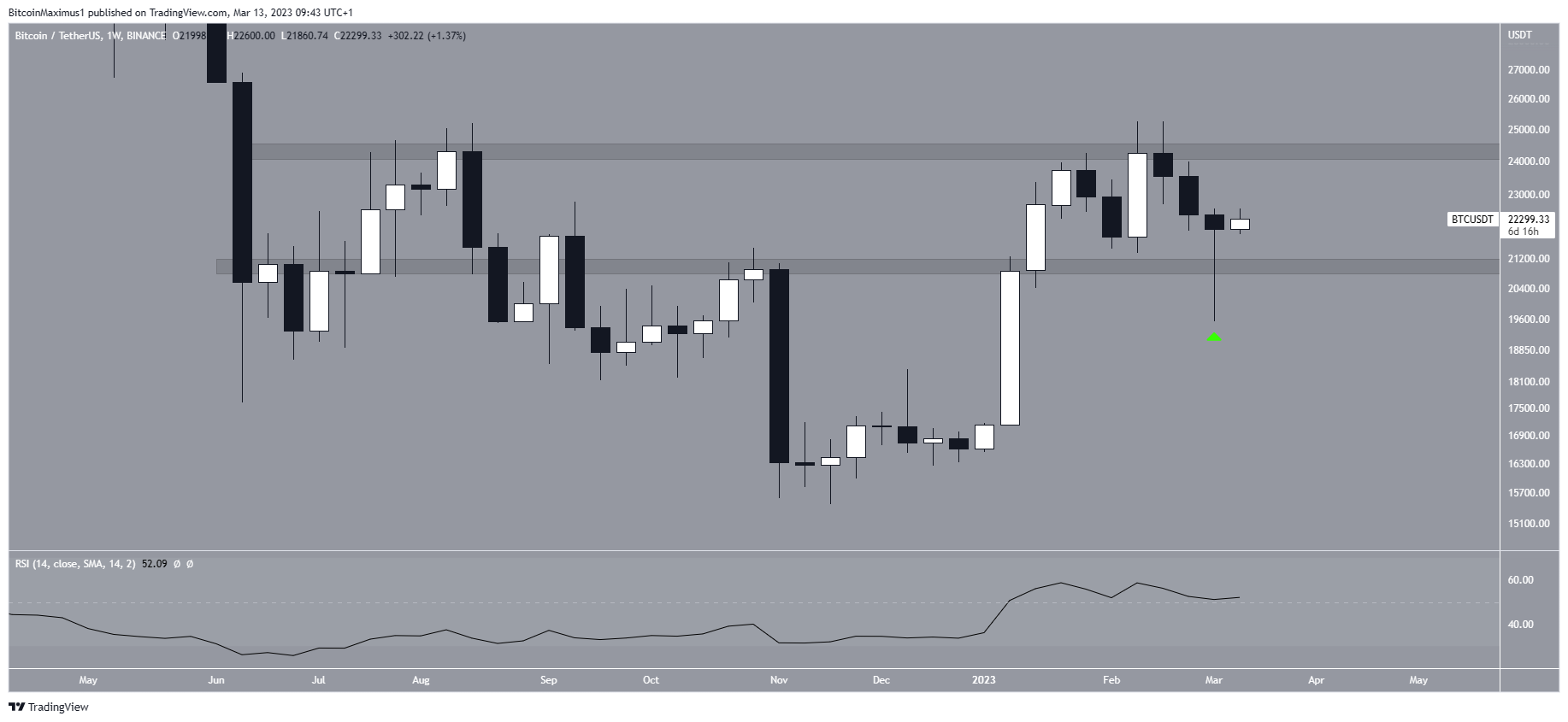 BTC/USDT Weekly Chart. Source: TradingView
Bitcoin (BTC) Price Gives Mixed Signs
Similar to the weekly chart, the daily one provides some mixed signs. The BTC price bounced on March 10, validating the previous channel as support. It created a massive bullish candlestick on March 12.
However, the daily RSI has yet to break out from its bearish divergence trend line (green line). Moreover, it is still below 50.
Therefore, the trend cannot be considered bullish yet.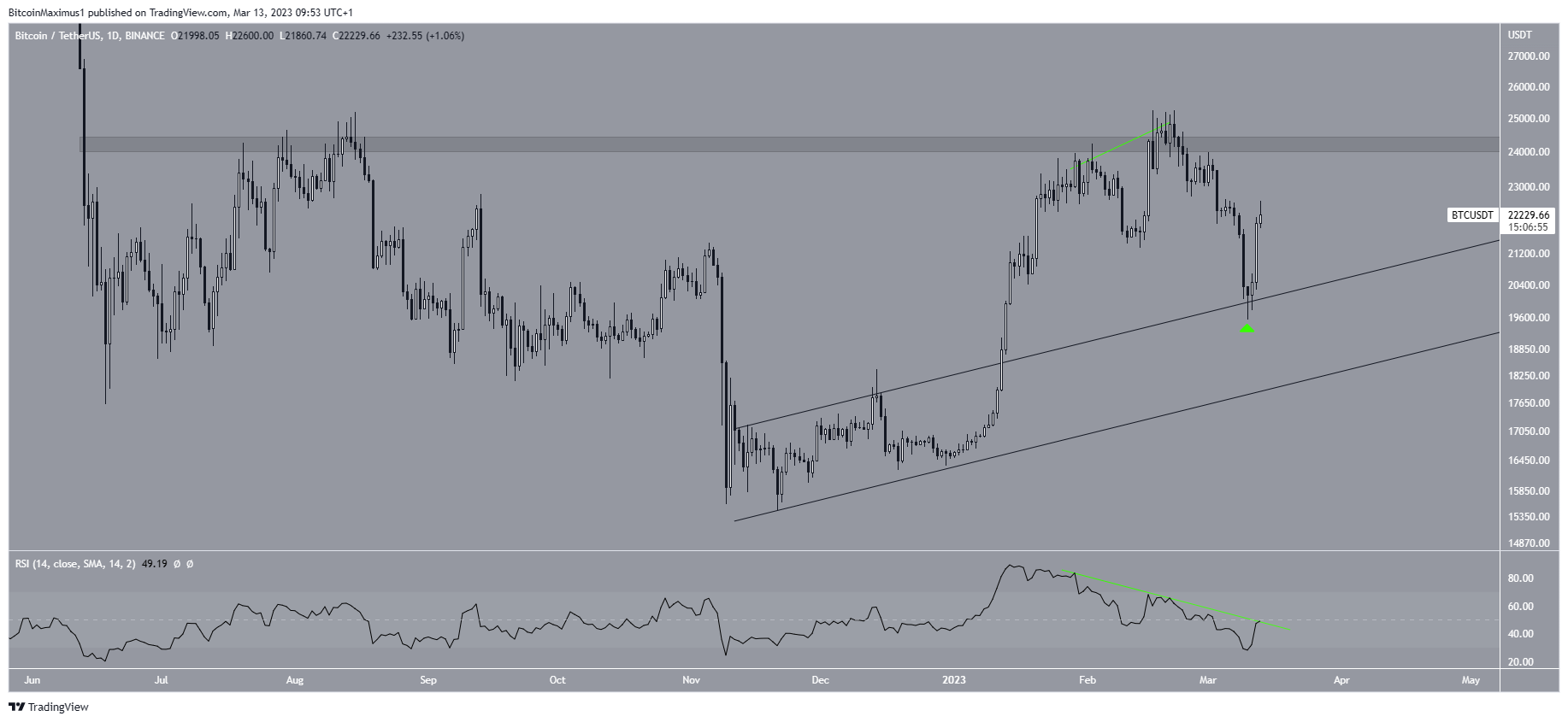 BTC/USDT Daily Chart. Source: TradingView
Next, the short-term six-hour chart shows that the Bitcoin price broke down from a descending resistance line. This followed an RSI breakout and movement above 50.
Now, the BTC price trades at the 0.5 Fib retracement resistance level at $22,400. Whether it breaks out or gets rejected could determine the future trend.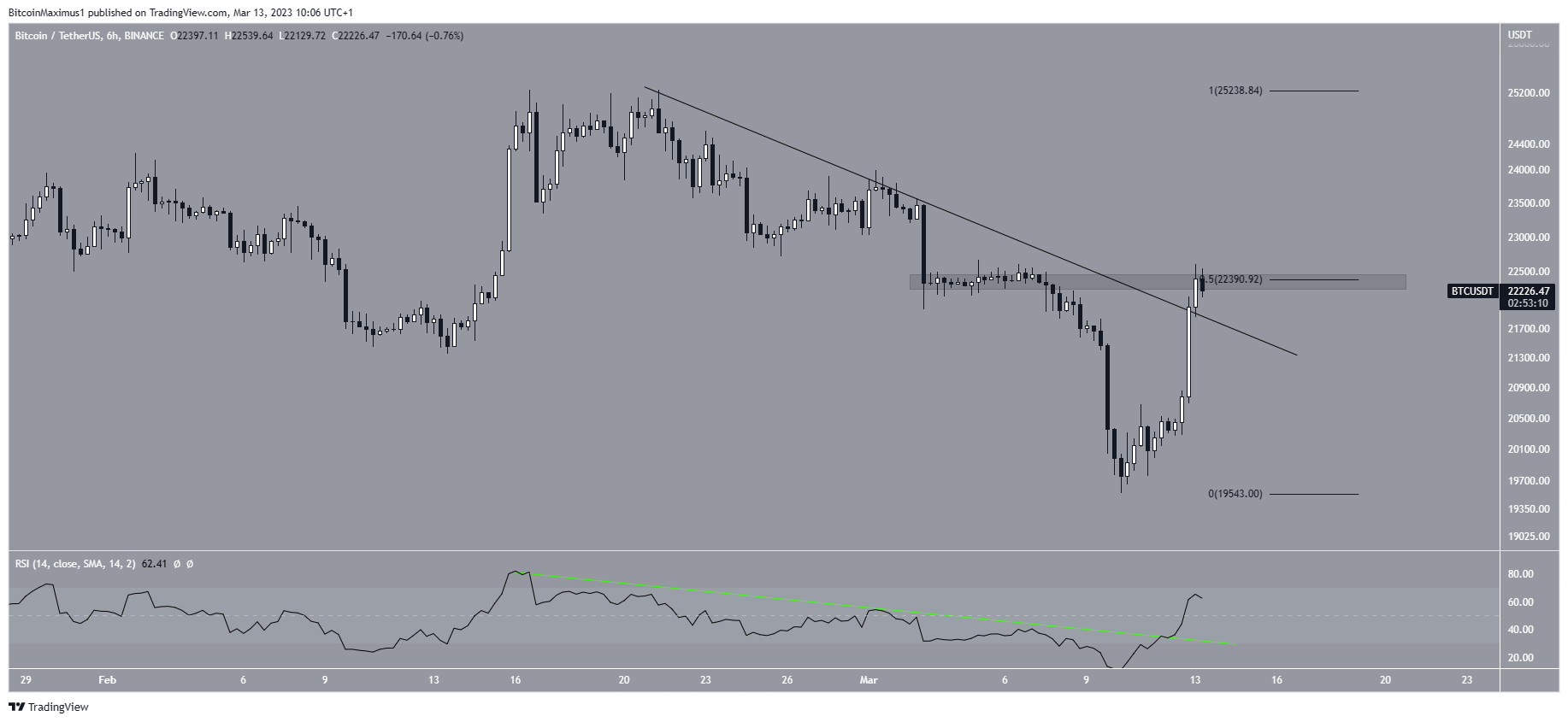 BTC/USDT Six-Hour Chart. Source: TradingView
Wave Count Analysis: Relief Rally or Bullish Reversal?
There are two potential counts in play. The bullish one suggests that BTC has just completed a fourth-wave pullback. If so, it has begun the fifth and final wave of an upward movement that will take it toward $28,000.
The count would be invalidated by a fall below the wave one high (red line) at $18,387.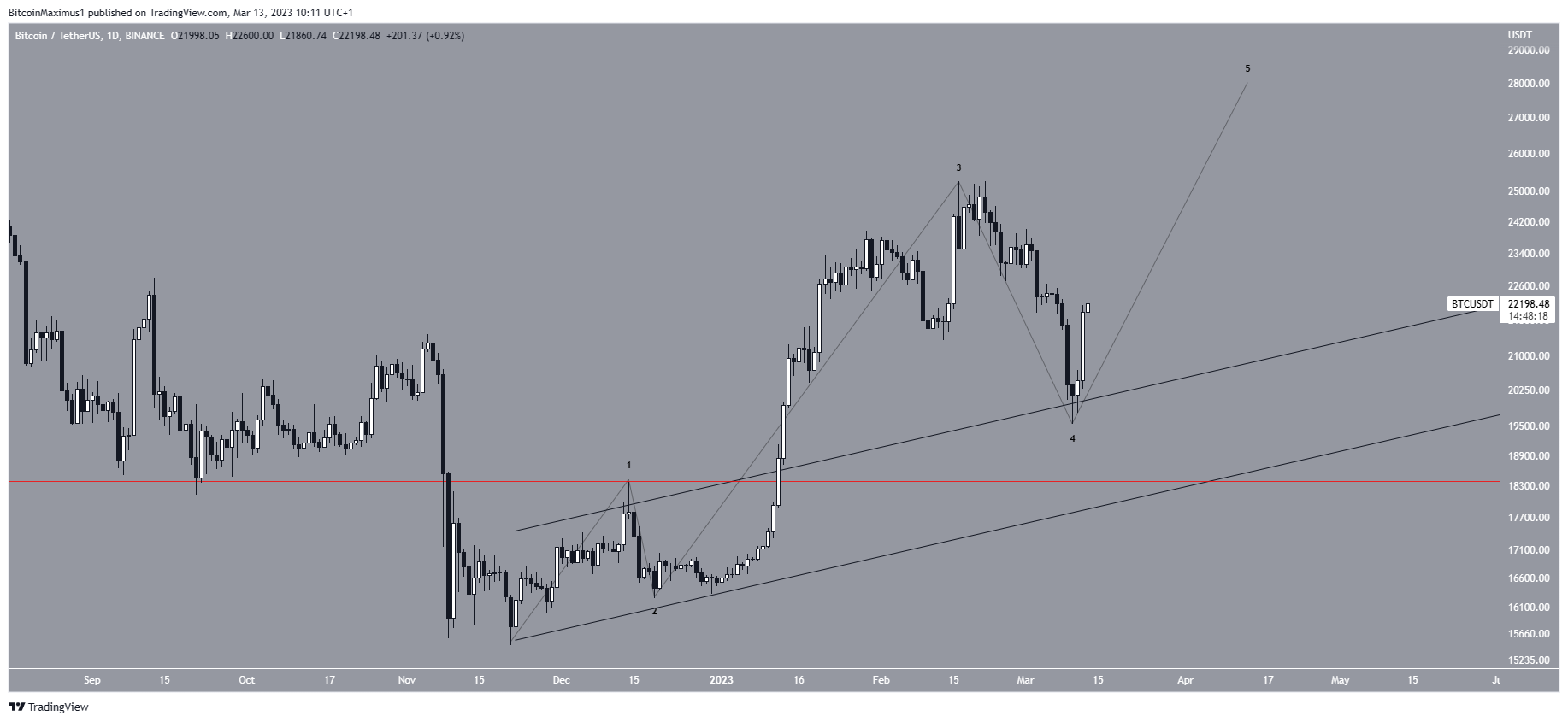 BTC/USDT Daily Chart. Source: TradingView
The bearish count suggests that BTC is in a corrective wave two and will decrease again. However, the sub-wave count (red) in wave one is extremely unusual. As a result, the first count is more likely. The bearish count would be invalidated by an increase above the previous highs at $25,250.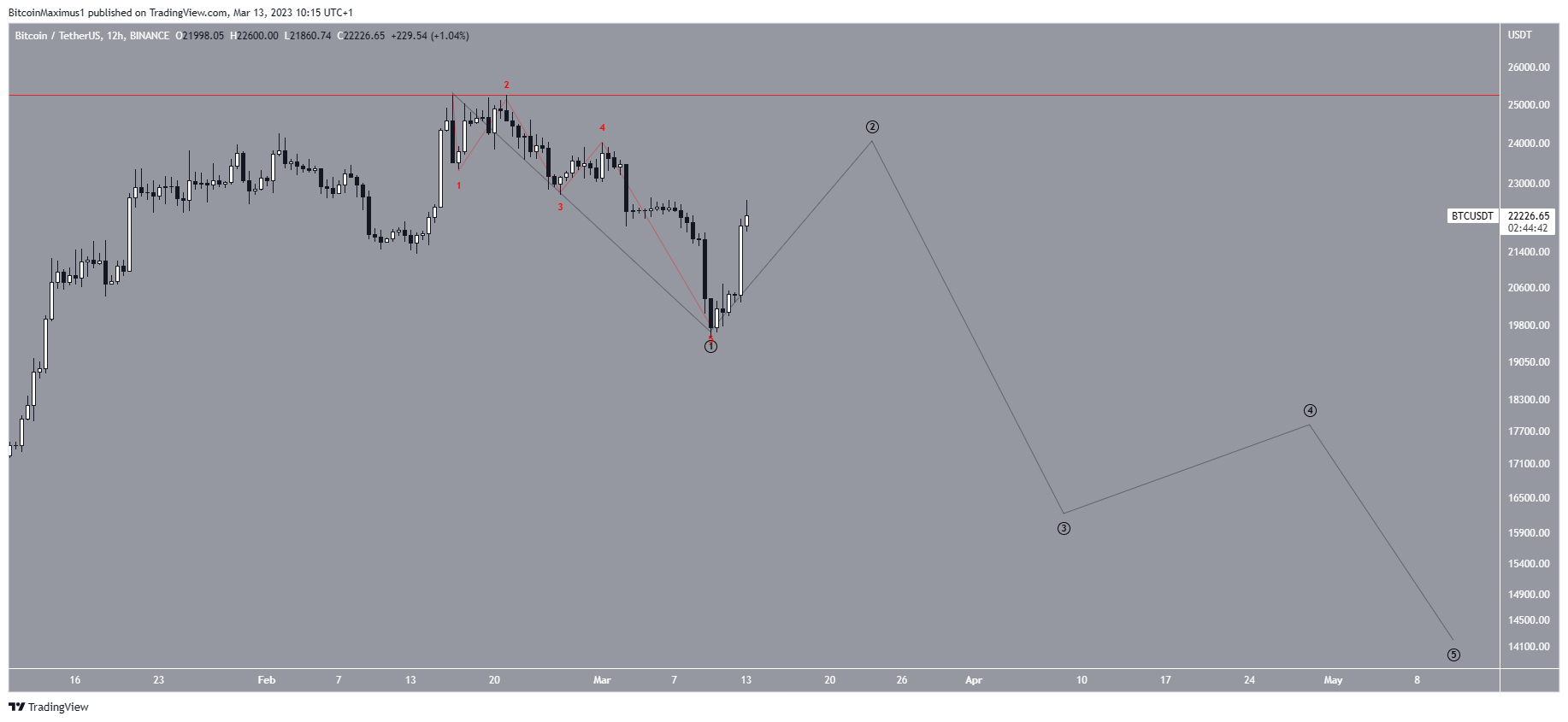 BTC/USDT 12-Hour Chart. Source: TradingView
To conclude, the future BTC trend is still undetermined. Whether the price falls below $18,387 or increases above $25,250 will help determine the future movement. The former would lead to lows below $15,000 while the latter could lead to an increase toward $28,000.
For BeInCrypto's latest crypto market analysis, click here.