Bitcoin recently witnessed a noticeable price fluctuation near the $24K level, bringing uncertainty ahead of the FOMC meeting.

Moreover, BTC's increasing mining difficulty and a spike in open interest signify a formation of a bull trap soon.
As the Federal Open Market Committee (FOMC) meeting is slowly approaching this week, the crypto market wonders about the after-effect of the meeting on the BTC price. With so much uncertainty and speculation around the corner, it's no wonder that investors, traders, and enthusiasts alike are eager to know what the future holds, and a question arises on whether this meeting will become the catalyst in sending bitcoin to new heights or it will bring a steep and painful downfall.
Will Bitcoin Soar Or Tumble Due To FOMC Meeting?
All the eyes of the crypto market are currently on the decision in the FOMC meeting as the anticipation creates intense volatility in the BTC price chart. As the US economy experiences high inflation, a higher interest rate may create turmoil in the stock market, plunging Bitcoin's price with solid downward retracement for being heavily correlated.
According to the on-chain analyst firm, CryptoQuant, the Bitcoin price has made a spike in volatility in the last few days with the hype of the FOMC meeting, and it has touched the highest level in three months.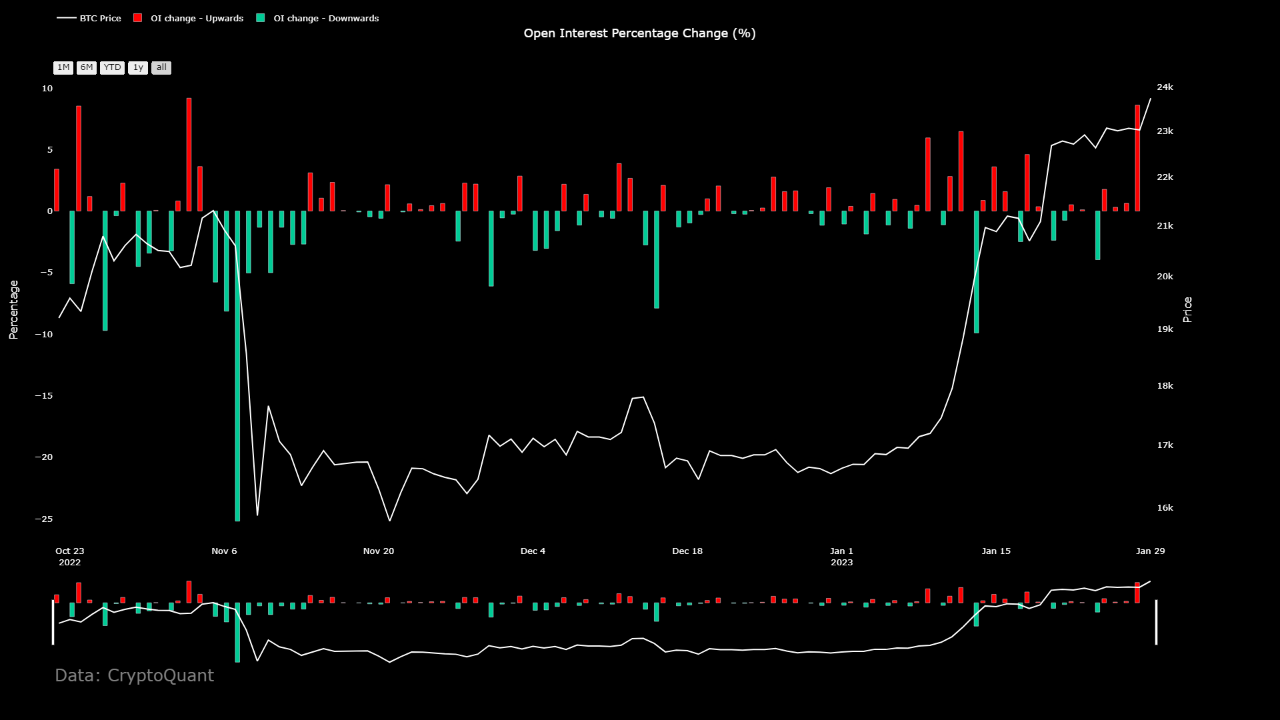 In addition, the firm noted that the open interest, i.e., the amount of BTC futures contracts opened on crypto exchanges, has reached a three-month high of 8.3%. It is to be noted that the massive accumulation usually drives the surge in Bitcoin's OI due to the hype of the FOMC meeting, which pushes the BTC price upward for a short period. However, traders should stay aware as the FOMC meeting may bring a short-squeeze and negative spike in the Bitcoin price after an astronomical surge.
Here Is Where BTC Price Heading Next
The Bitcoin market has witnessed a higher high and higher low in the last two days as the $24K resistance level seems too much to handle. Additionally, the spike in BTC mining difficulty creates selling pressure which may cause severe volatility to the downside.

As of writing, Bitcoin price trades at $23.2K, with a decline of over 1% in the last 24 hours. A well-known crypto trader, SkyrexTrading, predicts that Bitcoin is poised for a short-term bearish trend as the asset recently broke below the immediate support level of $23,564. The analyst predicted that Bitcoin might slump hard below its 31.8% Fib level at $22.5K before sparking fresh surges during the FOMC meeting.
However, a piece of positive news from the FOMC meeting will leave a bullish impact on Bitcoin's price, sending the coin to new monthly highs in February.
Tags
Bitcoin Crypto news Price Analysis