Back to the list
'Wolf Of All Streets' warns Grayscale collapse would trigger 'massive selling event' for Bitcoin
finbold.com
18 January 2023 13:52, UTC
Reading time: ~3 m
---
With the battered cryptocurrency industry only recently starting to recover from the collapse of several of its major companies, questions are arising as to whether the market and its assets could take any more of such events, including the hypothetical downfall of cryptocurrency management firm Grayscale Investments.
Indeed, the crypto trader and presenter of the podcast 'The Wolf Of All Streets,' Scott Melker, believes that the "rare event" of Grayscale crashing would start a domino effect across the market, triggering a "massive selling event" for Bitcoin (BTC), as he told Kitco News' David Lin in an interview published on January 17.
Specifically, Melker explained that:
"The real problem for the crypto market, specifically the Bitcoin market, is if contagion [spreads] to Grayscale and GBTC. I don't think that's going to happen (…), but in the rare event that something like GBTC having to be liquidated happens, we would see a massive selling event of Bitcoin."
That said, the Wolf Of All Streets voiced his opinion that, in this hypothetical situation, there would be a lot of firms like Valkyrie that would be interested and able to step in and "take over" Grayscale to run it more efficiently.
Grayscale's prominent activities
Notably, back in October, Grayscale debuted Grayscale Digital Infrastructure Opportunities LLC (GDIO), an investment vehicle that assists investors in capitalizing on the reduced prices of Bitcoin mining infrastructures.
It is also worth noting that, in the summer of 2022, Grayscale attempted to launch a Bitcoin spot exchange-traded fund (ETF), but the attempt was shot down by the United States Securities and Exchange Commission (SEC), upon which Grayscale initiated a lawsuit against the regulator.
Raging bull market in 2023?
Asked by Lin whether he believes the market will see a rebound during 2023 after a difficult 2022, Melker said that:
"I would anticipate that we see more sideways chop as we see the macro really give us some clarity. I don't expect that Bitcoin is going to skyrocket while the Fed continues to maintain their hawkish tone, and we don't know what's happening with other markets."
He doesn't believe there will be a raging bull market, "at least not at the beginning, but that does eventually happen, whether that be towards the end of the year or coming into the election year in 2024 when things tend to turn around."
Bitcoin price analysis
Meanwhile, the flagship decentralized finance (DeFi) asset was at press time changing hands at the price of $21,285, up 0.27% on the day, with a massive increase of 22.13% across the week, adding up to the cumulative gain of 27.05% on its monthly chart.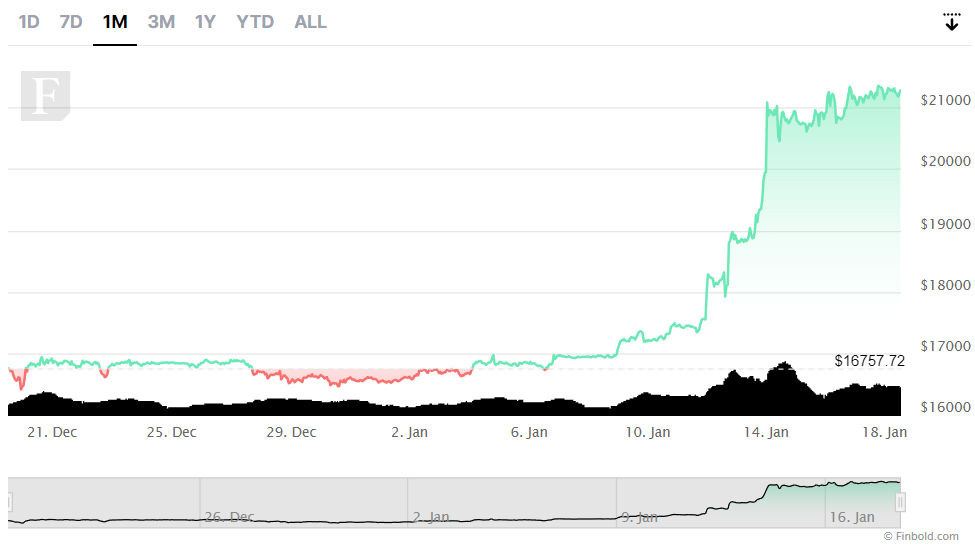 Meanwhile, Bitcoin has recorded successes in its market capitalization and daily trading volume as well, its market cap currently standing at $410.08 billion and 24-hour trading volume amounting to $23.49 billion (1,103,750 BTC), as per CoinMarketCapdata retrieved on January 18.
Watch the entire interview below:
Disclaimer: The content on this site should not be considered investment advice. Investing is speculative. When investing, your capital is at risk.
---
Source
---
Back to the list