Back to the list
Buyers From Coinbase Powered Bitcoin Higher or Did They?
www.coindesk.com
17 January 2023 10:51, UTC
Reading time: ~2 m
---
Bitcoin (BTC) has gained nearly 28% this month, hitting the highest since early November. The popular narrative on Crypto Twitter is that traders from Coinbase (COIN) have powered the cryptocurrency higher. However, the Nasdaq-listed exchange hasn't been the only source of bullish pressures for the cryptocurrency.
The Coinbase premium index, which measures the spread between Coinbase's BTC/U.S. dollar (USD) pair and Binance's BTC/USDT pair involving the tether stablecoin, turned positive last week and rose to 0.039 over the weekend, the highest since late October, per data sourced from blockchain analytics firm CryptoQuant.
In other words, the indicator suggests the buying pressure on Coinbase has been relatively stronger.
"The price premium between Bitcoins traded on Coinbase vis-à-vis those traded on Binance (Coinbase-Binance premium) continued to be positive throughout the week, which is indicative of increased buying interest from institutional investors vis-à-vis retail investors," André Dragosch, head of Deutsche Digital Assets, wrote in a note to clients.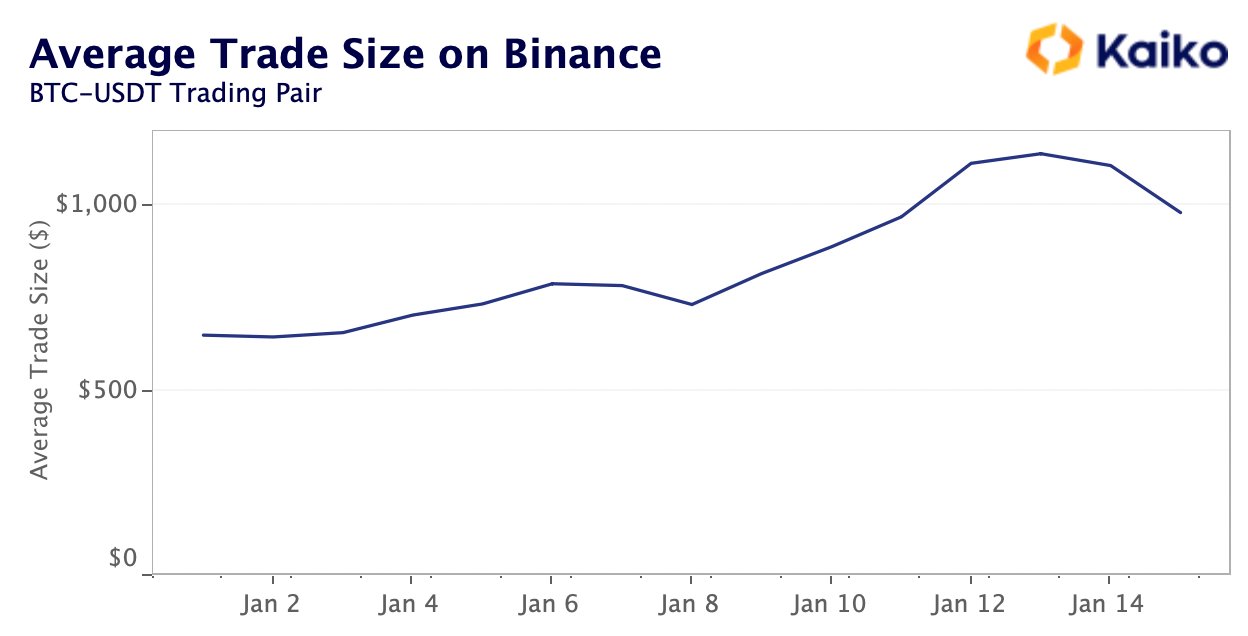 The average trade size on Binance has increased from $700 to $1,100 since Jan. 8.
Bitcoin changed hands at around $21,150 at press time, having risen nearly 22% last week. The rally stemmed from the belief that worse macroeconomic risks may be behind us.
"It's not just the acceptance that peak inflation is behind us and that rates probably don't have that much further to rise. It's also that most sellers have been flushed out of the market," Noelle Acheson, author of the popular "Crypto Is Macro Now" newsletter, said in the weekend's edition of the newsletter, explaining the price rally.
---
Learn more about Consensus 2023, CoinDesk's longest-running and most influential event that brings together all sides of crypto, blockchain and Web3. Head to consensus.coindesk.com to register and buy your pass now.
---
---
Source
---
Back to the list