The global crypto market cap has risen 8.69% over the last 24 hours according to CoinMarketCap. At press time, the global crypto market cap is estimated to be $982.81 billion. This increase in the crypto market cap is just a summary of the positive week that the crypto market has had over the past week.
All of the top 10 cryptos by market cap posted significant gains over the last 7 days. Leading the charge is the Ethereum killer, Solana (SOL), with its weekly gain of just over 78%. The altcoin's price has also risen 40.37% over the last 24 hours.
Santiment, the blockchain analytics firm, tweeted today. The tweet shared that the "altcoin party" has continued as the week comes to a close. Perhaps the key takeaway from the tweet is the fact that the market leader, Bitcoin (BTC), was on the verge of breaking its psychological level of $20k for the first time since November 7, 2022, at the time the tweet was made.
Currently, the market leader's price has been able to break the psychological level and now stands at $20,864.96 following a 10.93% increase in price over the last 24 hours. In addition to the 24-hour rise, BTC's price has also risen more than 23% in the past week.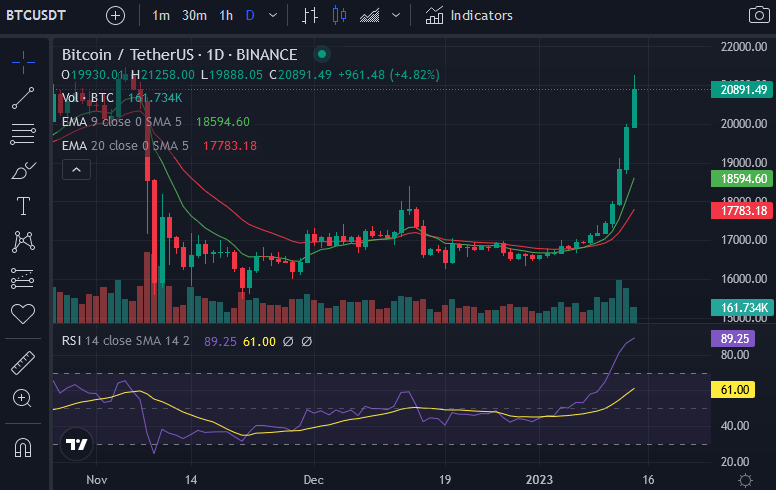 Daily chart for BTC/USDT (Source: CoinMarketCap)
BTC's price has blown past the 9-day and 20-day EMA lines, which ignited a 6-day bullish rally to boost BTC's price to its current level. BTC is now trading at the resistance level at $21,364. It seems that bears are trying to keep BTC's price below the resistance level as evident by the wick above today's daily candle.
Disclaimer: The views and opinions, as well as all the information shared in this price prediction, are published in good faith. Readers must do their research and due diligence. Any action taken by the reader is strictly at their own risk. Coin Edition and its affiliates will not be held liable for any direct or indirect damage or loss.