The Grayscale Bitcoin Trust (GBTC) took a surprising development yesterday, Monday, January 9, when the world's largest private BTC fund rose 12% in price. As TradingView data shows, the GBTC share price stood at $8.65 at the close of trading on Friday. However, during the course of Monday, GBTC saw unexpected buying pressure that pushed the price to $9.72.
In contrast, the Bitcoin spot price stagnated around the $17,200 level yesterday. This circumstance has contributed to the GBTC discount shrinking significantly. Already in the first days of the year, GBTC saw an upswing compared to the spot market. While the discount was 49% on December 30, yesterday the value dropped to 38%.

Grayscale Bitcoin Trust GBTC discount
A Strange Timing For GBTC To Rise
The development may come as a surprise to many, as the situation surrounding Digital Currency Group (DCG) has continued to intensify over the past few days instead of easing.
Remarkably, yesterday's rally comes after Gemini co-founder Cameron Winklevoss let his deadline against DCG CEO Barry Silbert pass without comment. Winklevoss had given Silbert a deadline of Sunday to release the $900 million in frozen Gemini Earn client funds from Genesis Trading.
However, the expired deadline remained without a response from Cameron Winklevoss yesterday, although he appeared to be extremely combative in his January 2 letter. As Ram Ahluwalia of Lumida Digital Assets Advisors explained on the Unchained podcast, Gemini can now file an involuntary Chapter 11 bankruptcy against Genesis following the expiration of the deadline to force the company to pay outstanding creditor debts.
Related Reading: Crypto Conglomerate DCG Under Investigation By U.S. Authorities
In that case, Genesis would be insolvent, transferring the debt to DCG, which itself has liquidity problems and perhaps more. Whether Winklevoss will make the move is questionable at this point, as things went quiet around him yesterday. As analyst Samuel Andrew reported in a tweet, Genesis Trading creditors reportedly voiced:
[W]e knew about the SEC a month ago, but EDNY (DOJ) is a serious problem, [which] made everyone pause over the weekend.
Bitcoinist reported that the U.S. authorities are investigating the internal transfers between the billion-dollar crypto conglomerate and its crypto-lending arm. As Andrew assesses, the investigation by the Department of Justice of the Eastern District of New York (EDNY) is "another reason why anyone that expects a quick resolution to anything related to Genesis/Gemini should adjust those expectations."
Redeem Grayscale's Bitcoin Campaign Gathers Momentum
While Barry Silbert practices stalling tactics, industry veteran David Bailey has launched the "Redeem GBTC Campaign" to give shareholders a voice. The group of shareholders wants to ensure that the trust is managed in a way that maximizes value for all shareholders.
The campaign has three goals: a "credible" path to redemptions that minimizes the impact on the Bitcoin market, a reduction in management fees and a change in management, as well as a competitive bidding process for new sponsors of the trust.
Related Reading: DCG Closes Subsidiary HQ Digital, Fueling Fears In Bitcoin Market
In one of his recent tweets, Bailey revealed that the campaign is picking up massive momentum. He said, "We've now heard from 2,000 investors, representing ~25% of the shares. It's time for change." Bailey also added that:
DCG sold a fiction to Wall Street. They thought they could never lose control because the shares are distributed so widely across 850k shareholders. They laughed as they pillaged retail and retirees. Little did they know we would fight back. They've made 850k enemies.
What caused the spike in the GBTC price yesterday can only be speculated. But one reason could also be arbitrageurs taking advantage of the massive discount.
At press time, the Bitcoin price stood at $17,194, continuing its slight uptrend over the last 10 days.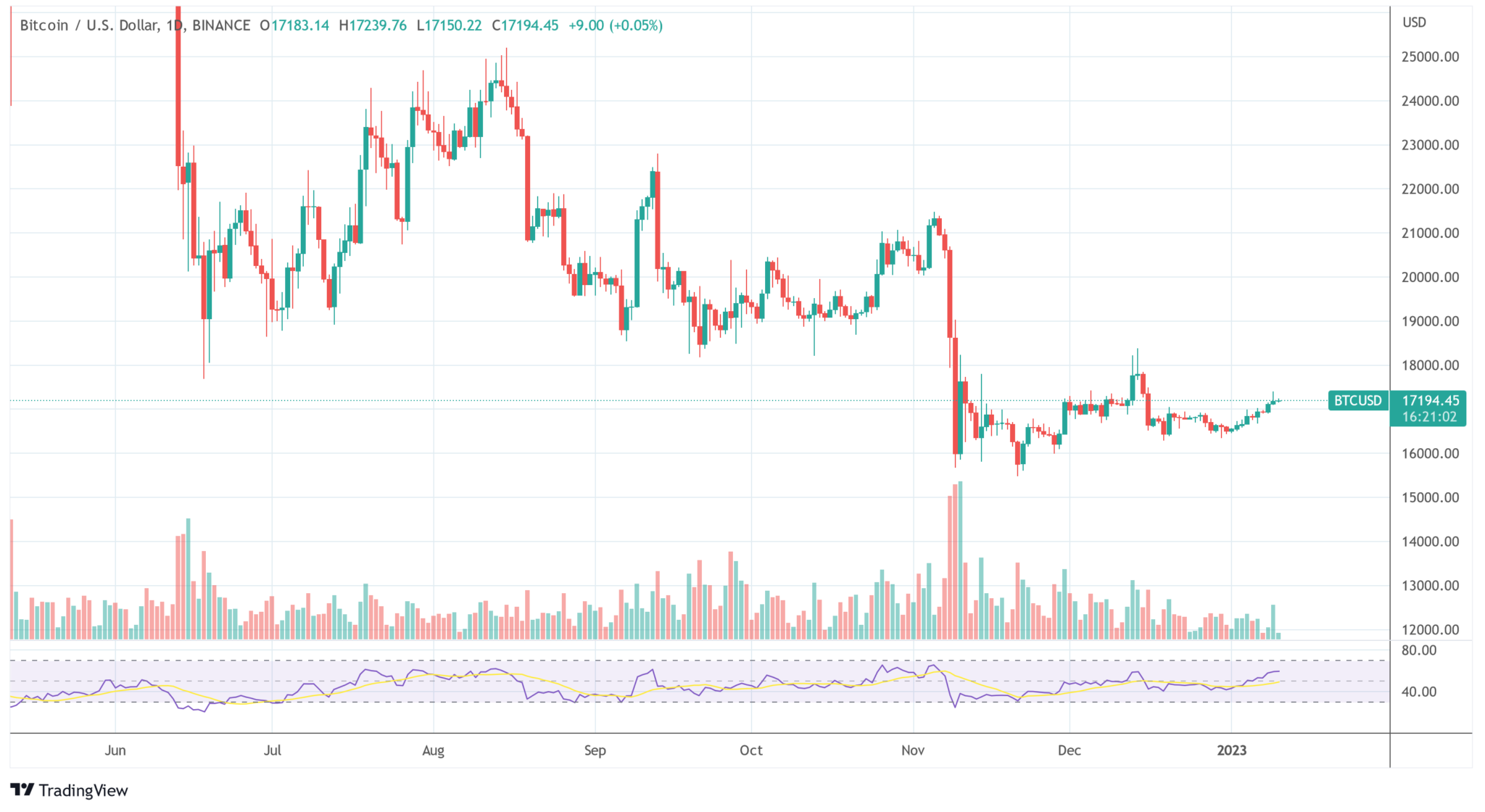 Bitcoin price (BTC/USD), 1-day chart, Source: TradingView
Featured image from Dmitry Demidko | Unsplash, Chart from TradingView.com