Back to the list
Exchanges Move Off an All-Time High Amount of BTC; Reports Suggest
coinedition.com
24 December 2022 11:08, UTC
Reading time: ~2 m
---
Reportedly, exchanges have been moving off bitcoins, resulting in the all-time high quantity of coins removed. Currently, the amount of the asset removed stands at 18.2 million BTC, while the coins on exchanges are just 1.2 million.
The market intelligence platform Santiment tweeted on December 2022 that the number of bitcoins moved is an all-time high while analyzing the withdrawals over the past 10 years:
🤯 Illustrated is the 10-year long term view of #Bitcoin's funds moving on and off exchanges. The amount of coins in self custody continues creating a new #AllTimeHigh, now at 18.2M $BTC. Meanwhile, coins on exchanges is at just 1.2M $BTC, a 4-year low. https://t.co/HiPDu55vuo pic.twitter.com/v2G1TmZdLL

— Santiment (@santimentfeed) December 22, 2022
Notably, the current trend of withdrawing huge amounts of BTC from centralized exchanges is mainly an aftermath of the fall of the once-prominent crypto exchange FTX. Since the fall of FTX, investors and traders are skeptical about digital assets which urges them to withdraw their holdings.
Over the past year, especially after the fall of FTX, the coin price has been declining significantly. While BTC's price stood at around $50k at the beginning of 2022, it has finally fallen to around $16K by the end of the year.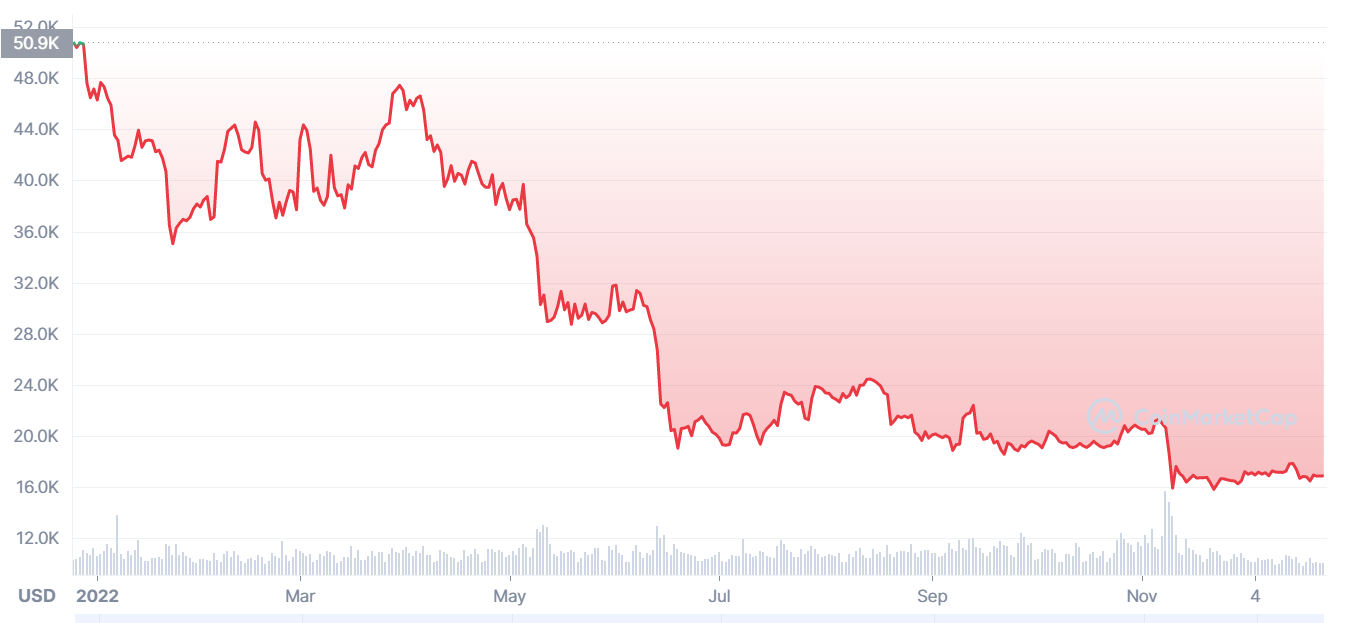 One Year's BTC Price
The crypto exchange Binance wrote on their feed in detail about the current condition of both crypto exchanges and the BTC coins:
The mass withdrawal of BTC from exchanges is also a bullish sign, as investors often deposit their assets and keep them on exchanges when there is an intention to sell them off. In contrast, taking one's assets off exchanges often indicates intentions to hold them for an extended period.
In contrast to the large number of coins withdrawn by the investors, the amount of BTC supplied has been significantly declining. According to the latest findings by Santiment, the current amount of BTC that the exchanges hold is just 1.16 million BTC, which represents the least quantity in the past few years.
---
Source
---
Back to the list