Back to the list
'Bitcoin Is a Shining City in Cyberspace': Founder of MicroStrategy
coinedition.com
05 December 2022 09:15, UTC
Reading time: ~2 m
---
Founder and Executive Chairman of MicroStrategy, Michael Saylor, tweeted that Bitcoin is a shining city in cyberspace. However, this is not the first time that Saylor, the BTC proponent, shared positive thoughts about BTC and its ability to regain its lost value.
#Bitcoin is a Shining City in Cyberspace. pic.twitter.com/GnIrsnTBBU

— Michael Saylor⚡️ (@saylor) December 4, 2022
Notably, on a previous occasion, Saylor stated that nothing on earth was able to stop BTC if it was on a bull run, that it would definitely gain value and rise in prices.
In the tweet, Saylor states:
No force on earth can stop Bitcoin when the time has come.
Supplementing the statement above, Saylor shared a statistics report of Hootsuite, a social media management platform. The report consisted of internet users aged between 16-64 using any form of cryptocurrency.
Meanwhile, BTC has shaken off the dust and has started its bull run after its price plummeted with the fall of the FTX exchange. Bitcoin is up 1.69% in the last 24 hours and trading at $17,317.06. When considering the last two weeks, BTC had a bullish flag (1st Bullish Flag) denoted in the graph during week three of November. The fourth week of November was also followed by a bullish flag (2nd Bullish Flag), as denoted in the chart below.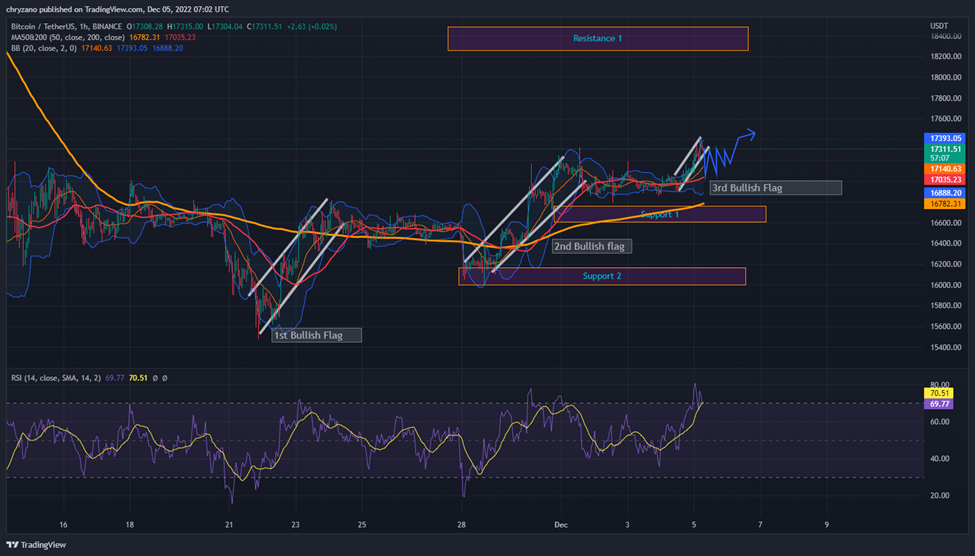 BTC/USDT 1h Trading Chart on TradingView
As of present, BTC is fluctuating in a bullish flag (3rd bullish Flag). Notably, when the behavior of BTC is concerned during the last two weeks, every bullish flag has been followed by sideways price movement. Hence, there could be a sideways movement for BTC after its current bullish ride.
Moreover, complementing this notion, BTC has touched the upper Bollinger band, denoting that the market could correct the prices. The 200-day MA (Yellow line) and 500-day MA (red line) are parallel and are slightly tilted upward. This means that there could be more sideways movement.
The 50-MA day is acting as the immediate resistance, but if BTC breaks the 50-day MA, then it will land on the 200-day MA. If the bear pushes harder, BTC will look to land on Support 1 and Support 2. Nonetheless, if the bulls dominate the market, BTC will target Resistance 1.
Disclaimer: The views and opinions, as well as all the information shared in this price prediction, are published in good faith. Readers must do their research and due diligence. Any action taken by the reader is strictly at their own risk. Coin Edition and its affiliates will not be held liable for any direct or indirect damage or loss.
---
Source
---
Back to the list