Back to the list
BTC Price Could Climb to $17,261.65 in the Next 24 Hours
coinedition.com
24 November 2022 17:39, UTC
Reading time: ~2 m
---
The crypto market leader is slightly up over the last 24 hours according to CoinMarketCap. At press time, the price of Bitcoin (BTC) is up 0.27%, taking the market leader's price to $16,589.19.
Despite the rise in BTC's price over the last 24 hours, it has weakened against Ethereum (ETH) by around 2.71%.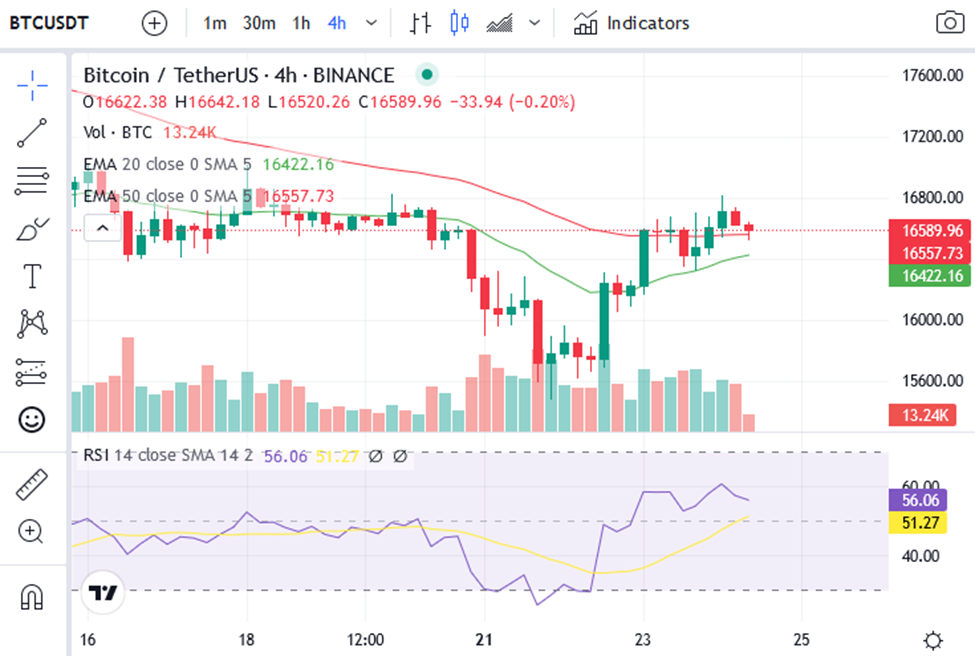 4-hour chart for BTC/USDT Source: CoinMarketCap
The price of BTC has posted higher highs and higher lows on its 4-hour chart, establishing a positively-sloped parallel price channel. Currently, BTC's price is resting on the 4-hour 50 EMA line; and the 4-hour 20 EMA line is looking to cross bullishly above the longer EMA line.
The 4-hour RSI line is, however, sloped negatively towards oversold territory, but still remains above the 4-hour RSI SMA line.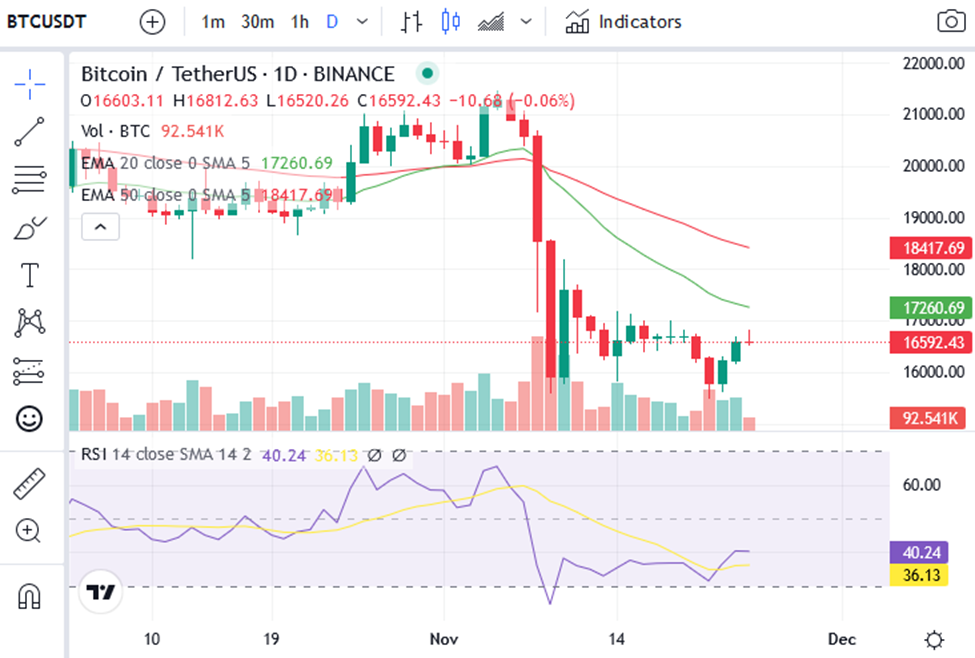 Daily chart for BTC/USDT (Source: CoinMarketCap)
On the daily chart, BTC's price is attempting to make a move towards the daily 20 EMA line. However, it is currently encountering some resistance at around $16,745.57 that has pushed its price back down with the current daily candle.
A recent bullish flag that has been triggered on BTC's daily chart is the daily RSI line crossing above the daily RSI SMA line on November 22, 2022. This, together with the parallel price channel that has formed on BTC's 4-hour chart suggests that BTC's move towards the daily 20 EMA may happen over the coming 24 hours.
Should this move happen, then BTC's price will rise to approximately $17,261.65. This would constitute a 4% move from the current price.
Disclaimer: The views and opinions, as well as all the information shared in this price analysis, are published in good faith. Readers must do their own research and due diligence. Any action taken by the reader is strictly at their own risk. Coin Edition and its affiliates will not be held liable for any direct or indirect damage or loss.
---
Source
---
Back to the list