Back to the list
Here's Why the Price of BTC Won't Drop to the $10K Mark
coinedition.com
19 November 2022 09:51, UTC
Reading time: ~2 m
---
The price of the crypto market leader has dropped again over the last 24 hours according to the crypto market tracker, CoinMarketCap. At press time, the price of Bitcoin (BTC) is standing at $16,583.75, which is a 1.21% drop. This has also flipped BTC's weekly performance into negative as its price is now also down 0.88% over the last 7 days.
With BTC's drop continuing, traders and speculators in the market are struggling to estimate what BTC's price bottom will be in this bear market. However, the Twitter user, IncomeSharks (@IncomeSharks), believes that BTC reaching $10k in this bear market is a bit of a stretch.
In a tweet made by the Twitter user this morning, "It becomes harder to create a big drop the lower we go." The tweet added that "It took a historic event like FTX with max fear and the most selling volume ever in history to drop us 26%. $10k targets is another 40%… How?"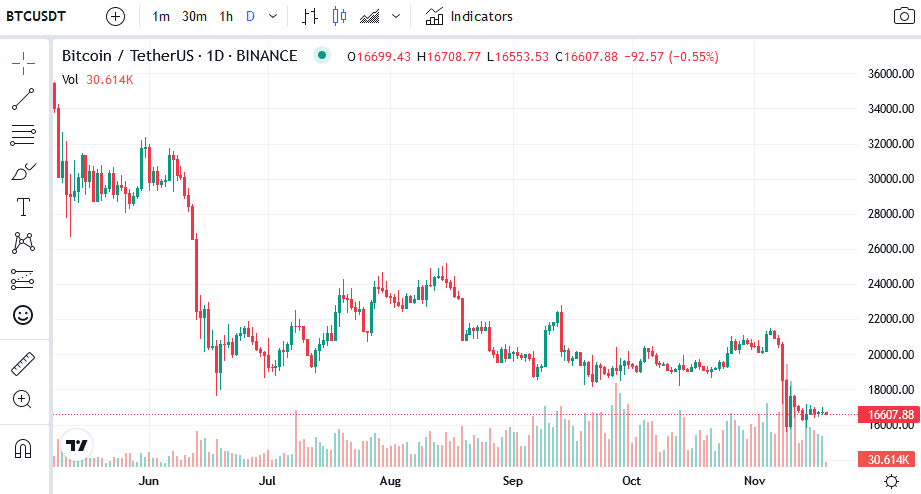 Daily chart for BTC/USDT (Source: CoinMarketCap)
Looking at the daily chart for BTC/USDT, it took a lot less volume for the price of BTC to drop 43% between June and July compared to the large amount of sell volume that was only able to push BTC's price down 26% this month with the FTX and overall crypto exchange drama.
Given the amount of sell volume needed and the resultant price movement with the FTX downfall, it's fair to say that a cataclysmic event will be the only thing that can bring BTC's price down to $10k.
Disclaimer: The views and opinions, as well as all the information shared in this price analysis, are published in good faith. Readers must do their own research and due diligence. Any action taken by the reader is strictly at their own risk. Coin Edition and its affiliates will not be held liable for any direct or indirect damage or loss.
---
Source
---
Back to the list